Finding the Fits: Zac Stacy to take over for Steven Jackson in STL?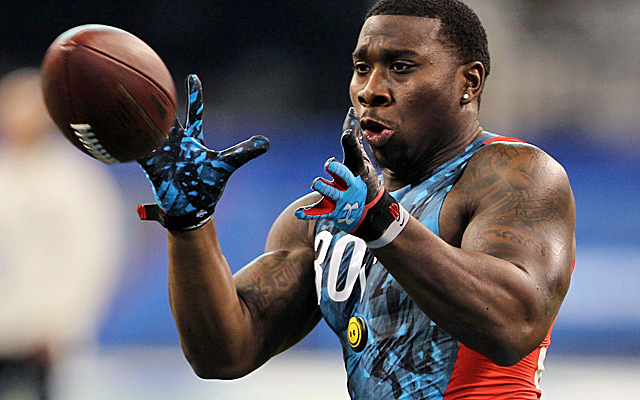 This article is one of a series called Finding the Fits in which NFLDraftScout.com will review some of the more intriguing picks made during the 2013 NFL Draft. The goal of the series is to identify one relatively unheralded player per team who appears to be a good schematic fit and, therefore, more likely to be a surprise contributor early in his pro career.
St. Louis' best fit: RB Zac Stacy, Vanderbilt, Fifth Round, No. 160 overall
Throughout much of his nine seasons in St. Louis, no player better exemplified toughness and dependability than Rams' running back Steven Jackson.
The challenge now for general manager Les Snead and head coach Jeff Fisher will be to replace him, as Jackson voided the final year of his contract with the Rams and signed with the Atlanta Falcons in the off-season.
Snead and Fisher know all too well that the Rams aren't just replacing a back who eclipsed the 1,000-yard rushing mark for the eighth consecutive season. Jackson was a reliable receiver out of the backfield, a terrific pass blocker and a leader.
No single man is going to replace Jackson in 2013. Surprisingly enough, the Rams appear fine with that, hoping to feature second-year speedsters Daryl Richardson and Isaiah Pead on the outside with rookie Zac Stacy, the club's final pick of the 2013 draft, as an interior runner.
At 5-09, 216-pounds, Stacy has a short, squatty build with natural leverage advantage. He runs decisively, with good forward lean and determination. He was clocked at a respectable 4.53-seconds in the 40-yard dash but is quicker than he is fast, demonstrating the ability to make defenders miss to complement his deceptive power. He possesses soft hands out of the backfield and is more polished as a pass blocker than most rookies. Perhaps best of all, he's proven his toughness and talent against elite talent, rushing for back-to-back 1,000 seasons against SEC competition. The Rams thought enough of Stacy to trade their final two picks of the 2013 draft to move up and select him in the fifth.
Stacy does not possess the straight-line speed that pushed the Rams to invest a second round pick in Pead a year ago. He does not possess Richardson's explosiveness either - and passing the second-to-last pick of the 2012 draft on the depth chart may prove the taller order.
Richardson emerged as Jackson's primary backup as a rookie, rushing for 475 yards and catching 24 passes for another 163 yards. Pead, on the other hand, had just 13 touches in his first NFL season. The club expects much more from him in his second season.
Richardson and Pead each offer more big play potential than Stacy but neither has shown his grit as an interior runner, which could put the former Commodore on center stage near the goal-line.
"You need multiple backs in this league,'' offensive coordinator Brian Schottenheimer told the media following the team's June 12 OTA session. "We're going to try to play to their strengths. With (Jackson) last year, it was a little different. It was harder to do the committee because every time you took him out, you knew you were missing his leadership and his toughness. This year I think we've got nice pieces to try and blend in and differently attack people.''
Old-School Fisher Changing Bait in St. Louis (other thoughts on the Rams' 2013 draft class)
The aggressive trade up for the Rams' most dynamic rookie -- wideout Tavon Austin -- may signal just how drastically times are changing in today's NFL.
Throughout virtually all of his tenure as head coach of the Houston Oilers, Tennessee Titans and first season with the Rams, Jeff Fisher relied upon the tried and true formula of a powerful rushing attack. The Rams will undoubtedly continue to run the football aggressively in 2013 but the selection of Austin gives St. Louis a game-changing presence who is at his best collecting short passes (and hand-offs) -- a significant departure from the type of offense Fisher has gravitated towards in the past.
Austin is a particularly good fit for St. Louis, which, of course, must face the big, physical cornerbacks in Seattle, San Francisco and Arizona. Generally-speaking, nothing gives a big, physical cornerback like Richard Sherman (Seattle) or Patrick Peterson (Arizona) more problems than a short, ultra-quick pass-catcher like Austin (5-09, 174) and third round pick Stedman Bailey (5-10, 193)...
Just as Austin and Bailey are intriguing fits for St. Louis, specifically, don't be surprised if T.J. McDonald emerges as a significant contributor as a rookie. While a bit stiffer in coverage than most scouts want, McDonald's size (6-3, 219) and range (4.54) make him an effective centerfielder who will complement the Rams' stellar cornerbacks, Cortland Finnegan and Janoris Jenkins beautifully. On a club requiring their free safety to drop down and cover slot receivers often, McDonalds' lack of ideal fluidity might be an issue but paired with these cover-corners, the son of former Phoenix Cardinal and San Francisco 49ers' standout Tim McDonald, may just prove to be a similarly effective ball-hawk and intimidator over the middle...

-- The Rams' 2013 draft class:
1st Round - No. 8 overall - WR Tavon Austin, West Virginia
1st Round - No. 30 overall - ILB Alec Ogletree, Georgia
3rd Round - No. 71 overall - FS T.J. McDonald, Southern Cal
3rd Round - No. 92 overall - WR Stedman Bailey, West Virginia
4th Round - No. 113 overall - OL Barrett Jones, Alabama
5th Round - No. 149 overall - CB Brandon McGee, Miami
5th Round - No. 160 overall - RB Zac Stacy, Vanderbilt

-- Key Undrafted Free Agents Signed:
OL Braden Brown, BYU
S Cody Davis, Tech Tech
TE Philip Lutzenkirchen, Auburn

Read more about all of the Rams' picks here.

Read all of the Finding the Fits series here.