2014 NFL Draft: SMU preview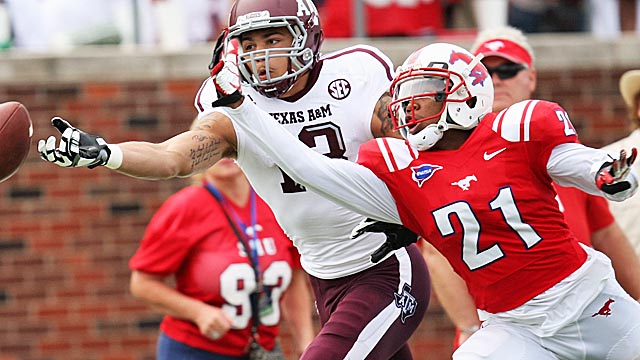 In preparation for the 2014 NFL Draft, NFLDraftScout.com will profile the top draft-eligible prospects from FBS-level programs. This summer series will run until the start of the college football season.
SMU MUSTANGS
NFL Draft picks the last five years: Eight
2013 NFL Draft picks: One -- Margus Hunt (Cincinnati Bengals, second round)
The Mustangs look to pick up where they left off last year in terms of NFL draft talent, remaining strongest on the defensive side of the football with CB Kenneth Acker and SS Jay Scott heading up the class as two key returning members of a unit that ranked third in all of college football in total takeaways and posted two shutouts last season.
Top SMU prospects for the 2014 NFL Draft
* Indicates underclassman
1. CB/WR Kenneth Acker (6-0, 195, 4.58)
Acker started all 13 games at cornerback for the Mustangs as a junior and earned second-team All-Conference USA honors with 12 pass deflections and three interceptions, including one for a touchdown. He also returned a blocked field goal for a touchdown and returned 16 punts for a total of 84 yards (14-yard average). Want more? Acker has been taking reps at wide receiver during the offseason. There's no denying the athleticism and big-play ability of the Portland, Ore., native, but rather the big question that he'll need to answer as a senior will be one of where he fits best on the field. As a corner, Acker demonstrates an ability to bait and close with an explosive first step back to the football. He exhibits good timing to arrive at the ball and disrupt throws in front of him. He has shown good hands. What we haven't seen a ton of with Acker -- press coverage. Because of that unknown, questions exist about his ability to play a more physical brand of corner consistently, which will certainly be expected of him should he be drafted next May. It will be interesting to see what kind of success he has on the offensive side of the football in 2013, being that he has demonstrated some play-making ability with the ball in his hands.
2. S Jay Scott (6-1, 210)
Scott started 12 of 13 games as a junior and ended the year fourth on the team in tackles with 76 to go with 10 pass break-ups and an interception. He possesses length and size that NFL teams covet at the position and is a strong run defender who plays with a physical nature and is a solid fundamental tackler. He has also proven to be versatile in his 34 career appearances, lining up everywhere from deep safety to outside corner to slot, and exhibits decent awareness in coverage. If he can continue to build on that versatility and demonstrate that he has the coverage range to be more than just a one-dimensional, in-the-box safety, he could earn a draft-able grade as a senior.
Other SMU prospects worth watching:
WR Jeremy Johnson (5-11, 176, 4.49)
Earned All-Conference USA Honorable Mention and led all SMU receivers with 67 receptions as a junior. Quick, savvy route runner who is best in the slot but will need to bulk up to play there at the next level.
LB Randall Joyner (5-10, 228)
Started eight of 13 games in 2012 but still managed to come in second on the team with 93 tackles. Also displayed some natural ability in coverage with five pass break-ups and three interceptions. C-USA All-Academic team selection.
K Chase Hover (6-2, 195)
Led the team in scoring in 2012, including 47 of 49 on PATs and a career-long 52-yard field goal. Will need to be more accurate as a senior, though, as he dipped to 62.1 percent FG success as a junior from 80 percent as a sophomore. Also handled 18 punts (39.39 avg).
QB Garrett Gilbert (6-3, 220, 4.78)
Big, athletic QB who transfered from Texas in '12 and started all 13 games for the Mustangs, compiling 3,278 all-purpose yards and 23 total TDs (15 passing, eight rushing). Accuracy has been the biggest issue as he completed only 53 percent of his passes and threw just as many interceptions as touchdowns (15).