2014 NFL Draft: TCU Preview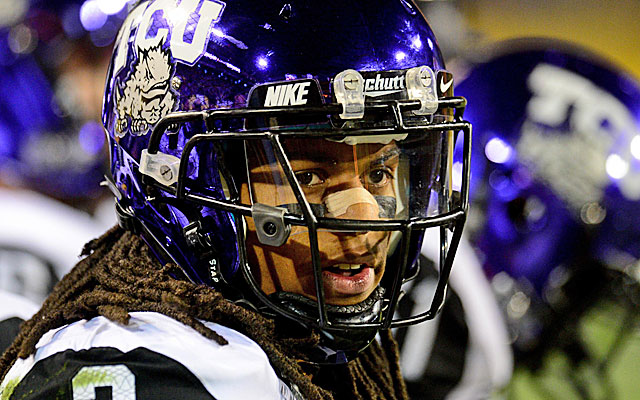 In preparation for the 2014 NFL Draft, NFLDraftScout.com will profile the top draft-eligible prospects from FBS-level programs. This summer series will run until the start of the college football season.
TCU HORNED FROGS
NFL Draft picks the last five years: 16
2013 NFL Draft picks: 2 -- WR Josh Boyce (fourth round, New England Patriots), DE Stansly Maponga (fifth round, Atlanta Falcons)
Since Gary Patterson became TCU's head coach, he has won 116 games with a .763 winning percentage and four conference championships. And while his on-field accomplishments have been impressive, so is the number of players whom he has sent to the NFL -- 31 to be exact, including Pro Bowlers RB LaDainian Tomlinson, DE Aaron Schobel and MLB Daryl Washington. Since 2002, the Horned Frogs have produced only one first-round pick (DE Jerry Hughes, 2010), but look for that to change in the 2014 NFL Draft with CB Jason Verrett likely hearing his name called among the top 32 picks next April.
Top TCU prospects for the 2014 NFL Draft
* Indicates underclassman
1. CB Jason Verrett (5-10, 182, 4.49)
Widely considered to be the top senior at his position and a projected first-round pick, Verrett is an easy player to like with his aggressive ball-hawking skills. A California native, he attended Santa Rosa Junior College out of high school where he started out as a wide receiver but switched to cornerback because he felt that was his best chance to get noticed by FBS schools. After one season in junior college, he transferred to TCU and earned a starting job in his first season. The following season as a junior, Verrett emerged as one of the top defensive backs in the nation, finishing tied for the conference lead in interceptions with six. Verrett has a fluid body type with good footwork and hip action to easily turn and adjust his frame. He is like a magnet to the ball with his aggressive nature, flashing the improved instincts and awareness to come off his man and make a play at the catch point with terrific ball skills. Verrett has quick read/react skills to match his confidence when alone on an island to trust what he sees, baiting and driving on throws with excellent burst and timing. He isn't an elite size/speed athlete and will pop out of his backpedal prematurely, struggling to play with consistent pad level, but there is far more good than bad when it comes to the TCU defensive back. Verrett is one of my favorite NFL prospects this year and has all the makings of a future starting cornerback at the highest level of football.
2. DT Chucky Hunter (6-1, 305, 5.17) *
Although he didn't begin last season as a starter, it didn't take long for Hunter to establish himself as one of the best up-and-coming interior players in the Big 12 Conference. He was a four-star recruit out of high school in West Monroe, La., and chose TCU over offers from Baylor, Oklahoma State and several SEC schools. After spending most of his true freshman season in 2011 as a reserve, Hunter started the final nine games of 2012 and finished with 36 tackles, six tackles for loss and 3.5 sacks, earning second team all-conference honors by the Big 12 coaches. He has quick and smooth movement skills for a 300+ pounder and looks natural moving in any direction. Hunter has a quick first step, plays with pop and power but too often ends up in a hand fight and needs to win off the snap to be most effective. His hand use and leverage are each a work in progress. But obvious improvements were made throughout last season, and his limb quickness makes up for his lapses in placement. Hunter is still a very young player, but look for him to continue to grow as a junior in 2013 and develop into a legitimate NFL prospect.
3. WR Brandon Carter (5-11, 182, 4.46) *
The Horned Frogs lost two of their top three receivers from a year ago, but Carter returns to Fort Worth in 2013 and is expected to be TCU's go-to threat this fall for whoever is under center. A highly recruited athlete out of nearby Euless, Texas, he spurned offers from powerhouse programs like Oklahoma to stay closer to home. Carter made an instant impact as a freshman with 23 catches for 352 yards and three scores before seeing more playing time in 2012 (five starts), finishing second on the team with 36 receptions for 590 yards and six touchdowns. He is an exciting young player with the ball in his hands and a threat to take it the distance anytime that he's on the field. Carter works well from the slot, using the middle of the field as his playground to catch and create with elusive feet and smooth acceleration to quickly get up to full speed and race to the end zone. At 182 pounds, his marginal frame is a concern with a body type that likely won't be able to hold much weight or bulk. Carter needs to refine his routes but, overall, he is a plus athlete with big-play potential, evidenced by his team-best 16.4 yards per catch average last season. He is definitely a name to watch in 2013 as he likely becomes the Horned Frogs' No. 1 target this season.
Other TCU prospects worth watching:
QB Casey Pachall (6-4, 226, 4.67)
Although he's likely to earn the starting job back, Pachall's checkered past with substance abuse will hurt his chances of being drafted as high (if at all) as his skills warrant.
RB Waymon James (5-8, 203, 4.63)
TCU's leading rusher through two games last season, James missed the remainder of 2012 with a left knee injury but is back at full health this season and expected to start.
DT David Johnson (6-2, 290, 4.92) *
A player with some tweener traits, Johnson has an intriguing blend of quickness and strength to be effective against both the pass and the rush.
FS Elisha Olabode (5-10, 192, 4.63)
Olabode needs to stay under control when he breaks down, but he is a ferocious hitter with the range and speed to hold up in pass coverage (four INTs in 2012).
SS Sam Carter (6-0, 220, 4.62) *
The Horned Frogs' leader on defense, Carter proved to be a force last season all over the field, finishing with four interceptions, 6.5 tackles for loss and 14 passes defended.