2014 NFL Draft: Texas Preview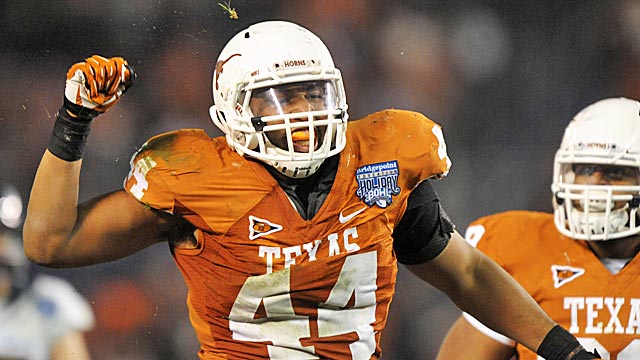 In preparation for the 2014 NFL Draft, NFLDraftScout.com will profile the top draft-eligible prospects from FBS-level programs. This summer series will run until the start of the college football season.
TEXAS LONGHORNS
NFL Draft picks the last five years: 20
2013 NFL Draft picks: Three -- S Kenny Vaccaro (first round, New Orleans Saints), WR Marquise Goodwin (third round, Buffalo Bills), DE Alex Okafor (fourth round, Arizona Cardinals)
Since Texas capped its 13-1 season in 2009 with a loss to Alabama in the BCS National Championship Game, the Longhorns have struggled in the post-Colt McCoy era. But even though the program hasn't played at a high level in recent years, it still sends quality talent to the next level, producing at least three draft picks each year since 2003.
Some college football programs are known for churning out talent at specific positions and, in recent memory, Texas has been "Defensive Back U." Five of the Longhorns' last seven first-round picks have been defensive backs, including safety Kenny Vaccaro last year. And this fall, cornerback Quandre Diggs will be arguably Texas' top NFL prospect on the roster with a chance of being a first-round selection next April.
Top Texas prospects for the 2014 NFL Draft
* Indicates underclassman
1. CB Quandre Diggs (5-10, 200, 4.48) *
Despite returning three starters in the secondary, Texas is missing a vital part of its defense with Kenny Vaccaro playing on Sundays this fall in the NFL. But Diggs is expected to step up and take over that role as the leader on defense and might even play a similar position as Vaccaro, seeing some time at safety and nickel corner in the spring. He has started the last 24 games at Texas and has already recorded eight interceptions over his two-year collegiate career, adding 100 total tackles and six tackles for loss. Diggs, who is the younger brother of NFL corner Quentin Jammer, lacks ideal height for the position but has a solid build and is a physical run defender, violently striking the ballcarrier with proper timing and a nasty attitude. He has fluid hips to redirect his frame and aggressively attack the ball in the air to break up passes (20 career passes defended), using good backfield vision to track and anticipate. Diggs starts too high in his backpedal and has some maddening inconsistencies with technique and focus that he needs to address before he's ready for the NFL. But he has shown improved instincts, and it shows on tape that he studies in the film room and listens to his coaches to know the tendencies of opposing offenses. While he hasn't exactly earned the top spot on this list just yet, Diggs has the potential to be the next Longhorns first-round defensive back if he irons out a few wrinkles and fills the shoes of Vaccaro as a do-everything defender on the outside, in the slot and near the line of scrimmage.
2. DE Jackson Jeffcoat (6-5, 245, 4.67)
The son of a 15-year NFL veteran defensive lineman, Jeffcoat arrived at Texas as a five-star high school recruit with a lot of hype. After starting a pair of games as a true freshman, he replaced Sam Acho as a starter in 2011 and finished with a team-best 16.5 tackles for loss and 7.5 sacks. Jeffcoat recorded four sacks through the Longhorns' first six games last season but was lost for the remainder of 2012 after rupturing his right pectoral muscle against Oklahoma. He has a fluid body type with the quick feet to sidestep blocks and closing burst to flatten and get to the pocket. Rushing from both a two- and three-point stance, Jeffcoat plays too high with inconsistent pad level and needs to get more creative with his pass-rush moves to avoid getting locked up off the snap. He lacks ideal functional strength to win at the point of attack with power and is too easily handled in the run game, struggling to hold contain as opponents frequently run to his side of the field on film. Jeffcoat has some tweener traits, and there isn't much overly special about his game, but there is a lot to love about his competitive nature, nonstop motor and passion to better himself on and off the field. Overall, Jeffcoat's draft stock will be helped considerably by his NFL pedigree with his bloodlines and motivated attitude, but thus far through three seasons in Austin, he looks more like a second-day prospect with some upside rather than a top-20 selection.
3. RB Joe Bergeron (6-1, 230, 4.60) *
On a team with a pair of five-star high school running backs commanding carries, it can be tough to stand out, but Bergeron has made it look easy. He had to share carries with Malcolm Brown and Johnathan Gray last season and finished second on the team with 127 rushes for 567 yards but was the clear team leader in rushing scores with 16, which ranked tops in the Big 12 Conference among running backs. At 6-foot-1 and 230 pounds, Bergeron is a hard-nosed, power runner who runs low to the ground with good forward lean and pumping legs, refusing to go down easily. But he also has light, agile feet and is surprisingly slippery for his body type with outstanding lateral quickness to pick through the defense. Bergeron is balanced with natural coordination to square his shoulders and pick up yards after contact, playing with natural run instincts and vision. He lacks elite speed to consistently win the edge or be a home-run threat, but he has an impressive blend of lateral burst and strength to be a physical pounder, especially in the red zone. Bergeron welcomes punishment, but he has been banged up the past two seasons and his durability is something to watch in 2013. While I think there is little doubt that Gray is the top running back on the Texas roster, I'll take Bergeron over Brown as he appears to be a more impressive version of Le'Veon Bell in my eyes.
4. OT Donald Hawkins (6-5, 310)
Hawkins arrived in Austin in the spring of 2012 and quickly earned the starting left tackle job, starting 11 games protecting the quarterback's blindside last season. He played two seasons at Northwest Community College, where he didn't allow a sack in his 19 starts. Hawkins had offers from Florida, Arkansas and had originally committed to Oklahoma State before deciding Texas was the best opportunity for him to get on the field right away. He stays light on his feet with good lateral quickness and shuffle to protect the edge, doing a nice job squaring up defenders with natural body control and coordination. Hawkins looks comfortable pulling and blocking on the move with the athleticism to get to the second level and clear the road down the field. He has a narrow base and too often gets caught lunging and whiffing at his targets, falling off balance and struggling to recover. Hawkins utilizes angles well, flashes an aggressive demeanor at the point of attack, but has room to improve his timing off the snap and his overall discipline. While he doesn't have elite height and length for the tackle position, Hawkins showed enough in his first season at the FBS level to catch the eyes of scouts around the NFL.
5. WR Mike Davis (6-2, 195, 4.53)
With 27 starts and 149 receptions already, Davis has been quietly productive for the Longhorns the past three years and is poised for another fruitful season in 2013. A native of Dallas, he arrived at Texas as one of the top receiver recruits in the nation and made an immediate impact as a true freshman. After 47 catches in 2010 and 45 in 2011, Davis set career bests last season with 57 receptions for a team-best 939 yards and seven scores, earning All-Big 12 Honorable Mention honors. He isn't an elite size/speed athlete, but he wins with good body control and coordination to adjust his frame, flashing smooth acceleration in his routes. Davis tracks the ball well downfield and attacks aggressively at the catch point to come down with tough grabs. A leggy, straight-line athlete, he isn't overly elusive as a runner and struggles to deceive defensive backs in his routes. Davis shows good effort as a perimeter blocker and has experience lining up both inside and outside, on the line of scrimmage and off. With all the talent that Texas has sent to the NFL over the past few decades, it's somewhat surprising that the Longhorns haven't produced more at the wide receiver position, but maybe Davis will be able to change that.
Other Texas prospects worth watching:
RB Malcolm Brown (5-11, 223, 4.59) *
The No. 1 high school recruit just a few years ago, Brown led Texas in rushing as a freshman but was out-shined by Bergeron and Gray last year, finishing third on the team in yards on the ground.
WR Jaxon Shipley (6-0, 192, 4.58) *
Just like his older brother, Jordan, Shipley has been Mr. Consistency for the Longhorns' offense, collecting 103 catches over his first two seasons in Austin, including a team-high 59 grabs last year.
OG Trey Hopkins (6-4, 302, 5.08)
After starting 13 games at right tackle in 2011, Hopkins moved inside to left guard last year, where his skill set was better suited and is projected to return to left guard again in 2013.
OG Mason Walters (6-6, 320, 4.98)
Walters brings an impressive resume to the NFL (38 career starts so far) to match his flexible body type and range to eliminate defenders away from the line of scrimmage.
DE Cedric Reed (6-5, 260, 4.80) *
When Jeffcoat was lost for the season in October, Reed, who has NFL size and first-step quickness, stepped in and started the final six games, finishing with 6.5 tackles for loss.
DT Ashton Dorsey (6-2, 295, 5.08) *
Despite being a former blue-chip recruit, Dorsey has only six career starts due to injuries and inconsistencies, but he has the quickness and strength combo to surprise in 2013.
LB Jordan Hicks (6-2, 235, 4.58) *
The top high school recruit out of Ohio three years ago, Hicks' career as a Longhorn hasn't gone quite as planned with only 11 starts, struggling last year with a hip injury and an off-field incident.
CB Carrington Byndom (6-0, 180, 4.45)
Byndom has the read/react quickness to jump routes, is a willing tackler but lacks the strength to consistently finish and too often plays passive and tentative at the point of attack.