2014 NFL Draft: Texas Tech Preview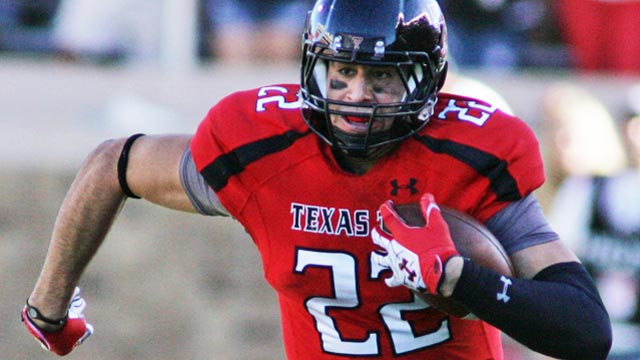 In preparation for the 2014 NFL Draft, NFLDraftScout.com will profile the top draft-eligible prospects from FBS-level programs. This summer series will run until the start of the college football season.
TEXAS TECH RED RAIDERS
NFL Draft picks the last five years: Six
2013 NFL Draft picks: 0
Since Mike Leach was forced out as Texas Tech coach in 2009, Texas Tech has been a very mediocre program and hasn't produced a draft pick the past two years. The last time the Red Raiders were shut out of the NFL Draft in consecutive years? Here's a hint: Dwight D. Eisenhower was President. You would have to go all the way back to 1959-60, more than 50 years ago. And even though the Red Raiders don't have any "lock" picks for the 2014 draft class, don't expect that streak to extend to a third straight year, especially with seniors DL Kerry Hyder and WR Eric Ward gaining steam in the scouting community.
Top Texas Tech prospects for the 2014 NFL Draft
* Indicates underclassman
1. TE Jace Amaro (6-5, 257, 4.59)*
One of the top tight ends in the country when he was recruited out of high school, it's easy to see why Amaro was so highly regarded as a prep player with his combination of size, athleticism and strength. He saw limited action as a true freshman in 2011 (seven catches for 57 yards and two touchdowns) before becoming a starter as a sophomore last season. Amaro recorded 23 catches for 394 yards and four scores through six starts in 2012 before he was lost for the next six games due to an upper-body injury that caused internal bleeding. The coaches and training staff finally allowed him to return to the field for the bowl game, but that was short-lived because he was ejected after punching an opposing player. Amaro has an ideal build with a tall, chiseled frame and long arms to extend and jolt defenders as a blocker, using pop and aggression to latch on and redirect his target. He is a terrific athlete for his size with natural burst out of his breaks and off the line of scrimmage, accelerating quickly and easily to get to his top speed (rumored to be in the mid-4.5 range) in a hurry. Amaro isn't just an athlete, though, displaying big mitts and natural focus to watch the ball into his hands and quickly turn upfield. The biggest red flag for Amaro might be durability with several injuries dating back to his high school days, including the spleen issue last year that cost him six games. He was also arrested in March 2012 on credit-card fraud, though he is genuinely considered to be a high-character individual by the coaches. The Texas Tech offense doesn't really utilize the traditional tight end position, but Amaro is expected to line up as an inside receiver, occasionally with his hand on the ground, and is primed for a breakout season.
2. DT Kerry Hyder (6-2, 281, 4.97)
One of the big changes with new coach Kliff Kingsbury taking over in Lubbock is on defense with Texas Tech transitioning to a 3-4 formation. The change should benefit Hyder, who, according to his defensive line coach, John Scott, is "good enough to play all three [defensive line] positions across the board." He arrived at Tech as a 230-pound linebacker but was moved to the trenches and bulked up, seeing playing time at both end and tackle the past few seasons. Hyder earned second team All-Big 12 honors last season with a team-best 14 tackles for loss and 5.5 sacks, adding a career-best 56 tackles and four pass breakups. He doesn't have the build or bulk to take on double teams and overwhelm blockers with power, but he's twitchy for a player his size with excellent first-step quickness. Hyder stands out on film with his agile footwork and lateral explosion to burst past blockers with controlled chaos to make plays behind the line of scrimmage. There will be some questions about where his best position will be at the next level, but he has the versatility to give scouts a peek at several spots in 2013. The glue of the Tech defense, Hyder will see playing time up and down the defensive line as a senior and, despite his tweener skill set, the NFL will love his energy and disruptive nature to live behind the line of scrimmage.
3. WR Eric Ward (6-0, 205, 4.46)
No matter the coach or offensive system in place in Lubbock, Texas Tech seems to always have at least one extremly productive receiver on the roster with a shot at the NFL. This year, that player is Ward. A second team All-Big 12 player last year, he has been extremely productive the past two seasons with a combined 166 catches as a sophomore and junior. And, with Kingsbury, a former Texas Tech quarterback, bringing back a more aggressive offensive approach through the air, Ward could be one of the main beneficiaries in 2013. Lining up mostly at split end, he doesn't necessarily stand out with his size or speed but is a polished receiver who can defeat the jam and deceive defensive backs down the field with route quickness and a second gear. Ward, who has already graduated, has very good hand-eye coordination and focus to reel in tough grabs. He has also shown noticeable improvement away from the ball as a blocker down the field in the run game. NFL stars Michael Crabtree (3,127) and Wes Welker (3,069) are Nos. 1 and 2 in Texas Tech history in receiving yards. But with a 1,200-yard season in 2013, Ward will pass both of them and take the top spot in the Red Raider record books.
Other Texas Tech prospects worth watching:
RB Kenny Williams (5-9, 217, 4.55)*
Williams led the Red Raiders in rushing last season with 824 yards and 5.8-yard per carry average, winning with his blend of short-area quickness and power to brush off tackles.
LT Le'Raven Clark (6-4, 303, 4.95)*
Only a redshirt sophomore, Clark was a freshman All-American at right guard last season but will kick out and start at left tackle in 2013. I expect Clark to be No. 1 on this list next year.
OLB Terrance Bullitt (6-2, 221, 4.56)
After 56 tackles as a starting sophomore linebacker in 2011, Bullitt struggled with injuries last season but is listed as the starting "RAID" linebacker for his senior year.
DB Tre Porter (6-0, 202, 4.48)
Alternating between safety and cornerback throughout his Texas Tech career, Porter is the expected starter at free safety this fall.