2014 NFL Draft: Arizona State Preview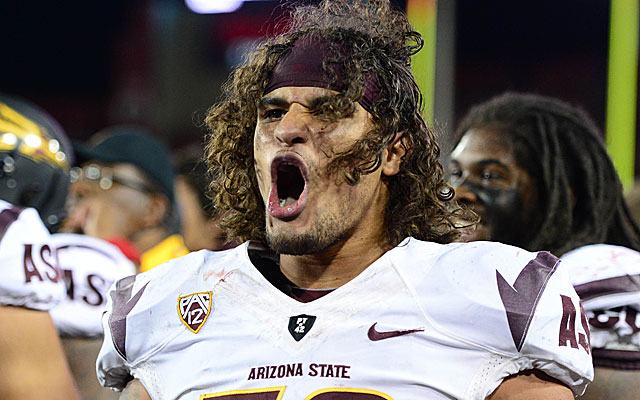 In preparation for the 2014 NFL Draft, NFLDraftScout.com will profile the top draft-eligible prospects from FBS-level programs. This summer series will run until the start of the college football season.

ARIZONA STATE SUN DEVILS
Considering the fact that NFL teams did not deem a single ASU prospect draft worthy in 2013, the talent on head coach Todd Graham's squad this fall might take people by surprise. This is a team that quietly finished 8-5 in Graham's first season in Tempe (just one game behind Pac-12 South winner UCLA) and boasts several all-conference-caliber prospects on both sides of the ball.
Everyone knows about All-American defensive tackle Will Sutton. The junior led the Pac-12 with 23.5 tackles for loss a year ago and received more votes from opponents for the Morris Trophy (as the conference's most dominant defensive lineman) than Star Lotulelei, whom the Carolina Panthers drafted 14th overall in April.
It is clear that the electricity building in Tempe isn't just a reflection of the desert heat or the ever-evolving look for Sparky, the team's mascot. ASU has another playmaker in outside linebacker Carl Bradford and a developing offense featuring heady quarterback Taylor Kelly and underrated running back Marion Grice.

NFL Draft picks the last five years: Eight

2013 NFL Draft picks: None

Top Arizona State prospects for the 2014 NFL Draft

* Indicates underclassman

1. DT Will Sutton (6-0, 280, 4.84)
While undeniably shorter and lighter than scouts prefer, Sutton's instincts, athleticism and hustle made him virtually unblockable in 2012. And after a spring that earned rave reviews from Graham and his coaching staff, the expectations are that the ASU defender is saving his best for his last season in Tempe. Despite earning the focus of every opponent's blocking scheme, Sutton registered 63 tackles, including 23.5 for loss and 13 sacks in a breakout junior campaign that saw him earn consensus All-American honors. Sutton's quickness teased early in his career. He started the first game of his career and played in 12 games as a true freshman, collecting 17 tackles, including three for loss. Rather than take the next step in 2010, however, Sutton failed to make the cut academically and missed the entire season. He returned as a starter in 2011, was more effective than his rather pedestrian numbers indicate (33 tackles, 5.5 tackles for loss, 2.5 sacks) but was hardly a game-changing presence. As such, despite his eye-popping 2012 campaign, Sutton elected to return to ASU for a fifth season. The son of former NFL defensive back and punt returner Mickey Sutton, the Sun Devil defensive tackle is remarkably light on his feet, showing the ability to split gaps and close quickly on the ball-carrier. Sutton's height serves him well, at times, as it gives him a natural leverage advantage to hold up to bigger opponents. He can, however, get stymied at the point of attack when blockers are able to get into his chest, which is yet another reason why he'll likely be one of the more heavily debated defenders this year for scouts.

2. OLB Carl Bradford (6-1, 241, 4.73*)
Sutton received much of the fanfare in 2012 and deservedly so, but Bradford, who finished second to his teammate among Pac-12 defenders last year with an average of 1.58 tackles for loss per game, also enjoyed a breakthrough campaign. A highly regarded prep fullback, Bradford's physicality and tenacity made his conversion to the defensive side of the ball soon after arriving at Arizona State an easy one. He redshirted in 2010 and emerged as a solid member of the rotation a year later, earning his first career start against Boise State in the 2011 Las Vegas Bowl. While his 12 tackles (including 3.5 for loss and a sack) gave coaches hope, no one predicted he'd explode for 81 tackles, 20.5 tackles for loss and 11.5 sacks in his first full season as the team's starting "Devilbacker." The position, which asks Bradford to rush off the edge from the three-point stance as well as attack the pocket from a stand-up role from a variety of angles, put the redshirt sophomore in position to make impact plays. With his hand in the dirt, Bradford shows enough quickness to cross the face of offensive tackles but does not possess elite flexibility or change of direction to scrape the corner or consistently evade backs in pass protection. Furthermore, while Bradford's weight room strength earned him a spot on Bruce Feldman's annual Freaks list, he did not consistently show the functional strength to bull-rush tackles and tight ends in 2012. What he does possess, however, is passion. Though lacking top-notch speed, Bradford is relentless and shows good vision to avoid blockers when in pursuit, prime reasons for the young star's eye-popping production.

3. RB Marion Grice (6-0, 205, 4.58)
The breakout campaigns from ASU's dominant duo of Sutton and Bradford on defense played a critical role in the Sun Devils' first season under Graham, but it was the immediate impact made by junior-college transfer Grice that could pave the way for future success in Tempe. Grice was one of 12 junior-college prospects whom Graham and his staff signed as part of their first recruiting class and the team signed 10 more this year, including highly regarded defensive end Marcus Hardison and wideout Jaelen Strong. The Sun Devils can only hope Grice's 1,104 all-purpose yards and 19 touchdowns is a harbinger of things to come for himself as well as the program. Grice rushed for more than 1,000 yards in each of his two seasons at two-year Blinn College and signed with Texas A&M after reportedly receiving interest from Tennessee, Arkansas, Mississippi, Baylor and several other prominent programs. When the Aggies fired Mike Sherman, however, Grice reconsidered his options and wound up at Arizona State despite incumbent starter Cameron Marshall returning for his senior season. Rather than languish behind Marshall, however, Grice emerged as ASU's most dependable weapon, leading the team with 679 yards (6.6 yards per carry) and catching 41 passes for 425 yards. Just as Graham's aggressive, hybrid defensive schemes accentuate Sutton and Bradford, his spread attack's use of motion, deception and traditional downhill running takes advantage of Grice's skill set. Grice is a patient, one-cut runner with the burst to take advantage of a crease. He reads defenders well, showing the vision and toughness to cut back against the grain to elude despite possessing less-than-ideal agility and straight-line speed. As his catch total indicates, Grice is also very good as a receiver, demonstrating good hand-eye coordination as well as some savvy as a route-runner. The presence of exciting sophomore D.J. Foster could keep Grice from significantly improving his production in 2013, but the limited reps could actually help his stock, as Grice's versatility has already caught the attention of scouts.
Other Arizona State prospects worth watching:
CB Osahon Irabor (5-11, 182, 4.50)
Irabor (and the rest of the ASU secondary) was aided by the Sun Devils' terrific pass rush, but the 32-game starter boasts the athleticism to pique the interest of scouts on his own. Irabor led ASU with 14 passes broken up in 2012 and was not flagged for pass interference. More physical than his size would indicate, Irabor is a draft-worthy commodity who could make a significant jump up the board if he demonstrates better ball skills as a senior (three career INTs).
FB/H-Back Chris Coyle (6-2, 224, 4.67)
Coyle led the Sun Devils with 57 catches for 696 yards and five touchdowns in 2012, demonstrating soft, reliable hands and good overall athleticism from the tight end position. His lack of size, however, means he'll have to adjust to a new position in the NFL.
S Alden Darby (5-11, 195, 4.50)
A former wide receiver whose instincts and ball skills make him effective in coverage, Darby emerged as a solid all-around safety in 2012, earning second team all-conference honors with career-highs in tackles (80) and interceptions (three). Darby will need another big campaign to ease concerns about his ability to hold up at the pro level at this size, however.
OLB Chris Young (6-0, 233, 4.68)
Another highly athletic, albeit undersized defender, Young signed with ASU after a terrific tour at Arizona Western College, where he was named the Western States Football League Defensive Player of the Year. He wasted little time proving he could star in the Pac-12, recording 82 tackles, including 14 tackles for loss but might be a safety/linebacker 'tweener in the eyes of scouts.
OL Jamil Douglas (6-4, 303, 5.09)*
Douglas stood out as ASU's starting left guard a season ago and is being asked to make the transition to right tackle as a junior. He's light on his feet and plays bigger than his size due to his physicality and aggression.
Full list of the players and teams previewed by NFLDraftScout.com can be seen here.