2014 NFL Draft: California preview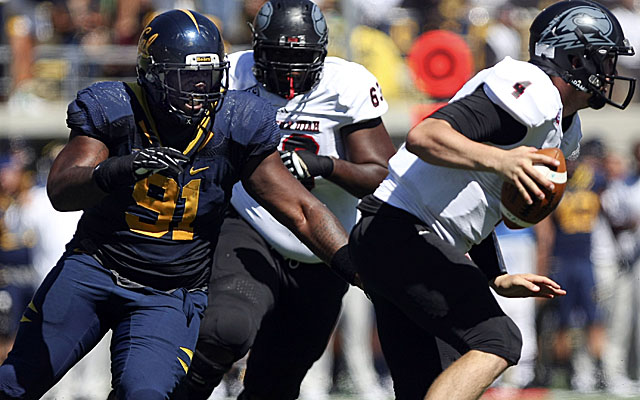 In preparation for the 2014 NFL Draft, NFLDraftScout.com will profile the top draft-eligible prospects from FBS-level programs. This summer series will run until the start of the college football season.
CALIFORNIA BEARS
For the first time since 2002, Cal football will be led by someone other than Jeff Tedford, who was replaced with innovative offensive mind Sonny Dykes (Louisiana Tech) after the Bears slumped to 3-9 in 2012.
Tedford, a two-time Pac-10 coach of the year (2002, 2004), left Cal with an 82-57 overall record, including a mark of 5-3 in bowl games. During his time in Berkeley, Cal became a relative hotbed for NFL talent, especially at the offensive skill positions. Aaron Rodgers, Marshawn Lynch and DeSean Jackson are among the more notable NFL stars who were recruited by and excelled under Tedford and his staff.
As with any coaching change, there will be a period of adjustment for Cal in 2013. Dykes' high-octane spread attack is a far cry from the pro-style offense Tedford favored. Similarly, the Bears will be changing back to a 4-3 defensive scheme after running a 3-4 attack under former Cal defensive coordinator Clancy Pendergast. Adding to the difficulty of this adjustment is the fact that Dykes inherits a roster less talented and experienced than most of Tedford's previous groups.
If there is a silver lining to the sparse roster, it is that Dykes and his staff should be able to "quickly" transition to their schemes. Only four seniors were listed as starters on the spring depth chart and the two most intriguing NFL prospects could be unleashed in the new alignments.
NFL Draft picks the last five years: 20
2013 NFL Draft picks: Four - WR Keenan Allen (third round, San Diego Chargers), C Brian Schwenke (fourth round, Tennessee Titans), CB Steve Williams (fifth round, Chargers), CB Marc Anthony (seventh round, Baltimore Ravens.
Top California prospects for the 2014 NFL Draft
* Indicates underclassman
1. DT Deandre Coleman (6-4, 320, 5.16)
Despite starting just 13 games over his career, Coleman briefly considered leaving early for the 2013 NFL Draft after Tedford and his staff were let go. He led Cal defensive linemen with 48 tackles in 2012 and tied with linebacker Chris McCain for the team-lead in tackles for loss with 8.5, including three sacks despite playing in a system in which his primary responsibility was to absorb blocks, not make big plays of his own.
Coleman's decision to return appears to be the correct one, as he possesses the size, strength and athleticism to acclimate quickly in defensive coordinator Andy Buh's 4-3 attack. Coleman is a naturally large man with long arms and a thick trunk. His frame and good overall strength make him tough to move at the point of attack, though he negates his power too often by playing high. He possesses good initial quickness, however, and a developing swim move which puts him in position to make plays at or near the line of scrimmage. Lacking the speed to run down ball-carriers off the edge, Coleman's big plays were limited as a 3-4 defensive end. His ability to clog up the middle at nose guard, however, should make Cal a surprisingly formidable defense in Buh's first year and push Coleman into top 100 consideration.

2. RB Brendan Bigelow (5-10, 187, 4.46)*
While Tedford was perhaps best known nationally for producing quarterbacks, Cal's sent a steady stream of running backs to the NFL during his tenure, including top 100 picks Shane Vereen (New England Patriots, 2011), Jahvid Best (Detroit Lions, 2010), Lynch (Buffalo Bills, 2007) and J.J. Arrington (Arizona Cardinals, 2005). While lighter than any of the previous stars Tedford recruited to Berkeley, Bigelow offers similar game-breaking skills as the former Cal backs. Dykes' offense revolves around the passing game, but he took advantage of speedy, undersized backs in previous stops as the head coach at Louisiana Tech and as the offensive coordinator at Texas Tech and Arizona.
Bigelow signed with Cal as one of the more celebrated prep backs in the country despite missing his entire senior season with a torn ACL, the second time he'd torn the ligament in a span of just seven months. Bigelow's big play ability was back a year later, however. He emerged as Cal's starting kick returner as a true freshman, recording 475 yards, including an 88-yard return for a touchdown in a thumping of Presbyterian. He maintained this role for the Bears in 2012, recording 805 yards in 2012.
Despite possessing more dynamic ability than gutty co-starters Isi Sofele and C.J. Anderson, Bigelow was inexplicably given only given 44 rushing attempts by the Cal coaches in 2012. His elusiveness, balance and breakaway speed caught Ohio State by surprise last year as he rushed for 160 yards on just four carries, twice breaking free for long touchdowns (81, 59). His 81-yard jaunt is the longest run ever recorded by an opponent at Ohio Stadium. His only other touchdown of the career went for 57 yards against Utah, making him the first Cal back since Best to record three 50-plus-yard runs in one season.
Bigelow is a natural with the ball in his hands, demonstrating the lateral agility and balance to elude defenders, as well as breakaway speed. As his listed size suggests, however, Bigelow does not run with much power. While he sports a well-developed upper body, Bigelow is a finesse runner who rarely was able to generate much yardage after contact in 2012. He'll get plenty of opportunities in space in Dykes' offense and could emerge as one of the Pac-12's most feared all-purpose backs. To do so, he'll need to stay healthy as the junior missed the spring recovering from yet another knee surgery, this time to repair a torn meniscus.

3. ILB Nick Forbes (6-1, 235, 4.79)*
Forbes was named Cal's Most Improved Player following a 2012 season in which he worked his way into the starting lineup to finish second on the team in tackles (85), while leading the team with three fumble recoveries. He sports a compact, well-proportioned frame and shows very good closing ability to make the impactful stop of the ball-carrier. Forbes is highly aggressive and will attack gaps, leaving lanes for ball-carriers to exploit, however. His athleticism allows him to run around blockers but when they are able to latch onto him, Forbes struggles to separate and get himself back into position to make the tackle quickly. As such, Cal's adjustment to the 4-3 scheme should provide Forbes a bit more protection, likely resulting in a significantly more productive 2013 for the junior linebacker.
Scouts reviewing Forbes' career will note that he's changed uniform numbers three times over his career. He started out wearing No. 33 over the 2010-11 seasons before switching to No. 11 last year. With former Cal cornerback Steve Williams leaving early for the NFL, Forbes will take over the No. 1 jersey in 2013.

Other California prospects worth watching:
DE/OLB Chris McCain (6-4, 218, 4.76)
McCain flashes big-play ability but has struggled with injuries throughout his career. He tied for the team lead in 2012 in tackles for loss (8.5) and sacks (3.5) and was being groomed to make the transition to defensive end in the 4-3 attack. McCain, however, missed the spring with a shoulder injury and was recently placed on indefinite suspension by the team, reportedly for academic reasons.
K Vincenzo D'Amato (6-1, 200, 4.94)
D'Amato is Cal's lone returning first-team All-Pac-12 honoree. He led the conference in 2012 by converting 1.33 field goals a game. He's a bit streaky but has a big leg and good size. If he can improve his overall accuracy (made 16 of 23 in 2012), D'Amato could earn late round or free agent consideration.
OLB Khairi Fortt (6-2, 236, 4.67)*
One of the nine players who transferred from Penn State following the Jerry Sandusky scandal, Fortt was eligible to play in 2012 but was held out the entire season after undergoing knee surgery in the spring. Fortt played in 23 games at Penn State, recording 50 tackles, seven tackles for loss and 2.5 sacks during this time. Athletic and intense, he could emerge as a standout for the Bears.
WR Jackson Bouza (6-0, 185, 4.57)
Bouza does not possess blinding speed or great size but he's a reliable route-runner with soft hands. He may enjoy a bit of a breakout senior campaign as a result.
OT Bill Tyndall (6-4, 285, 5.09)
A back-up tackle pressed into starting action a season ago as Cal struggled with injuries, Tyndall is expected to start on the edge in 2013 but was bitten by the durability bug himself in the spring, suffering a broken ankle.
FS Alex Logan (6-2, 200, 4.54)
Logan had to bide his time behind some talented defensive backs but should emerge as a quality starter for the Bears in 2013. He possesses good size, overall athleticism and the experience (26 games) to provide some leadership in a secondary that lost three starters to the NFL and/or graduation.
The full list of the players and teams previewed by NFLDraftScout.com can be seen here.