2014 NFL Draft: Colorado Preview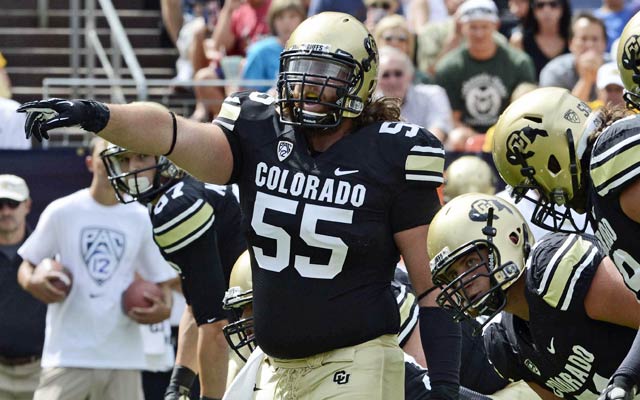 In preparation for the 2014 NFL Draft, NFLDraftScout.com will profile the top draft-eligible prospects from FBS-level programs. This summer series will run until the start of the college football season.

COLORADO BUFFALOES
With Colorado a combined 4-21 in two seasons of Pac-12 play, Boulder hasn't exactly developed into a hotbed of NFL talent since the move from the Big 12.
The Buffs went 1-11 last season, the worst record in the 123 years of the program, costing head coach Jon Embree his job after just two seasons. Inefficiency at quarterback and a defense that surrendered an FCS-worst 46 points per game in 2012 were undeniable strikes against Embree, who returned to the Buffs after earning all-conference accolades as a tight end at Colorado from 1983-86 and serving as an assistant coach from 1993-2002.
Former San Jose State head coach Mike MacIntyre takes over, inheriting a roster that, frankly, may possess less talent than the one he built with the Spartans, a Mountain West team that boasts star senior quarterback David Fales.
The cupboard isn't completely bare in Colorado, however. Embree started a youth movement during his time in Boulder and thus MacIntyre has the benefit of 17 starters returning, not the least of which is star wideout Paul Richardson, who missed all of last year with a torn ACL.

NFL Draft picks the last five years: Nine

2013 NFL Draft picks: Two - OT David Bakhtiari (fourth round, Green Bay Packers), TE Nick Kasa (sixth round, Oakland Raiders)

Top Colorado prospects for the 2014 NFL Draft

* Indicates underclassman

1. WR Paul Richardson (6-1, 176, 4.48)*
Possessing a lanky frame, pure speed and the vision to make the spectacular happen once the ball is in his hands, Richardson exploded onto the national scene as a true freshman, breaking the school record with six receiving touchdowns in 2010 and earning comparisons to everyone from DeSean Jackson to Antonio Brown along the way. Though the Buffs' struggled at quarterback in 2011, Richardson still demonstrated his big-play ability, catching 39 passes for 555 yards and another five scores while missing four full games (and parts of several others) due to a torn MCL.
Unfortunately, the injury bug didn't leave Richardson following the 2011 season, as he suffered a torn ACL during spring practices April 9, ending his 2012 campaign before it could even begin. Doctors cleared him to begin running in early July and for a brief time there was some talk that he'd try to play last season. Ultimately, Richardson, his parents and the Colorado coaching staff decided that he should fully recuperate rather than rush and jeopardize his future.
Richardson's big play ability should make him a game-changer in MacIntyre's wide-open offense. It was clear that the coaching staff wanted to feature him during the spring game, calling for several long bombs to the athletic pass-catcher. Richardson appeared every bit as explosive as he did prior to the injuries but did drop two catchable passes in the game. The season opener against rival Colorado State on Sept. 1 will mark 17 months since his last action. As such, expect Richardson to be as scrutinized this fall as any player in the country.
2. DE/OLB Chidera Uzo-Diribe (6-3, 245, 4.73)
While MacIntyre's high-octane spread offense could do wonders for the Buffs' top prospect, Richardson, veteran defensive coordinator Kent Baer could have a similarly gifted athlete on the verge of his own breakout campaign. Uzo-Direbe (whose full name is pronounced chee-derra u-zoh da-ree-bay), returns after leading the team in both tackles for loss (10) and sacks (seven) in 2012. A veteran of 37 career games (including 17 starts), Uzo-Diribe earned a start as a freshmen and six more in 2011 (leading the team with three forced fumbles) but didn't emerge as a full-time starter until a junior campaign that saw him post a career-high 43 tackles, including 37 solos.
Athletic and possessing the frame to add more positive weight, Uzo-Diribe offers intriguing upside as a pass rusher. He can be explosive out of the three-point stance and possesses long arms and quick hands. If Colorado led more often last year, he may have produced more. He does not, however, possess the strength or technique to hold up as a traditional 4-3 defensive end and is a bit stiff changing direction. So the conversion to outside linebacker isn't a guarantee. On a positive note, according to the university, Uzo-Diribe registered a 36-inch vertical jump, benched the standard 225 pounds 22 times and was clocked in the 4.5s in the 40-yard dash during spring testing.
Also working in Uzo-Diribe's favor is Baer, who has served as a defensive coordinator for a combined 28 years. He began at Utah State in the '80s and has since served at Idaho, California, Arizona State, Stanford, Notre Dame, Washington and San Jose State. Baer was nominated for the Broyles Trophy as the top assistant coach in college football twice during that time, in 2002 with Notre Dame and last year with the Spartans. The defensive line coach working with him is former Dallas Cowboys and Buffalo Bills' standout Jim Jeffcoat, who knows a little something about how to play.
Between Uzo-Diribe's potential and the experience of the coaching staff, it isn't difficult to imagine him breaking out with an all-conference-caliber season.
For Uzo-Diribe to do so, however, he'll be bucking recent history for the Buffs. The last time a defensive lineman from Colorado was drafted was 2007.
3. OC Gus Handler (6-2, 292, 5.09)
Handler emerged as a starter for the Buffaloes in 2011 and appeared on his way toward potential all-conference consideration last year before ankle and knee injuries ruined his campaign. Handler allowed just two QB pressures and one sack in the five games he played in 2012. His highest grade of the year (86.4 percent) came against Arizona State and its terrific defensive tackle, Will Sutton. Named to the Rimington Award watch list each of the past two seasons, Handler is a feisty, attentive interior lineman who could stick on the right team. He possesses a short, wide frame best-suited to center. He is physical and can surprise defenders with an explosive pop but does not appear to have ideal arm-length and can be pushed back. Handler has reasonable foot quickness but is too easily knocked off balance. Handler struggled this spring with shotgun snaps -- a significant concern considering that MacIntyre's spread offense takes virtually every snap out of the gun. As a two-year returning starter, Handler is expected to keep his job but the coaching staff is anxious to see what injured junior Daniel Munyer can do in camp.
Other Colorado prospects worth watching:
OL Jack Harris (6-5, 298, 5.19)
After struggling with injuries over his first two seasons in Boulder, Harris emerged as a quality and versatile starter last season, splitting time between right guard (six games) and right tackle (five). Harris has the length scouts like for the outside but bends at the waist too often. He'll need to enjoy the best season of his career if he is to adequately replace Bakhtiari this year at left tackle, as the coaches hope. Harris' commitment towards doing precisely that earned him one of the team's captain roles.

LB Derrick Webb (6-0, 225, 4.73)
Webb led the Buffs with 88 tackles in 2012 and was one of six players voted team captains in 2013. While undersized, Webb is athletic, instinctive and passionate. He's also a quality special-teams player. Webb signed with the Buffs after playing his prep ball in Tennessee. He has a number of cousins who played in the NFL, including former San Francisco 49ers' star running back Roger Craig.
OL Daniel Munyer (6-2, 295. 5.06)*
Rotating between right guard and as an injury replacement to Handler at center, Munyer earned an honorable mention all-conference nod from Pac-12 coaches last season as a redshirt sophomore. He's quick off the snap and uses his hands well to control opponents, two traits that helped him go the entire season without drawing a single penalty while tying for the team-lead with seven blocks that directly led to touchdowns. Unfortunately, Munyer missed most of the spring after fracturing his fibula. He is expected to return and win a starting job at one of the three interior positions.
S Parker Orms (5-11, 195, 4.48)
Orms boasts the combination of athleticism and explosive hitting to earn a hard look from scouts. He has struggled with injuries throughout his career, however, and lacks the size teams want at safety. He showed improved recognition in coverage in 2012, however, leading the team with six passes broken up.

The full list of the players and teams previewed by NFLDraftScout.com can be seen here.