2014 NFL Draft: Oregon State Preview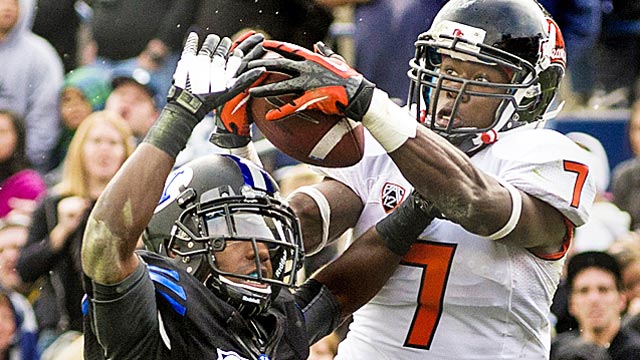 In preparation for the 2014 NFL Draft, NFLDraftScout.com will profile the top draft-eligible prospects from FBS-level programs. This summer series will run until the start of the college football season.

OREGON STATE BEAVERS
A year ago, one didn't have to squint too hard towards the sky to see the vultures soaring over Oregon State head coach Mike Riley.
His beloved Beavers finished 3-9 in 2011. They entered 2012 without an obvious reason for considerable improvement. Neither Sean Mannion nor Cody Vaz had separated himself as the unquestioned starter at quarterback and the Beavers faced a tough schedule which included out of conference foes Wisconsin and BYU.
A breakout season from wide receiver Markus Wheaton and gutty, opportunistic play on defense, however, made Oregon State one of the country's biggest surprises in 2012. The Beavers finished third in the Pac-12 North division with a 9-3 record, beating the Badgers, Cougars and North conference champion UCLA in Los Angeles on their way to an Alamo Bowl showdown with Texas. The Beavers led most of the game but surrendered two fourth quarter touchdown passes and lost 31-27 to the Longhorns.
With arguably their two best players - Wheaton and cornerback Jordan Poyer - now playing in the NFL, Riley and his staff are once again looking to surprise the "experts" with a less-than-intimidating roster.

NFL Draft picks the last five years: 14

2013 NFL Draft picks: Two - WR Markus Wheaton (third round, Pittsburgh Steelers), CB Jordan Poyer (seventh round, Philadelphia Eagles)

Top Oregon State prospects for the 2014 NFL Draft

* Indicates underclassman

1. DE Scott Crichton (6-3, 260, 4.73)*
Like many of their future NFL prospects, Crichton (pronounced CRY-ton) signed with OSU as a relatively lightly regarded prep prospect. Once in Corvalis, however, it was clear that the Beavers found a diamond in the rough as Crichton earned Scout team MVP honors during his redshirt season (2010) and exploded for 74 tackles and a team-leading six sacks in his first year on the field, demanding Freshman All-American accolades. Crichton's 14.5 tackles for loss in 2011 led the nation (among freshmen) and he proved last season that this breakout was no fluke, posting 44 tackles, 17.5 tackles for loss and nine sacks to earn First Team all-conference honors from the league's coaches.
With two more years of eligibility remaining, Crichton could ultimately leave Corvalis as one of the greatest defenders (statistically-speaking) in team history. This does not necessarily mean that he'll be viewed by scouts as an elite prospect.
Crichton's 6-3, 260-pound frame suggests that he's a speed rusher. He is quick enough to cross the face of offensive tackles and get them on their heels but he's not explosive off the snap and doesn't have the speed to turn the corner cleanly. He was frequently moved from one side to the other and even lined up inside to take advantage of mismatches. Crichton uses his hands well to battle blockers - showing surprising strength in his bull rush and in holding up against the run - and plays with a terrific motor. These traits and his fit in OSU's scheme (rather than elite athleticism) are the source of Crichton's production.
2. WR Brandin Cooks (5-10, 182, 4.52)*
Cooks was overshadowed last year by Wheaton's breakout campaign (11 of his 16 career receiving touchdowns came in 2012) but quietly averaged 17.2 yards on his 67 receptions while his former teammate averaged "just" 13.7 yards per catch. Cooks stood out as a true freshman in 2011, catching a pass in every game to finish with 31 grabs for 391 yards and three scores and looks well on his way towards establishing himself as one of the more productive wideouts in school history after last year's 1,151 yards and five scores.
As Cooks' listed size suggests, he relies on his quickness and straight-line speed to do his damage. He's a reliable route-runner who can make the difficult reception because he possesses very good hand-eye coordination and body control but will drop an occasional pass. He is at his best in the open field (506 yards last year came after the catch) and did return kicks briefly as a freshman, averaging 22.4 yards per return.

3. CB Rashaad Reynolds (5-11, 190, 4.47)
Like Cooks, Reynolds was overshadowed last season due to a breakout campaign from Poyer, the big-play senior playing opposite him. Whereas Poyer's seven interceptions earned him All-American honors, Reynolds was every bit his match in coverage. In fact, Reynolds' 16 passes broken up ranked second in the Pac-12 (Oregon's Ifo Ekpre-Olomu had 20) and he recorded three interceptions of his own.
Reynolds returns to OSU having started the past 25 consecutive games and the senior was one of five players voted a team captain. He possesses good speed (ran the 60 meters for the track team) and fluidity and is more than willing as a tackler, finishing second on the team last year with 75 stops. The Beavers ask their corners to play a lot of man coverage, alternating between press and off principles. Reynolds' quickness and route-recognition makes him a tough draw for any of the conference's receivers. With another solid season, Reynolds looks like a strong bet to be the 8th Oregon State defensive back to hear his name called in the NFL draft since 2007. He'll need to prove his health, however, after being limited in the spring while recovering from knee surgery.
Other Oregon State prospects worth watching:
OT Michael Philipp (6-4, 329, 5.32)
Philipp is a massive man who signed with OSU as a highly regarded prep prospect. Unfortunately, he's struggled with injuries throughout much of his career, missing portions of the 2010 season and all of 2011 with a knee injury. Philipp returned to start all 13 games last year at left tackle and has 35 starts over his career. He carries too much weight around his middle and has a tendency to drop his head on contact but is powerful and surprisingly light on his feet for a man of his size. With a strong finish to his collegiate career, Philipp could jump up draft boards as a right tackle or guard prospect.
OG Grant Enger (6-5, 290, 5.04)
Enger enters his senior campaign with 21 career starts and experience at all four exterior positions. He earned honorable mention all-conference honors in 2012 while at right guard, showing good agility for a man of his size. He plays high and does not possess ideal functional strength at this time but does have the size and athleticism to qualify as a developmental prospect for a zone-blocking team.
OLB Michael Doctor (6-0, 228, 4.64)
Doctor is a speedy and productive Will linebacker who returns as the team's active leader with 172 career tackles. Doctor's size limitations are an obvious concern but he's instinctive and tough and could surprise as a special teams' demon.

The full list of the players and teams previewed by NFLDraftScout.com can be seen here.