2014 NFL Draft: Southern California Preview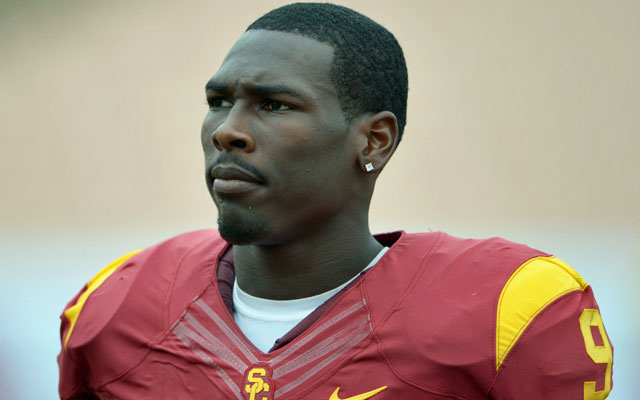 In preparation for the 2014 NFL Draft, NFLDraftScout.com will profile the top draft-eligible prospects from FBS-level programs. This summer series will run until the start of the college football season.

USC TROJANS
On the surface, it appeared that Lane Kiffin had everything going from him last year.
His USC Trojans returned presumptive No. 1 overall pick Matt Barkley under center. They featured arguably the best duo of wide receivers in the nation with Robert Woods and Marqise Lee. The Trojans benefited from the Penn State scandal by landing the best NFL prospect of the Nittany Lions' transfers in running back Silas Redd. The defense, while perhaps lacking the star power which helped Pete Carroll go 80-9 during his time in Troy, boasted legendary NFL defensive coordinator (and Lane's father) Monte Kiffin, whose famous Tampa-2 scheme appeared a great fit for an athletic defense.
In reality, the sanctions from the Reggie Bush scandal were taking their toll. Southern Cal attempted to fill the gaping hole left by the loss of left tackle Matt Kalil with sophomore Aundrey Walker and, after Walker was benched, true freshman Max Tuerk, neither of whom had started before.
Suspect protection led Barkley to take more hits. Kiffin's preference for deep passing plays didn't help. The defense, which had often ranked among the country's best in previous seasons, fell to 60th in total defense, allowing an average of 394 yards per game.
The Trojans began the season 5-1, with only a hard-fought loss at Stanford blemishing their record. Back to back losses in shoot-outs with Arizona (39-36) and Oregon (62-51), however, sent USC tumbling and the Trojans finished the season losing five of their last six, including a 38-28 drubbing to cross-town rival UCLA and a humbling 21-7 loss to Georgia Tech in the Sun Bowl.
Led by Lee, the reigning Biletnikoff Award winner as the nation's top wide receiver, the Trojans remain one of the most talented teams in the country. But the pressure is on Kiffin now to resurrect the once mighty program in his fourth season as head coach... or else he likely won't get the opportunity to coach a fifth year in Los Angeles.
NFL Draft picks the last five years: 34

2013 NFL Draft picks: Four - WR Robert Woods (second round, Buffalo Bills), FS T.J. McDonald (fourth round, St. Louis Rams), QB Matt Barkley (fourth round, Philadelphia Eagles), OC Khaled Holmes (fourth round, Indianapolis Colts)

Top USC prospects for the 2014 NFL Draft

* Indicates underclassman

1. WR Marqise Lee (6-0, 195, 4.49)*
Lee enters his junior season at USC as one of the elite prospects in the country. A consensus All-American and the reigning Biletnikoff Award winner as the nation's top wide receiver in 2012, Lee already has matched or set 22 records with the Trojans. He's caught 191 passes for 2,864 yards and 25 touchdowns over his first two seasons in Troy and is just as effective as a kick returner, averaging 28.5 yards per return and scoring twice. The loss of Barkley and fellow playmaking wideout Robert Woods to the NFL will allow defenses to focus on Lee and could result in less production in 2013 but a slight statistical drop-off won't concern scouts who see a phenomenal blend of speed, agility and technique from the well-built wideout and track star (long jumper, sprinter).
Lee offers explosive straight-line speed that makes pressing him risky for even talented cornerbacks. He is a fluid athlete, capable of changing directions quickly and shows developing savvy as a route-runner, often using a hesitation move and shoulder-dip to get defenders off-balance. His vision, elusiveness and acceleration make him a terror after the catch, whether as a receiver or returner. Lee plucks the ball easily and can track over either shoulder. He plays bigger than his size, showing the ability to go up and high-point passes amidst tight coverage and is an attentive, physical downfield blocker.
While nit-picking, Lee can improve his grade by paying more attention to his route-running. He relies on his natural athleticism to work himself free, at times, rather than exploding out of his routes at the proper depths. This free-lancing resulted in several of Barkley's interceptions last season.
Lee lacks the size of the elite receivers (Calvin Johnson, A.J. Green and Julio Jones) of recent years and this fact could push him down the board slightly as teams over-analyze prospects in the weeks leading up to the draft. Blessed with physical traits every bit as impressive as young stars with similar size like the Green Bay Packers' Randall Cobb (5-10, 192) and Miami Dolphins' Mike Wallace (6-0, 195), however, Lee deserves his billing as a blue-chip prospect.
2. DE/OLB Morgan Breslin (6-2, 250, 4.67)
Breslin exploded onto the Pac-12 in his first season after transferring in from Diablo Valley Community College. The undersized pass-rusher registered 62 tackles and led the team in tackles for loss (19.5) and sacks (13) to earn first-team all-conference accolades in his first season at the FCS level. The production was nothing new for Breslin, who'd recorded 28 sacks in his two seasons with the Vikings.
While Breslin was a star at defensive end under Monte Kiffin, he's been asked to make the transition to outside linebacker in new defensive coordinator Clancy Pendergast's 3-4 attack. The move should result in another big season for Breslin, who was occasionally asked to rush the quarterback from the two-point stance in 2012.
Breslin is short but possesses broad shoulders and a thick frame. He has good quickness off the snap and accelerates upfield smoothly, showing the ability to turn the corner and collapse the pocket. His lack of height actually aids him in ducking under the reach of tackles. He plays with a high-running motor and makes many plays in pursuit.
Breslin's ability to rush the quarterback could result in a first round grade for some clubs, especially if he proves fluid enough to handle coverage duties as an outside linebacker. His size and struggles holding up against the run as a down defensive linemen, however, are concerns.
3. TE Xavier Grimble (6-5, 255, 4.72)*
Overshadowed by USC's other pass-catchers as well as the extraordinary talent at tight end in the Pac-12, Grimble is quietly emerging as a legitimate early round prospect, as well. With 16 starts already on his resume and in position to serve as the "security blanket" down the middle for presumptive starting quarterback Max Wittek, Grimble could be on the verge of a breakout season. He caught just 29 passes for 316 yards and five touchdowns in 2012 but received honorable mention all-conference accolades - quite an accomplishment considering that Stanford boasted future NFL picks Zach Ertz and Levine Toilolo last year to go along with Oregon's Colt Lyerla and Washington's Austin Seferian-Jenkins.
Grimble looks like a power forward on the field. While he isn't exactly light-footed, he accelerates smoothly and is an imposing runner after the catch who can bull his way through would-be tacklers. He can extend to make the tough catch and is a solid run blocker, who keeps his shoulders square and has long, strong arms to lock-out his opponent.
4. RB Silas Redd (5-10, 200, 4.48)
The Jerry Sandusky scandal at Penn State gave Redd the unique opportunity to experience college football at two of the most storied programs in the country, as the 2011 second-team All-Big Ten running back transferred from Linebacker U to Tailback U to star for the Trojans. Redd, who rushed for 1,241 yards and seven touchdowns for the Nittany Lions in 2011, saw his numbers dip a bit in his first season at USC (905 rushing yards) but he led the team in this category and was the team's leading scorer on the ground, as well, with nine touchdowns.
Redd is a natural runner with good vision, lateral agility and acceleration for the position, though he does top-out quickly and caught be caught from behind. He is quick to and through the hole and can evade defenders as well as run through arm tackles, showing an effective spin move and good determination to get the most out of each carry.
5. S/OLB Dion Bailey (6-0, 210, 4.58)*
Like Breslin, Bailey is expected to switch positions in Pendergast's defense despite impressive play last year as an undersized strongside linebacker. Bailey signed with USC as a highly regarded safety prospect in 2010 but after redshirting a year, he made the move to linebacker and simply tied for the team lead with 81 tackles. Bailey was similarly effective last year, posting 80 tackles (third on the team), including eight tackles for loss.
With Pendergast's 3-4 scheme calling for greater size at outside linebacker, however, Bailey is expected to make the transition back to safety. This is complicated by the fact that he missed the spring following shoulder surgery but the athletic and instinctive defender looks up to the challenge.
Bailey enters his redshirt junior campaign with six interceptions to his credit (including a team-leading four last year). Bailey's exploits in coverage are no surprise given his fluidity and awareness, though the task of covering slot receivers will be much tougher than the occasional tight end and running backs he was asked to blanket in the past.
Other USC prospects worth watching:
DT George Uko (6-3, 285, 5.02)*
Due to his quickness, Uko appeared to be one of the players most likely to benefit from the switch to the Tampa-2 scheme. Rather than line him exclusively at the three-technique position, however, the Trojans featured him at nose tackle in nine of his 13 starts (three came at DT, one at DE). Uko is expected to start at defensive end in 2013, which may not result in much better individual numbers for him (31 tackles, nine for loss, five sacks in 2012) but should help USC's run defense.
DE/OLB Devon Kennard (6-3, 260, 4.83)
Kennard missed the entire 2012 season with a torn pectoral muscle. He has 18 career starts and 135 career tackles (including 13 for loss and four sacks) to his credit. Undersized but surprisingly strong and alert, he could enjoy a bounce-back campaign and re-establish himself as a draftable commodity with a solid effort in 2013.
S Josh Shaw (6-1, 190, 4.58)*
Shaw signed with Florida as a highly regarded prep out of Palmdale, California, appearing 10 games as a redshirt freshman and starting once. He elected to transfer to USC and was granted immediate eligibility by the NCAA due to health concerns for family members. While he originally played at strong safety and on special teams for the Trojans, Shaw's surprising fluidity and speed allowed the coaching staff to move him outside to cornerback, where he started the final seven games of the year and registered 30 tackles, six passes defended, including two interceptions. Shaw, a redshirt junior, was moved back to safety this spring.
OT Kevin Graf (6-5, 300, 5.14)
Graf enters his third season as the Trojans' starting right tackle. He possesses good size and strength but bends at the waist and has only average mobility for the position.
QB Max Wittek (6-4, 236, 4.78)*
Possessing a much more impressive combination of size and arm strength than Barkley, Wittek could prove to be the catalyst for USC's turnaround in 2013 if he wins the starting role, as expected. Wittek started the two games Barkley missed last season due to injury (Notre Dame, Georgia Tech) and while his velocity was obvious, so too was his inexperience. Heading into his redshirt sophomore campaign, Wittek is one to watch for the future.

The full list of the players and teams previewed by NFLDraftScout.com can be seen here.