2014 NFL Draft: Stanford Preview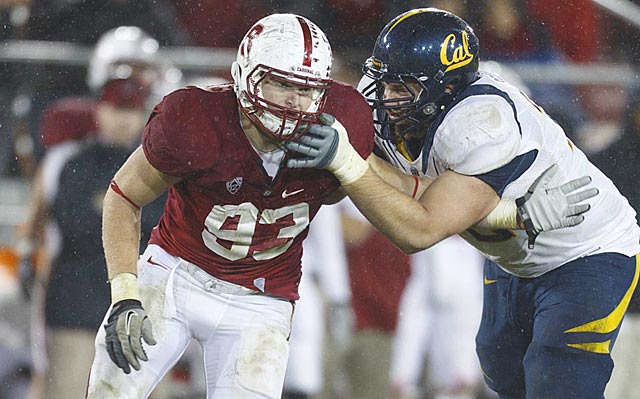 In preparation for the 2014 NFL Draft, NFLDraftScout.com will profile the top draft-eligible prospects from FBS-level programs. This summer series will run until the start of the college football season.

STANFORD CARDINAL
Some questioned how well David Shaw and the Stanford Cardinal would fare once Andrew Luck left for the NFL.
By winning the Rose Bowl -- Stanford's first since 1972 -- Shaw and his team provided an emphatic answer that they will be doing quite well without the No. 1 overall pick of the 2012 draft, thank you very much.
While Luck may have become the "face of the franchise" during his time in Palo Alto, the 2012 season proved what NFL scouts had been noticing for the past several seasons -- that Stanford has emerged as one of the elite programs in all of college football.
Boasting several highly regarded prospects for the 2013 draft and future years, as well, and it is clear that Stanford is going to be a powerhouse in the Pac-12 for years to come.
NFL Draft picks the past five years: 14

2013 NFL Draft picks: Three -- TE Zach Ertz (second round, Philadelphia Eagles), TE Levine Toilolo (fourth round, Atlanta Falcons), RB Stepfan Taylor (fifth round, Arizona Cardinals)

Top Stanford prospects for the 2014 NFL Draft

* Indicates underclassman

1. DE/OLB Trent Murphy (6-5, 261, 4.84)
With all due respect to South Carolina's Jadeveon Clowney and Arizona State's Will Sutton, there are few pass-rushers in college football more imposing than Murphy, a defender with the frame of a defensive lineman but the fluidity of a linebacker.
Murphy, who also threw the discus for Stanford's track team earlier in his time with the Cardinal, used his unique blend of size, strength and athleticism to rack up a team-high 18 tackles for loss and 10 sacks in 2012.
Allowed to attack the quarterback from the two-point and three-point stance, Murphy shows good initial quickness, smooth acceleration and surprising flexibility to dip under the reach of pass-blockers. Murphy's strong hands help him rip through would-be blockers' grasp and he possesses an effective swim move, as well, to gain freedom. Once he has his sights on the ball-carrier, Murphy's unique athleticism takes over and he's able to close quickly. Murphy isn't just a pass-rusher, however, as his length and athleticism make him difficult to deal with in coverage, as well. His interception and 40-yard return for a touchdown against Washington demonstrated Murphy's unique body control and speed.
Capable of remaining at outside linebacker for a 3-4 team or moving primarily to defensive end for a club operating out of the 4-3, Murphy promises to be one of the more highly scrutinized Stanford prospects this season. With NFL teams looking for highly versatile defenders capable of doing a little bit of everything, Murphy could earn consideration as high as the first round -- an accomplishment no Cardinal defender has received since the San Diego Chargers selected cornerback (and returner) Darrien Gordon with the No. 22 overall pick in 1993.
2. OL David Yankey (6-5, 312, 5.08)*
While replacing Luck was certainly Stanford's most critical need in 2012, not enough credit nationally went to the team and Yankey for their ability to maintain the stellar play at left tackle after Jonathan Martin moved on to the Miami Dolphins. Yankey had emerged as one of the team's brightest young stars on the offensive line after a stellar 2011 season at left guard but took his game to another level last season, allowing just one sack in 14 starts at the all-important blindside position. His efforts did not go unnoticed by Pac-12 defenders, who voted him the recipient of the Morris Trophy as the conference's top offensive lineman.
While Yankey performed admirably in this role, he is best suited inside. Yankey has good -- but not great -- initial quickness and relied more on technique and effort than elite athleticism while protecting the edge. His best assets -- his lateral agility, burst and an explosive initial pop -- are better served inside while in pass protection and when blocking on the move in Stanford's running game.
Yankey enters the 2013 campaign with two years of eligibility remaining. Interior linemen rarely leave for the NFL early, though Yankey certainly possesses the talent to consider the jump.
3. FS Ed Reynolds (6-2, 205, 4.54)*
While Stanford's front seven generally receives most of the credit for their tough defense, Reynolds enjoyed a breakout 2012 campaign that could push him past some of his more celebrated teammates on NFL boards. He led the team with six interceptions (three of which he returned for scores) and provided generally reliable open-field tackling (47 tackles) to earn All-American honors in his first season as a starter.
Despite an impressive prep career and possessing good bloodlines (father of the same name played linebacker for the New England Patriots and New York Giants from 1983-1992), Reynolds was a relatively lightly recruited prospect out of Virginia. He signed with Stanford in 2010 but redshirted his first season and missed all of the 2011 campaign with a torn ACL. He caught the attention of the coaching staff with a spectacular spring and earned a starting role. Reynolds quickly proved to be a difference-maker for the Cardinal, collecting a potential game-saving interception against David Fales and San Jose State in the season-opener to preserve a 20-17 win and racking up 301 yards on interception returns for the year, the second highest total in FCS history (USC defensive back Charles Phillips had 302 yards on interception returns in 1974).
Reynolds generally lines up quite deep as a single-high free safety. He shows the awareness and ball-skills to take advantage of this depth as a ball-hawk. He reads the action and moves fluidly, showing a nice late burst to close on the ball and terrific vision and open-field running ability once he possesses it. He breaks down well in the open field and is a reliable wrap-up tackler who'll lower his shoulder and deliver a blow. Reynolds understands his role as the last line of defense and generally takes excellent angles in pursuit. He is aggressive, however, and was burned, on occasion, by streaking upfield only to watch quicker ball-carriers cut-back to beat him.
Scouts would like to see more consistency from Reynolds in his second season as a starter but if he can prove that last year's breakout campaign was no mirage, he'll rank among the better prospects at his position in the country.

4. QB Kevin Hogan (6-4, 225, 4.84)*
Should Hogan make the strides in his first full season under center that he made in five games (all Stanford victories) as a redshirt freshman last year and he'll deserve top-billing rather than being listed this low among Cardinal prospects.
The Virginia-bred Hogan signed with Stanford as a highly regarded prep and had to work his way into the starting role last season, initially losing out to Josh Nunes for the right to replace Luck. Nunes has since been forced to retire following a freak injury while weight-lifting in which his pectoral muscle completely tore free from the bone.
Hogan completed 71.7% of his passes for an impressive 9-3 touchdown to interception ratio and 1,096 yards. Surprisingly elusive given his frame, Hogan also rushed for 263 yards in his limited, second best on the squad to Taylor.
Hogan possesses a prototypical blend of size, mobility and arm talent. He has a quick set-up and release and has the arm strength to make every NFL throw, though his accuracy on the deep ball needs to improve. His gaudy completion percentage is inflated because Stanford wisely boosted his confidence early with relatively easy quick-hitting passes but most of his passes were thrown with impressive accuracy, consistently hitting his receivers in stride.
With three more years of eligibility remaining (including 2013), Hogan has plenty of time to iron out the slight wrinkles in his game. In five games -- including an MVP performance against Wisconsin in the Rose Bowl -- Hogan has already demonstrated the skill-set, however, to justify scouts peeking early.
5. ILB Shayne Skov (6-3, 244, 4.79)
Skov signed with Stanford as an exceptionally highly regarded prep prospect and it took him little time to live up to his billing. He appeared in all 13 games as a freshman and started the final seven games at Will linebacker, finishing with 63 tackles on the year. He was even more impressive as a sophomore (84 tackles, 10.5 tackles for loss, 7.5 sacks), enjoying the best all-around season of his collegiate career, to date.
Skov looked well on his way towards another fantastic campaign in 2011 but suffered a torn ACL in the third game of the season (Arizona). He returned to the field in 2012 and enjoyed a solid season, leading the club with 81 tackles, but frankly, wasn't the dominant performer he had been earlier in his career. Needless to say, scouts are hopeful that the explosiveness he'd shown prior to the knee injury returns now that he's had more time to recover.
Skov is a classic inside linebacker whose lack of ideal lateral agility and straight-line speed may limit him to precisely this role -- as opposed to middle linebacker in the 4-3 alignment -- in the NFL. Skov shows good strength and possesses the bulk necessary to handle taking on blocks. He can be a ferocious tackler, demonstrating an explosiveness upon contact that is sure to make him a fan-favorite but he doesn't break down consistently and can be eluded in tight quarters by quick ball-carriers.
Other Stanford prospects worth watching:

DE Ben Gardner (6-4, 275, 4.86)
Gardner enters his senior season having earned second-team all-conference honors after each of his previous two starting campaigns. Powerful and quick off the snap, he's an ideal five-technique defensive end in this system, holding up well at the point of attack and showing the burst to slip inside to generate impressive tackle for loss production (24.5 over 2011-12). Gardner's bulk and quickness could earn him similarly high grades from traditional 4-3 teams seeking help at defensive tackle, though he does not possess the acceleration and flexibility preferred as a defensive end in this alignment.

FB Ryan Hewitt (6-3, 245, 4.76)
A highly versatile player whose length and sure hands make him an effective receiver, Hewitt demonstrated the ability to provide some pop as a lead blocker and occasional interior runner in 2012.
ILB AJ Tarpley (6-2, 238, 4.73)*
Overshadowed by Stanford's other terrific linebackers, Tarpley is a legitimate NFL prospect in his own right. He registered 66 tackles, including seven tackles for loss and two sacks in 2012 and was a more consistent performer last season than either Skov or all-conference outside linebacker Chase Thomas.

The full list of the players and teams previewed by NFLDraftScout.com can be seen here.