2014 NFL Draft: UCLA Preview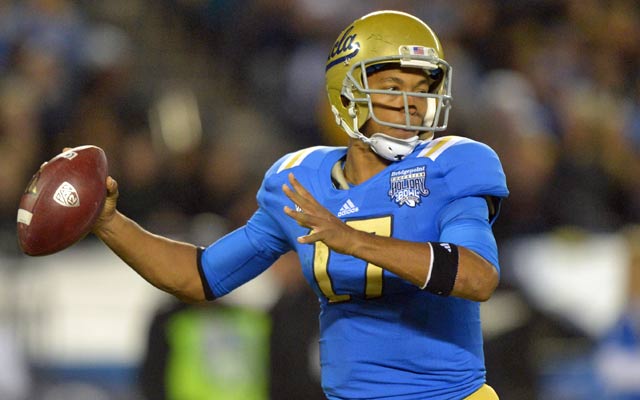 In preparation for the 2014 NFL Draft, NFLDraftScout.com will profile the top draft-eligible prospects from FBS-level programs. This summer series will run until the start of the college football season.

UCLA BRUINS
Optimism was high in Los Angeles when former Atlanta Falcons and Seattle Seahawks' head coach Jim Mora took over a talented but flailing Bruins program in 2012. Most Bruins' supporters were realistic, however, noting that UCLA hadn't won more than seven games in a season since 2005 and had all but become cross-town rival USC's little brother, losing 12 of 13 games to the Trojans since 1999.
Under Mora, however, UCLA turned things around quickly, capturing the South Division Championship of the Pac-12 conference and winning nine games (including against USC), tying the single-season win total of any first-year head coach in school history.
While creative scheming by highly regarded offensive coordinator Noel Mazzone certainly played a part, breakout campaigns by senior running back Johnathan Franklin and redshirt quarterback Brett Hundley suddenly made UCLA's offense formidable and their defense -- featuring legitimate NFL talent at all three levels -- finally began to play with the ferocity and physicality associated with their nickname.
The loss of Franklin, the school's all-time leading rusher, to the NFL stings but Hundley's ability to shred defenses with his arm and legs could make him one of the conference's must-watch stars. The Bruins boast another mega-watt talent on the other side of the ball in outside linebacker Anthony Barr, whose successful conversion to defense from running back perhaps best exemplifies the brilliant evaluation and coaching Mora and his staff provided in their first year with the team.
NFL Draft picks the last five years: 14

2013 NFL Draft picks: Four -- DL Datone Jones (first round, Green Bay Packers), RB Johnathan Franklin (fourth round, Packers), P Jeff Locke (fifth round, Minnesota Vikings), OL Jeff Baca (sixth round, Vikings)

Top UCLA prospects for the 2014 NFL Draft

* Indicates underclassman

1. OLB Anthony Barr (6-4, 245, 4.64)
Boasting a freakish combination of size and athleticism, it isn't difficult to understand why former UCLA head coach Rick Neuheisel wanted Barr to play offense. The son of former Notre Dame and Philadelphia Eagles' fullback Tony Brooks, Barr rushed for 1,890 yards and 20 scores as a junior in high school and ranked as the top prep prospect in the country by some recruiting services despite the fact that he missed his entire senior season of high school football to a broken ankle.
Barr saw immediate playing time with the Bruins, lining up at running back and as an f-back in UCLA's pistol offense in 2010-11. Barr saw action in 24 games over his first two seasons in Los Angeles, starting 11 times but was used more as a decoy than as a legitimate weapon, rushing for just 54 yards and one score and catching 12 passes for 82 yards and another touchdown in two seasons. Shortly after Mora replaced Neuheisel, Barr was moved to the defensive side of the ball. Optimists hoped Barr's size and obvious athleticism would result in big plays. No one could have reasonably predicted that he'd emerge as the most feared linebacker in the conference by season's end.
Demonstrating power, agility and surprising instincts, Barr led the Pac-12 with 13.5 sacks, tied for fifth in the country with 21.5 tackles for loss among his 83 take-downs and forced four fumbles. Quick off the snap, Barr can beat tackles with his speed and flexibility around the corner. He showed a developing swim move to complement his speed and possesses the strength and use of leverage to effectively bull-rush, as well. Perhaps Barr's most impressive attributes, however, are his balance, lateral agility and acceleration, which he uses to break down in the open field as well as when exploding into ball-carriers for ferocious hits, including the sack which ended Matt Barkley's collegiate career. These traits -- and the promise of improvement as he gains more experience - earned Barr the No. 8 spot on my initial 2014 Big Board, the highest grade of any Pac-12 player.
If Barr is indeed drafted this high, he'll be the first Bruin selected among the top 10 since the Baltimore Ravens nabbed future Hall of Fame left tackle Jonathan Ogden with the fourth overall pick of the 1996 draft.

2. QB Brett Hundley (6-3, 227, 4.68)*
With so much of the Bruins' success on offense last year due to Franklin's brilliant senior campaign, it might seem premature to list Hundley -- just a redshirt sophomore -- among the team's potential 2014 NFL Draft prospects. Hundley enjoyed a terrific campaign of his own in 2013, however, and boasts the physical and mental traits scouts are looking for as dual-threat quarterbacks took the league by storm last year.
Hundley was considered one of the nation's elite prep quarterbacks when he signed with the Bruins in 2011. Then-head coach Rick Neuheisel elected to redshirt him, giving Mora and Mazzone a unique opportunity a year later to reap the benefits of Hundley's talents.
While Mazzone's offense pre-determines some of the quarterback's reads, it wouldn't be fair to characterize Hundley's jaw-dropping success in his first collegiate season as inflated. Hundley sprinted 72 yards for a score against Rice on his first snap and ran for 355 yards on the season, including nine scores. More importantly, Hundley completed 66.5% of his passes for 3,740 yards and 29 touchdowns against just 11 interceptions.
Hundley's mobility was utilized often by Mazzone, who frequently called upon his quarterback to simply run the ball shortly after taking the shotgun snap. Even more impressive than Hundley's elusiveness and acceleration, however, is his vision and poise while buying time in the pocket. Hundley feels pressure well and is willing to step up and re-set while keeping his passing options open, critical for long-term success in the NFL. As a passer, Hundley shows all of the key characteristics scouts want of a top-flight prospect. He has a quick set-up and release, consistently places the ball so that his receivers can run after the catch and possesses the velocity and touch to make any throw.
It has been a long time since a Bruins' quarterback has excited scouts. The last UCLA quarterback drafted, in fact, was Cade McNown, whom the Chicago Bears selected in the first round in 1999. It remains to be seen if Hundley will develop to the point where scouts will regard him as highly as McNown but for the first time this century the Bruins boast a legitimate NFL prospect at the game's most important position. And with Hundley possessing three more years of potential collegiate eligibility, the Bruins have time to enjoy his development.
3. OG Xavier Su'a-Filo (6-3, 305, 5.18)*
Sua-Filo signed with the Bruins as one of the elite prep offensive linemen in the country in 2011 and wasted little time proving up to his billing, starting all 13 games at left tackle as a true freshman. While effective in this role, he was moved inside to left guard by Mora and his staff and took to this position even better, earning First Team all-conference honors by league coaches.
Sua-Filo is quick off the snap and shows an impressive initial pop to push the defender off the ball. Scouts will be watching to see if his ability to sustain blocks improves with more experience inside at guard, where his short, wide frame is best suited. His experience at tackle is clear when pass-blocking, as Su'a-Filo is patient and balanced, showing the ability to slide laterally, as well as absorb a strong bull-rush, when necessary. He is light on his feet and often was asked to pull and lead Franklin around the corner, but possesses just moderate balance when blocking on the move.
Interior linemen only occasionally leave school early to test the NFL waters but given his experience (27 career starts) inside and out, Sua-Filo could be one to watch for the 2014 draft.

Other UCLA prospects worth watching:
ILB Eric Kendricks (6-0, 228, 4.67)*
While Kendricks' 2012 campaign may not compare with Barr's in terms of being a true breakout season, the undersized, but instinctive and explosive inside linebacker simply led the Pac-12 with a jaw-dropping 150 tackles in his first full season as a starter. To put Kendricks' gaudy total in perspective, one must go back to Jerry Stevens' 161-tackle campaign in 1978 to find a UCLA linebacker with more stops in one season. Kendricks' statistics were impressive and he could enjoy similar success in 2013. To improve his stock with scouts, however, he'll need to do a better job of fighting through, rather than trying to elude blockers at the point of attack.
DE Cassius Marsh (6-3, 268, 4.89)
With Barr and Datone Jones earning virtually all of the recognition among UCLA's pass rushers last season, not enough attention was given to Marsh, who quietly posted 50 tackles, 10.5 tackles for loss and eight sacks in his third season as a starter. Marsh looks bigger on tape than his listed size and plays bigger, as well. He is strong at the point of attack and shows sneaky speed off the edge.
WR Shaquelle Evans (6-1, 210, 4.54)
Evans began his collegiate career at Notre Dame but transferred to UCLA in 2010. After flashing talent with the Irish and in 2011 with the Bruins, Evans emerged as Hundley's go-to target last year, leading the team with 60 receptions for 877 yards and three scores. Evans is a big-bodied receiver with deceptive build-up speed and maneuverability.
DE Owamagbe Odighizuwa (6-3, 265, 4.73)
Odighizuwa has earned action in 38 games over his three seasons with the team, yet has only eight combined starts during that time. Despite starting just one game in 2012, he recorded a respectable 44 tackles, including six tackles for loss and 3.5 sacks. He's quick enough off the snap to earn interest as a pass rush specialist and might have more production if UCLA asked him to attack the edge rather than play inside as much as it did in 2012.

The full list of the players and teams previewed by NFLDraftScout.com can be seen here.