2014 NFL Draft: Washington Preview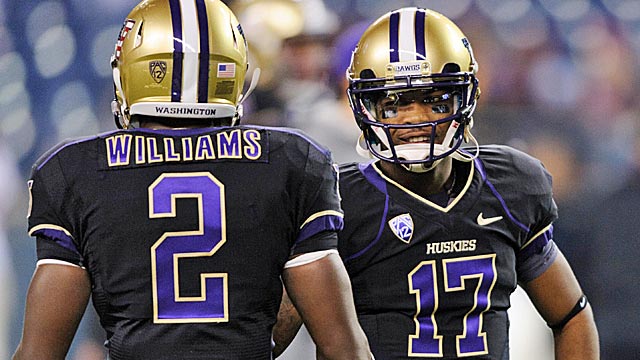 In preparation for the 2014 NFL Draft, NFLDraftScout.com will profile the top draft-eligible prospects from FBS-level programs. This summer series will run until the start of the college football season.

WASHINGTON HUSKIES
Steve Sarkisian inherited a truly awful football team (0-12 in 2008) when he arrived in Seattle, but quickly endeared himself to Husky Nation by upsetting then-No. 3 USC and routing rival Washington State in the Apple Cup in 2009 to lead the Huskies to a surprising 5-7 campaign.
Unfortunately, improvement since then has been incremental -- at least in the wins column.
Under Sarkisian, the Huskies have finished 7-6 in each of their past three seasons and have lost their past two bowl games since shocking Nebraska in the 2010 Holiday Bowl. It isn't difficult to understand why Washington hasn't taken the next step; the talent simply isn't there. A once-proud contributor to the NFL, Washington has pushed only seven players into the NFL draft since Coach Sark arrived.
However, the Huskies enter 2013 boasting more individual talent than at any other time during Sarkisian's tenure in Seattle. They also will have the benefit of playing in a newly renovated Husky Stadium, which should only boost recruiting.
While size and strength along the lines remain a relative weakness, senior quarterback Keith Price and a trio of other skill-position standouts in tight end Austin Seferian-Jenkins, wideout Kasen Williams and running back Bishop Sankey (all juniors) give the Huskies the type of mega-watt star power that Sarkisian grew used to while serving as offensive coordinator under Pete Carroll at USC.
NFL Draft picks the last five years: Seven

2013 NFL Draft picks: One -- CB Desmond Trufant (Atlanta Falcons, first round)
Top Washington prospects for the 2014 NFL Draft

* Indicates underclassman

1. TE Austin Seferian-Jenkins (6-foot-6, 266, 4.75)*: Possessing the frame that led many to project him as a developmental offensive tackle out of high school, Seferian-Jenkins' unusual athleticism and ball-skills has made him a standout since he first stepped onto the field as a Washington Husky. A highly celebrated high school prospect, Seferian-Jenkins saw action in all 13 games as a true freshman in 2011 (starting 10) and earned honorable mention all-conference recognition with 41 receptions for 538 yards and six scores. Following this breakout campaign, Seferian-Jenkins played as a reserve on the Huskies' basketball team, averaging 2.1 rebounds and 1.1 points in 17 games.
As a true sophomore, Seferian-Jenkins led the country's tight ends with an average of 5.25 receptions per game, emerging as one of three finalists for the Mackey Award (along with eventual winner Tyler Eifert of Notre Dame and Stanford's Zach Ertz). He finished the 2012 season with 69 receptions for 850 yards and seven touchdowns, each of which set single-season records.
While Seferian-Jenkins' potential is immense, to be successful in the NFL, scouts will want to see more physical and emotional maturity from the two-sport athlete. While a matchup nightmare due to his size, fluidity and hand-eye coordination as a receiver, Seferian-Jenkins does not possess the strength nor the aggression as a blocker one might imagine given his imposing frame. Furthermore, the 20-year-old tight end pleaded guilty to a DUI this summer, which ultimately resulted in his serving a night in jail. Sarkisian placed Seferian-Jenkins on indefinite suspension from the team while the court case strung out but said at the Pac-12 Media Day that his star tight end would be back with the team when they opened camp, August 5. Sarkisian has not announced whether he will impose any new discipline on Seferian-Jenkins, who, previous to the March 9 arrest (and since) never had run afoul of the law.
Seferian-Jenkins ranks among the elite tight end prospects in the country and could warrant consideration as high as the first round. To achieve this goal (whether following this year or next), he'll need to prove to scouts that he possesses the commitment to take advantage of the unique tools with which he's been blessed.

2. WR Kasen Williams (6-2, 216, 4.54)*: While Seferian-Jenkins generally receives most of the fanfare across the country, the Huskies' "other" primary pass-catcher boasts similar high-round NFL potential and his signing was just as big a recruiting coup. As a high school senior Williams was named the Parade All-American National Player of the Year, the first athlete from the state of Washington to ever earn this distinction. Williams quickly proved up to the hype, serving as the Huskies' primary punt returner (9.6 yard average) and catching 36 passes for 427 yards and six touchdowns as a true freshman. Williams more than doubled his production a year later, snaring 77 balls for 878 yards and another six scores in 2012 to earn honorable mention All-Pac-12 accolades.
Unfortunately, it isn't only physical talent and immediate success that ties Williams and Seferian-Jenkins. Like the talented tight end, Williams also was cited during the off-season for an alcohol-related offense. On May 26, Williams was pulled over for speeding but ultimately cited for being under the age of 21 while operating a motor vehicle under the influence of alcohol or marijuana. Williams was placed on probation for the next two years and paid a fine but did not spend any time in jail.
While scouts (and Sarkisian) will no doubt want to know all of the specifics of Williams' run-in with police over the summer, there is no denying the receiver's talent.
Broad-shouldered and possessing an impressive highly-muscled frame overall, Williams is an imposing opponent for cornerbacks. He is quick off the snap, showing good lateral agility and smooth acceleration as a route-runner and has strong, secure hands. Williams is not the same caliber threat in the open field as USC's Marqise Lee but other than the reigning Biletnikof Award-winner, there is no better potentially NFL-eligible wideout in the Pac-12.
3. RB Bishop Sankey (5-10, 200, 4.49)*: Perhaps the most impressive achievement that Sarkisian and his staff have made during their time in Seattle has been the transition made from one superstar to the next at the so-called skill positions. Quarterback Keith Price was a statistical improvement over the beloved Jake Locker in 2011 and, with a mesmerizing breakout campaign last season, Sankey erased any doubts of what the Huskies had in the hopper after three-time offensive MVP (and current Philadelphia Eagles back) Chris Polk completed his eligibility.
Sankey flashed game-breaking ability as a true freshman, averaging 6.7 yards per carry while playing in 12 of 13 games. Given his limited experience and less-than-ideal frame, however, few would have predicted that Sankey would explode in 2013 for one of the greatest single seasons in Washington's history.
Demonstrating the quick, darting running skills that helped make former California runner Jahvid Best a first-round pick by the Detroit Lions in 2010, Sankey rushed for 16 touchdowns and 1,439 yards in 2012 -- the second- and third-best totals in school history. Sankey also caught 33 passes for 249 yards.
It wasn't only that Sankey was good that is sure to catch the attention of scouts, however. He also showed great toughness, earning his yardage on 289 carries (third highest in school history).
While lighter than scouts would prefer, Sankey is a surprisingly powerful runner because he plays low to the ground and is willing to initiate contact. He's quick through holes inside, and has the speed to beat linebackers to the edge.
With Arizona's Ka'Deem Carey and Oregon's DeAnthony Thomas sure to steal most of the attention amongst Pac-12 running backs (and deservedly so), Sankey won't get much national attention. If he can prove that the breakout 2012 campaign was no fluke, however, the junior could garner significant interest from NFL scouts.

Other Washington prospects worth watching:
DT Danny Shelton (6-1, 317, 5.22)*: Sporting a similar frame as former Husky (and current Pittsburgh Steelers') nose tackle Alameda Ta'amu and offering more snap-to-snap consistency, Shelton's ability to clog rushing lanes makes him one to watch in 2013. He's played in every game the past two seasons, emerging as the team's replacement for Ta'amu in 2012 with 45 tackles, including four tackles for loss.

SS Sean Parker (5-10, 192, 4.55): While Parker may look the part of his former role as Washington's nickel back, the hard-hitter has quietly developed into one of the better all-around safeties in the Pac-12. Parker has started each of the past two seasons at safety for the Huskies, recording an average of 84 tackles a year and has 10 turnovers during that time (seven interceptions, three forced fumbles). With another standout campaign, the two-time team captain could prove the best NFL prospect among Washington's seniors.

QB Keith Price (6-1, 202, 4.73): Price stunned onlookers in 2011 when he replaced Jake Locker and in many ways proved to be an improvement over the Tennessee Titans' first-round pick. Heady, mobile and possessing legitimate arm talent, Price completed 66.9 percent of his passes for 3,063 yards and a school-record 33 touchdowns (against only 11 interceptions) in his first season as the full-time starter. He stood toe to toe with Baylor's Robert Griffin III by scoring an NCAA-record seven touchdowns in a 67-56 Alamo Bowl loss, leading to huge expectations a season ago. Struggles in protection, however, led to Price's numbers (and confidence) dwindling in 2012 (60.9 percent completion rate for 2,726 yards and a 19-13 TD to INT ratio). Given the success of Griffin, Seattle Seahawks' star Russell Wilson and other dual-threat passers in the NFL recently, Price could earn draftable grades from teams despite his slight frame. To do so, however, the senior will need to revert back to the caliber of play he showed in 2011.

The full list of the players and teams previewed by NFLDraftScout.com can be seen here.