2014 NFL Draft: Illinois Preview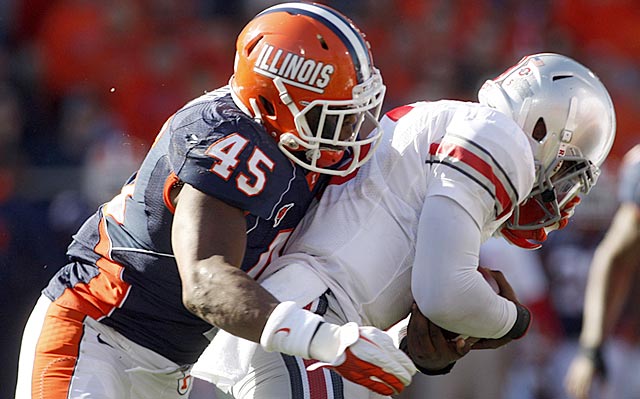 In preparation for the 2014 NFL Draft, NFLDraftScout.com will profile the top draft-eligible prospects from FBS-level programs. This summer series will run until the start of the college football season.
ILLINOIS FIGHTING ILLINI
The Fighting Illini have struggled in recent years to generate any real consistency on offense, and this year's class of draft-eligible prospects features some intriguing offensive talent that could see its stock rise significantly with improved performance on that side of the football - particularly out of the QB and O-line. Juniors Donovonn Young (RB) and Jon Davis (TE/WR/RB) are among those who could emerge as big-time playmakers on offense, while the more proven Jonathan Brown (OLB) returns from injury as the team's top-rated preseason draft prospect.
NFL Draft picks the last five years: 18
2013 NFL Draft picks: Four -- OL Hugh Thornton (third round, Indianapolis Colts), DT Akeem Spence (fourth round, Tampa Bay Buccaneers), CB Terry Hawthorne (fifth round, Pittsburgh Steelers), DE/OLB Michael Buchanan (seventh round, New England Patriots)
Top Illinois Prospects for the 2014 NFL Draft:
*Indicates underclassmean
1. OLB Jonathan Brown (6-1, 235, 4.65)
A 2012 Butkus Award finalist and All-Big Ten honorable mention, Brown led the Illini defense in TFL (9.5) despite missing the final three games of the year due to shoulder injury. Possessing a long, athletic frame and impressive physicality at the point of attack, Brown offers the versatility to line up at multiple LB spots, and offers good support both against the run and in coverage. His explosive first step, good angles to the ball and early diagnostics against the run put him around the football constantly, and he exhibits technical precision as a tackler when asked to break down and wrap his target low. He also displays impressive suddenness and maintains top speed when asked to change direction on the move. As for areas of needed improvement, Brown tends to freeze in space at times when asked to drop into zone as he'll lock onto the quarterback, and lose a feel for what's going on around him, but he's fluid in reverse and gets his hips upfield quickly in transition, so there are some physical attributes that suggest he has substantial upside as a cover 'backer. He'll be returning from a shoulder injury in 2013 so he'll need to display the physicality that he left off with in order to be considered one of the class's top OLB prospects for 2014.
2. RB Donovonn Young (5-11, 220, 4.62)*
Young was the team's leading rusher as a true sophomore in 2012 with 571 yards rushing (4.4 ypc) and 3 touchdowns behind a relatively weak offensive line, but also hauled in a team-high 38 passes including one touchdown. At 220 pounds, Young possesses an impressive combination of agility and burst for his size, and when these attributes are combined with a willingness to be physical on contact, we see a clear ability to extend plays with power. His first step to the line is explosive, and he's decisive when asked to spot the lane and cut back. He'll get a bit high through the hole at times, and doesn't routinely keep his weight forward, and despite possessing the athleticism to make defenders miss in space, will resort to initiating contact more than he needs to. He'll also occasionally leave the ball unprotected, or get his head up field before securing the catch out of the backfield, so there are a few things to clean up in terms of awareness. Young is still raw in some areas, but if the O-line can play with better cohesion and consistency in 2013, look for him to put up some big numbers as the team's primary workhorse, and rise up draft boards as a potential early entry candidate for 2014.
3. TE Jon Davis (6-3, 240, 4.68)*
Davis first emerged as a player to watch in 2011, when he earned Third-Team Freshman All-American honors, hauling in 22 passes (3rd on team) for 187 yards and a touchdown, and flashing impressive athleticism after the catch. And while his receptions went down in his sophomore year (nine), he showed impressive versatility in lining up at tight end, wide receiver and even running back where he exhibited power in short-yardage situations, averaging 4.9 yards on 21 carries including a touchdown against Ohio State. His ability to emerge in 2013 as a legitimate NFL Draft prospect will depend a lot on quarterback performance, but if he can continue to maximize the opportunities he's given, he has the potential to be a real diamond in the rough considering his versatility both as a receiver and runner, should he declare early and enter the 2014 draft.
Other Illinois prospects worth watching:
TE Evan Wilson (6-5, 250, 4.76)
Lacks the agility and overall athleticism of his teammate, Davis, but possesses prototypical size for the next level and is a superb run-blocker. Could be a depth consideration late in the draft if he can make a bigger contribution in the passing game as a senior(2 catches in 2012). Caught 3 TD passes in '11 and 2 in '10.
OT Simon Cvijonavic (6-5, 295, 5.29)*
Enters 2013 as the slated starter at LT after starting the final 9 games of his sophomore season at RT, and holding his own. Lacks top-end agility and flexibility for the position, but exhibits nice power, and improved technically over the course of the 2012 season.
WR Spencer Harris (6-2, 195, 4.64)
Reliable pass-catcher who exhibits good hands and clean routes. Possesses ideal size for the position, and could interest scouts as a potential late-round/UDFA prospect by emerging as a No. 1 target in the Illini offense this year.
QB Nathan Scheelhaase (6-2, 195, 4.59)
5th year senior who has struggled with consistency issues over the years. Unless he becomes a completely different player this year from previous years, Scheelhaase doesn't stand much of a chance at being drafted - particularly as a QB. Accuracy and arm strength are marginal at best (4 TDs to 8 INT in '12), and he lacks awareness needed to play the position at the next level. He's a good athlete though, which may lead some teams to consider developing him at another position as a UDFA.
OT Corey Lewis (6-5, 310, 5.33)
Big, physical lineman with some athleticism, whose career has been devastated by three torn ACLs and five surgeries. Returned from a two and a half year layoff to start the final four games of the 2012 season.
The full list of the players and teams previewed by NFLDraftScout.com can be seen here.