2014 NFL Draft: Michigan Preview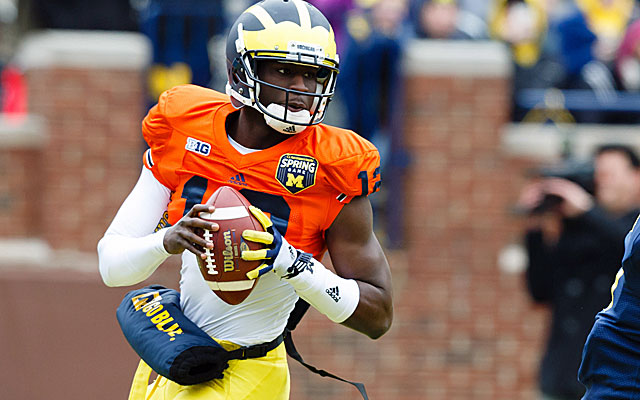 In preparation for the 2014 NFL Draft, NFLDraftScout.com will profile the top draft-eligible prospects from FBS-level programs. This summer series will run until the start of
the college football season.
MICHIGAN WOLVERINES

The 2011 season was a good one for first-year head coach Brady Hoke, as his team finished 11-2, and capped off the season with an overtime victory in the Sugar Bowl over Virginia Tech, earning Hoke Big Ten Coach of the Year honors, and setting an expectation for even greater things in 2012 with several key players returning.

Instead, the Wolverines regressed to an 8-5 record overall last season, due in large part to injuries suffered by some of those players, like co-captain Denard Robinson (QB/WR) and the team's second leading rusher in 2011, Fitzgerald Toussaint.

Now, with several key contributors from last year's team gone including Robinson, 2012 team MVP Jordan Kovacs and 2013 sixth-round pick William Campbell (DT), and with star linebacker Jake Ryan recovering from a torn ACL suffered in a March practice, the Wolverines will be relying heavily on some newer, younger faces like dual-threat quarterback Devin Gardner who wowed onlookers with his big arm, quick feet and impressive poise when he started the final four games of the year in place of Robinson, and has many believing that he'll upgrade the passing game substantially from previous seasons.

As for returning players with significant starting experience, potential top-10 NFL Draft prospect and starting left tackle Taylor Lewan will anchor the front line opposite of Michael Schofield who started all 13 games last year at right tackle for the Wolverines, and both Quinton Washington (DT) and Thomas Gordon (S) will help anchor the defense, with 37 total career starts between the two of them.

Lewan and Gardner, as well as Ryan -- if he's able to rebound from a torn ACL and contribute for at least a portion of the season -- head this year's class of Wolverines to keep an eye on leading up to the 2014 draft.

NFL Draft picks in the last five years: 12

2013 NFL Draft picks: WR Denard Robinson (fifth round, Jacksonville Jaguars), DT William Campbell (sixth round, New York Jets)
Top Michigan prospects for the 2014 NFL Draft:

1. OT Taylor Lewan (6-7, 308, 4.95)
Lewan is a 35-game starter, returning First-Team All-American 5th-year senior, and the talk of the town in Ann Arbor after a 2012 season performance that many feel warranted a top-10 pick in the 2013 draft.

Many point to his solid performance in the Outback Bowl against fellow All-American and projected 2014 top pick Jadeveon Clowney (DE - South Carolina) as the game that really put Lewan on the map as a legitimate elite NFL prospect, but the same performance also exposed areas of needed improvement that, if corrected this year, could cement Lewan a spot as a top five selection next May.

At 6-7, and 308 pounds with ideal muscular proportion throughout, Lewan possesses a prototypical frame to play either tackle spot at the next level.

Off the snap, he does a good job of getting his arms extended, and exhibits strong pop on contact to jar and slow his opponent. In pass-protection, Lewan establishes a wide base with good lower-half bend, and displays a smooth, balanced kick-slide to mirror his opponent to the edge where he sustains extention to keep the defender out of his chest. He does a good job of keeping his feet moving on bull-rush contact, re-setting nicely when initially overpowered, and exhibits a strong anchor once settled.

On the run, Lewan exhibits strong initial burst and quickness of the snap, and can break down in space and square up with linebackers and defensive backs at the second level. He's got some nasty to him as well, as he does a good job of sustaining and finishing blocks once engaged, with an obvious goal of driving his opponent into the turf. He's also quick to pivot and seal the edge on outside runs.

As for areas of improvement, Lewan seems to struggle with anticipation at times, as counter-moves by opposing pass-rushers tend to freeze him or leave him over-commited to one side, making it relatively easy for his opponent to to step around him. He'll also over-extend and bend at the waist when firing into defenders in the run game, leaving him susceptible to whiffing or being tossed aside easily.

Had Lewan entered the draft after last season, we would probably be seeing him in an opening day NFL starting lineup a few weeks from now, making an immediate impact as one of the league's top rookies. However, his decision to return for another year and continue growing both as a person and a player says alot about his character, and will go a long way with coaches and executives at the next level in proving his commitment to his team and to his continued development as a player.

2. QB Devin Gardner (6-4, 212, 4.54)
A Parade Magazine All-American coming out of Inkster High School in 2009, Gardner was rated by Rivals.com that year as the top prep player in the state (Michigan), and the top dual-threat quarterback in the nation.

He saw limited action as a freshman, and although his playing time went up slightly as a sophomore, his appearances would once again be sparse, with Denard Robinson solidifying himself as the team's leader and top play-maker at the position.

In an effort to not allow Gardner's talent to go to waste within the program, coaches converted him to wide receiver heading into the 2012 season, and the move was looking like a good one through the first four games as he led all Michigan receivers with 11 receptions.

However, in the eighth game of the season against Nebraska, Robinson suffered an injury to his throwing arm, and Gardner was switched back to quarterback and thrust into the starting role immediately. He started the final four games of the season and quickly proved his worth as the explosive, dual-threat signal-caller that he was recruited to be, leading his team to two key conference victories including a 42-17 pounding of Iowa - a game in which he personally accounted for six total touchdowns (3 passing, 3 rushing), and amassed 314 yards through the air on 18 of 23 passing.

Gardner now enters his redshirt junior campaign after being granted a "redshirt for medical hardship" for his freshman year (2010) where his season was cut short by a back injury.

While there were cerainly elements of rawness to his quarterback play last season, his mechanics and his pocket presence were two that appeared surprisingly strong considering his lack of signal-calling experience at the collegiate level.

Coaches did a good job of slowing the game down for him, as he ran a ton of deep-drop play action, rollouts, and bootlegs to freeze defenses thus providing him more time to scan the field, but even when he was pressured, seemed to keep moving through progressions, and for the most part, avoided bailing early despite his athleticism.

He possesses plenty of arm strength to make all the throws, exhibits a nice tight spiral, and displays good location on timing routes when leading his target. He's also pretty accurate when throwing on the run, and does a good job, despite his length and size (6'4, 210), of utilizing short-area quickness to extend plays and escape trouble through tight spaces in the pocket.

As for areas of improvement, there is a bit of a hitch at the back of his delivery and he'll drop his arm-angle at times, but the quickness of his release doesn't necessarily seem to be hampered by it, so it will be interesting to see how NFL scouts react, should this remain. He does needs to show improvement in terms of decyphering information quickly when it comes to reading defenses, as he'll hold the ball too long, force throws into far too tight of spaces, or perceive there to be windows in zone defenses that simply aren't there.

On a team that returns a lot of key players this year after a disappointing 2012 - due in large part to an array of injuries - Gardner has an opportunity to establish himself as one of the conference's top quarterbacks. And if he can build on last year's positive showing with some mechanical improvemens and a displayed better understanding of defenses, he could find himself in the discussion among underclassmen quarterbacks who grade highly as potential early-entry candidates for the 2014 draft.

Other Michigan prospects to watch:

OLB Jake Ryan (6-2, 242, 4.68)
Ryan has started 24 of 26 career games, and in 2012 led the team with 88 tackles including 16 for losses, 4.5 sacks and four forced fumbles, looking every bit the part of a budding star and future pro in the process. However, during a spring practice in March, he suffered a torn ACL and is out indefinitely, and chances don't appear to be great that he'll be able to contribute much this season. He'll certainly be one to keep an eye on, to see if he can return to pre-injury form.

OT Michael Schofield (6-6, 304, 5.09)
Started 13 games at right tackle in '12. Surprisingly nimble and quick-footed for his size. Not the athlete that Lewan is, but exhibits solid fundamentals in both facets of the offense, and plays with a nasty streak. Could emerge as a top-10 OT in next year's draft with better consistency as a senior. Should not be limited solely to being a right tackle prospect, considering his agility in pass-protection.

DT Quinton Washington (6-3, 305, 5.48)
10 career starts at DT(all last season). Strong initial burst and active hands give him natural ability to be disruptive. Lacks agility in space though, and struggles to consistently generate leverage in the trenches due to stiff lower half. There's some talent there, but needs to get better technically.

SS Thomas Gordon (5-11, 208, 4.63)
Experienced DB (27 starts) who has played extensively at both strong and free safety for the Wolverines and has had some impressive flashes. Athletic and instinctive with a knack for forcing turnovers, but lacks consistent aggression and will have the occasional concentration lapse. Better consistency this season could mean a draft-able grade from NFL scouts.

RB Fitzgerald Toussaint (5-10, 200, 4.49)
Instinctive, cut-and-go runner with good vision and awareness. Is not an elite athlete as he lacks quickness, is not a burner, and does not play with physicality required to be an every-down back. Career has been hampered by multiple injuries and a DUI. Will have a chance to compete for a starting role this year, where he'll need to exhibit strong versatility to earn looks from NFL scouts. Rushed for 1041 yards and averaged 5.6 yards/carry in 2011, but suffered a broken leg last season and was limited to 514 yards and 4.0 yards/carry.

WR Jeremy Gallon (5-8, 187, 4.46)
2012 All-Big Ten honorable mention (coaches) who led the team with 49 receptions for 829 yards and four touchdowns. Started all 13 games last season and has a reception in 26 straight contests. Quick, explosive receiver who can stretch the field vertically or sit down in space, tracks and plays the ball well for his size, and has make-you-miss ability after the catch. Struggles to beat press on the outside, and is purely a slot prospect at this point.
The full list of the players and teams previewed by NFLDraftScout.com can be seen here.