Te'o largely invisible in NFL debut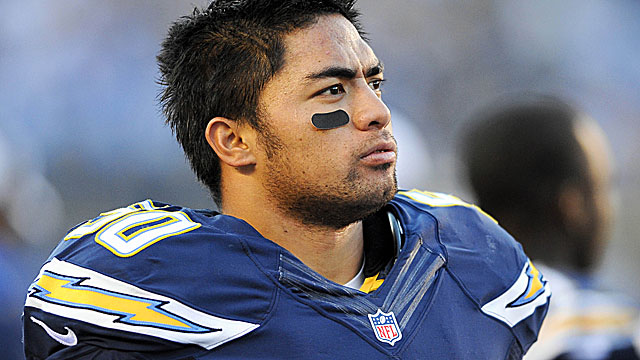 It has been seven months since Alabama crushed Notre Dame on their way to a second consecutive BCS title but for embattled inside linebacker Manti Te'o, it likely has felt much longer than that.
Unfortunately for Te'o, his NFL debut Thursday night was eerily reminiscent of his final game with the Irish.
Te'o, the No. 38 overall pick of April's draft, earned the start at inside linebacker for the San Diego Chargers but recorded no tackles in two series of action in the preseason opener against the Seattle Seahawks.
Just as he had throughout most of a stellar career with Notre Dame, Te'o showed good quickness and the willingness to take on blocks. Like against Alabama, however, Te'o was unable to disengage quickly enough to be consistently involved in the action. Against a highly physical Seahawks' rushing attack, Te'o was stoned by Seahawks' right guard Paul McQuistan as well as fullback Michael Robinson on running plays in the first quarter.
It is also worth noting that Seattle's second round pick Christine Michael, and not star Marshawn Lynch, got the start at running back for the Seahawks.
Though he did not make a tackle, Te'o played solid team defense against the run. He fought off blocks and pursued with his trademark passion.
This aggression got the best of Te'o in his limited snaps against the pass. He was substituted on third downs by the Chargers and was caught out of position on his first NFL snap from scrimmage.
Te'o was sucked up towards the line by an effective play-action fake from Russell Wilson, only to realize his mistake and watch helplessly as Seattle's second-year quarterback flicked a intermediate crossing pass to wideout Jermaine Kearse for a 20-yard gain.Te'o and his teammates regrouped quickly thereafter, however, forcing Seattle to punt four plays later.
While Te'o's NFL debut lacked flash, it is important to note that he only saw nine snaps before he and many of the other San Diego starters were given the rest of the night off. Te'o has earned solid reviews for his play thus far with the Chargers and he is expected to start this season. The Seahawks accumulated just 42 total yards and did not score in Te'o's two series.
Check out the Rookie Report archives here.