Geno Smith checks down, checks out with ankle injury in Jets debut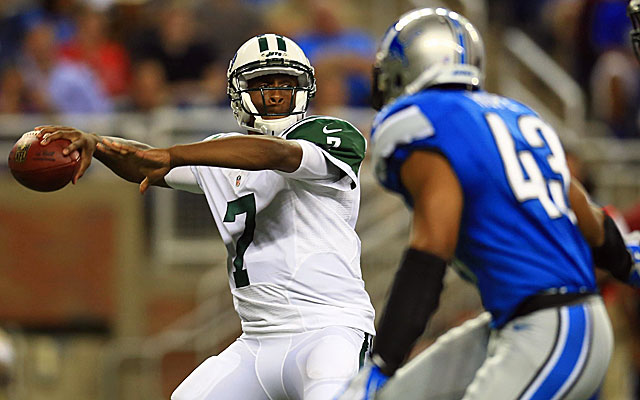 The New York Jets made Geno Smith the second quarterback selected in the 2013 NFL Draft with the hope that he'd push Mark Sanchez for the starting role as a rookie.
That could be tough for the West Virginia product to accomplish prior to the start of the regular season as Smith suffered an injury to his right ankle, after going down untouched while rolling away from pressure in the third quarter of the Jets' preseason opener against the Detroit Lions.
Smith told reporters after the game that his ankle was a "little sore," but said that he expects to play in the Jets' preseason home opener against the Jacksonville Jaguars on Aug. 17.
Smith's play prior to the injury, however, provided little evidence that he's ready to seriously challenge Sanchez as the Jets' starter.
Smith's final numbers look better on paper than they did on tape. He completed 6 of 7 passes for 47 yards but the Jets struggled to move the ball against the Lions.
Smith's best throw was his first one. He showed off his velocity and good accuracy on a curl to wideout Clyde Gates. The ball hit Gates in stride and allowed him to squeeze between defenders to generate another 5 yards after the catch for a gain of 15 and a first down.
Smith also showed good timing in play-action, hitting Stephen Hill after an effective fake to running back Bilal Powell. Smith's ability to hold defenders in play-action was a concern for some scouts as he took the vast majority of his snaps out of the shotgun in college.
While there were moments worthy of applaud for Smith, most of his throws were of the underneath variety. He frequently checked down and took safe throws rather than push the ball downfield. Smith frustrated scouts by doing precisely this during West Virginia's tailspin in 2012.
Finally, on the play in which he appeared to suffer the injury, Smith's lack of preferred athleticism showed up. He showed some awareness in initially rolling away from pressure but stumbled while doing so and rolled to the ground awkwardly. He was tagged by Lions' linebacker Ronnell Lewis after a 1-yard gain.
Sanchez didn't start out the game very impressively either. His first pass -- a screen read easily by the Lions -- was picked off and returned for a touchdown by rookie defensive end Ziggy Ansah.
Sanchez played reasonably well following the interception, however, connecting on 10 of 13 passes for 125 yards and a well thrown pass down the seam to wide open tight end Jeff Cumberland for a touchdown before being lifted for Smith.
Check out the Rookie Report archives here.