2014 NFL Draft: Wisconsin Preview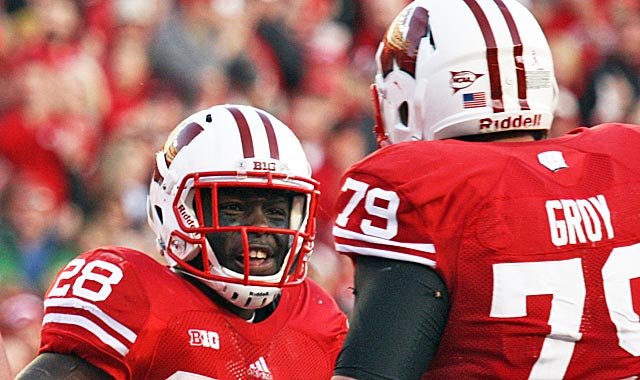 In preparation for the 2014 NFL Draft, NFLDraftScout.com will profile the top draft-eligible prospects from FBS-level programs. This summer series will run until the start of the college football season.

WISCONSIN BADGERS
NFL Draft picks the last five years: 20
2013 NFL Draft picks: 3 – C Travis Frederick (1st round, Dallas Cowboys), RB Montee Ball (2nd round, Denver Broncos), OT Ricky Wagner (5th round, Baltimore Ravens)

Wisconsin begins a new chapter in 2013 as Gary Andersen takes over as the Badgers head coach, but don't expect the team identity to change. Wisconsin has produced some talented quarterbacks (most recently Russell Wilson) and pass rushers (J.J. Watt), but sending offensive linemen to the NFL has been the bread-and-butter for the Badgers over the last decade. And although senior left tackle Ryan Groy is no Joe Thomas, he is a better prospect than Ricky Wagner and could be the Badgers' highest drafted player next May.

Top Wisconsin prospects for the 2014 NFL Draft
*Indicates underclassman

1. OL Ryan Groy (6-5, 318, 5.26)
The Badgers are well known for producing NFL-ready offensive line prospects, evidence by seven Wisconsin blockers hearing their names called on draft weekend over the last three years. And entering his senior season, Groy is just the latest offensive line product out of Madison who has attracted NFL attention. He was a part-time starter as a freshman and sophomore (six total starts) before becoming the full time starter at left guard last year as a junior. Groy did start a pair of games in 2012 at left tackle when Ricky Wagner went down with an injury (vs. Minnesota and vs. Michigan State) and is expected to kick out and be the full-time starter at left tackle in 2013. He has a wide, well-built frame with powerful take-on strength and flashes the mean streak to overwhelm defenders at the point of attack. Despite average-at-best snap quickness, Groy stays coordinated in his lateral shuffle and looks natural blocking on the move at the second level and on combo blocks. He does a nice job squaring his shoulders with a wide base to mirror, but lacks elite redirection skills and is often late with his hands, playing too much belly-to-belly. Groy needs technique work to do a better job protecting his body with more consistent hand use and placement, too often allowing rushers into his breast plate and getting knocked on his heels. He understands leverage, but has room to improve his pad level, letting his shoulders bounce too much off the snap. With a limited sample of him at left tackle on film, time will tell if Groy can make a living on the outside, but he has shown enough to be a possible top-100 prospect with his versatility to line up at multiple offensive line spots.

2. RB Melvin Gordon (6-1, 206, 4.54)*
Wisconsin relied on a strong run game during Brett Bielema's tenure at Wisconsin, but Gary Andersen produced more NFL draft picks at the running back position the last two years at Utah State (3 – Robert Turbin, Michael Smith, Kerwynn Williams) than Bielema's entire seven years as the Badgers' head coach (1 – Montee Ball). And with the super-productive Ball playing on Sunday's this fall, senior James White will get his chance to see more carries, but don't count out redshirt sophomore Gordon as the running back who steps up as Wisconsin's starting bell cow. A Wisconsin-native, he slowly saw more and more playing time throughout last season, showing a lot of promise and finishing with 621 rushing yards on 62 carries (10.0 yards per carry average) and three touchdowns. Gordon runs with low pad level for a 6-1 athlete, displaying quick acceleration between the tackles with the vision to create beyond what is there for him. He is a dangerous ballcarrier in space and showed his elusive moves and big-play potential in the Big Ten Championship Game against Nebraska last year, collecting 216 rushing yards on just nine carries (24.0 yards per carry average). Gordon is still developing his frame and coaches would like to see him bulk up into the 215-range, but even at his current weight, he doesn't shy from delivering a pop upon contact. He is unproven as a receiver with only two career catches, but is expected to see more playing time in 2013 as both a receiver and on special teams as a return man.

3. MLB Chris Borland (5-11, 242, 4.65)
Another Wisconsin prospect who doesn't quite look the part, Borland has marginal height and length, but he has a nose for the ball and it's no coincidence that he's always around the action. A two-star linebacker out of Kettering, Ohio, he saw immediate action at Wisconsin as a true freshman and is well on his way to being one of the most productive defenders in program history, currently with 309 career tackles. Borland already holds the Wisconsin career record for forced fumbles (13) and has made an impact behind the line of scrimmage (41.5 tackles for loss). He read/reacts in a flash and follows the ball extremely well with instinctive anticipation, enough so that Badgers' head coach Gary Andersen compared him to NFL Pro Bowler Eric Weddle, who he coached at Utah. Borland is disciplined in space and is rarely fooled, showing good body positioning and timing in coverage. He lacks elite speed and range to consistently play sideline-to-sideline, but effort and motor aren't questions – his body and mind are always at full-go. Borland meets the ballcarrier in the hole and strikes through his target with very good strength to deliver a jolt at the point of attack, but his lack of length shows near the line of scrimmage. His lack of NFL size and arm length will be tough to overlook for scouts, but he is a heady player who doesn't make many mistakes and has the productive resume that should get him drafted sometime on the draft's third day.

4. WR Jared Abbrederis (6-1, 190, 4.59)
The team-leader in receiving yards the past two seasons, Abbrederis is a former walk-on who has been extremely productive since he arrived in Madison. After setting career-highs as a sophomore in 2011 with Russell Wilson at quarterback, his stats suffered with the spotty quarterback play last season, but he still finished third in the conference in receiving yards with 837 yards on 49 catches for five touchdowns. Abbrederis is only an average athlete with ordinary straight-line speed but has sneaky quickness to get behind the secondary. He does a nice job selling routes and is able to create separation with his footwork, most notably a stutter-and-go double move that he frequently uses to burst past cornerbacks in coverage. Abbrederis displays excellent field savvy, tracks the ball very well and makes the proper adjustments to extend and pluck with his quick, soft hands. He has astute field awareness and always appears to know where he is on the field, something that he also shows on special teams as a punt returner. Overall, he won't appeal to every NFL team due to his average size, speed and overall athleticism, but Abbrederis is a balanced pass-catcher with gliding speed who has been very productive, despite having to deal with a handful of different Wisconsin quarterbacks throughout his collegiate career. He will leave the Badgers as one of the most productive receivers in school history and, just like when he was forced to walk on at Wisconsin, Abbrederis will likely be undervalued as a pro prospect.

5. TE Jacob Pedersen (6-4, 238, 4.76)
Besides offensive linemen, the Badgers have been very active sending athletic, pass-catching tight ends to the NFL in recent memory and Pedersen is the next in line. After redshirting in 2009, he started 20 games over the last three years and enters his senior season with 65 career catches and 14 touchdowns. Pederson lacks elite size for the position and is leaner-than-ideal, in the similar mold as former Wisconsin tight ends like Lance Kendricks and Garrett Graham. He has soft hands with excellent body control to easily make the correct adjustments on the move to reel-in poor throws, but he does have the bad habit of looking upfield before securing the catch and needs to consistently finish. Pedersen gives top notch blocking effort, but needs to better understand when to disengage to avoid holding calls. He lacks the power or length to be a consistent mauler as a run blocker, but he gives excellent effort in this area and projects to the NFL as a dependable joker-type tight end. Look for Pedersen to be a third day pick and the sixth tight end out of Wisconsin drafted since 2006.

Other Wisconsin prospects worth watching:
RB James White (5-10, 198, 4.52)
After spending most of his career in Montee Ball's shadow, White will have a chance to see more carries in 2013 as a senior to boost his already productive resume (2,571 rushing yards, 33 total scores). He is a big play waiting to happen with his explosive quickness to make strong cuts and the top-end speed to finish downfield. White doesn't have the prototypical size to be a feature runner at the next level, but he could be a NFL reserve in the mold of a Dion Lewis-type.

OT Rob Havenstein (6-7, 342, 5.40)*
The Badgers' returning starter at right tackle, Havenstein has a tall, thick frame and can be a mauler in the run game with his natural size and brute power. A long-haired, nasty blocker, he arrived in Madison a few cheeseburgers away from 400 pounds, but is down to the 340-range without losing any of his strength. Havenstein showed steady improvement last year as a sophomore, but still has lots of room to improve his technical flaws.

DT Beau Allen (6-2, 334, 5.54)
A first-year starter last season, Allen had a solid junior season with 37 tackles, 7.5 tackles for loss and 2.5 sacks, but will be expected to take on more of a leadership role as a senior as the best player on the Badgers' defensive line. He fires out of his stance and plays with a physical, mean motor, engaging double-teams and holding the point of attack. Allen isn't flashy, but does the dirty work and takes care of business in the trenches.

FS Dezmen Southward (6-2, 214, 4.53)
The lone returning starter to the Wisconsin secondary, Southward finished fourth on the team last season with 69 total tackles, adding eight tackles for loss, five passes defended and his first career interception. He offers an athletic build with a good mix of speed and muscle to make plays close to the line of scrimmage and in the deep half of the field. He had a strong spring and it wouldn't be too surprising to see Southward emerge as one of the top safeties in the Big Ten.