2014 NFL Draft: Alabama Preview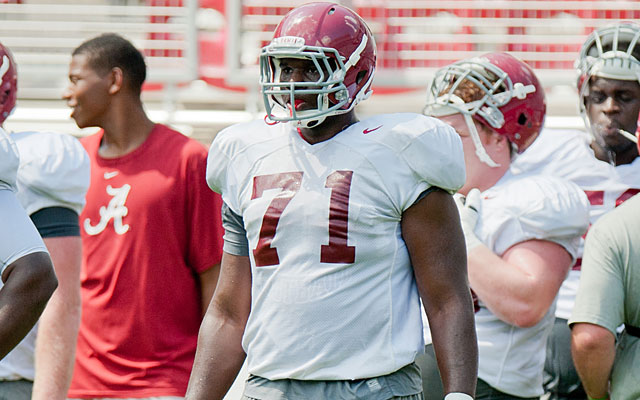 In preparation for the 2014 NFL Draft, NFLDraftScout.com will profile the top draft-eligible prospects from FBS-level programs. This summer series will run until the start of the college football season.

ALABAMA CRIMSON TIDE
As winners of the past two BCS titles (and three out of four), there is no longer any doubt that Nick Saban's University of Alabama is in a different class than any other program in college football. Saban's dominance isn't just felt in collegiate wins but in churning out NFL prospects.
Alabama's resurgence is impressive in its success, as well as its speed. Consider that in 2008, Alabama failed to produce a single NFL Draft pick for the first time since 1970. Since then, 33 Tide players have been drafted, which ranks second nationally to Southern California's 34. Even more impressive, 14 of those picks came in the first round. By comparison, only six of the Trojans selected over this time went in the first round.
Nine Alabama players were selected in April's draft -- the most from the school since 1945. With such a loss, it might seem a logical time to predict a Tide change. Unfortunately for fans of every other program in college football, the talent at Alabama is hardly ebbing.
In fact, the potentially draft-eligible talent on this roster is such that the defending champions rightfully earned the top spot in the preseason rankings for this season. Furthermore, some of Alabama's most exciting prospects are true sophomores (running back T.J. Yeldon, wide receiver Amari Cooper) who can't apply for early entry into the NFL until 2015.
As such, love 'em or hate 'em, Saban's Crimson Tide look poised to continue their dominance on Saturdays as well as flooding the NFL with highly regarded prospects.

NFL Draft picks the last five years: 33

2013 NFL Draft picks: Nine -- CB Dee Milliner (first round, New York Jets), OG Chance Warmack (first round, Tennessee Titans), OT D.J. Fluker (first round, San Diego Chargers), RB Eddie Lacy (second round, Green Bay Packers), ILB Nico Johnson (fourth round, Kansas City Chiefs), OC Barrett Jones (fourth round, St. Louis Rams), DT Jesse Williams (fifth round, Seattle Seahawks), DE Quinton Dial (fifth round, San Francisco 49ers), TE Michael Williams (seventh round, Detroit Lions)

Top Alabama prospects for the 2014 NFL Draft

* Indicates underclassman

1. OT Cyrus Kouandjio (6-5, 310, 5.12)*
Physically speaking, Kouandjio has everything scouts are looking for in a potential Pro Bowl left tackle, which is why he universally ranked as the elite prep lineman when signing with Alabama in 2010. He redshirted, then played in eight games in 2011 before a knee injury ended his first season of action in Tuscaloosa early. His undeniable upside convinced Alabama to move the ultra-reliable Barrett Jones inside to center after he had earned All-SEC and the Outland Trophy at left tackle in 2011. Though he wasn't named to the all-conference team in his first season at the so-called blindside position, Kouandjio demonstrated the talent to earn this distinction in the future.
Kouandjio is light on his feet, flexible, has broad shoulders and his arms are both long and strong. His weight is evenly distributed over his frame and he reportedly has just 16 percent body fat, an impressive number for any offensive lineman. He is quick off the snap and has the lateral agility to slide left to right. Kouandjio uses his athleticism in pass protection well but he's even more impressive as a run blocker, consistently out-quicking defenders to create lanes. Perhaps most impressive -- considering his relative lack of experience -- is that Kouandjio plays at different speeds well. He shows very good patience in pass protection but can fire off the ball when needed, as well.
With only one starting season under his belt -- flanked by Chance Warmack -- Kouandjio must show improvement in his technique in 2013 to consider making himself eligible for the 2014 draft. He's choppy sliding into pass protection and has a tendency to drop his head upon contact. Regardless of when he elects to make himself eligible to the NFL, Kouandjio will be highly regarded. Frankly, he has at least as impressive a skill-set as his former linemate D.J. Fluker, who the Chargers took 11th overall in 2013.
2. LB C.J. Mosley (6-2, 232, 4.65)
South Carolina superstar JaDaveon Clowney is the best player in the country. From a scouting standpoint, perhaps the most enjoyable player to watch is Mosley. Tough and athletic, with the keenest instincts of any linebacker I've scouted since Lofa Tatupu, Mosley is constantly around the ball and is often making big plays as a result. His 107 tackles in 2012 were the second-highest total by an Alabama linebacker in the past 25 years (DeMeco Ryans had 126 in 2003) and 48 more than the next Tide defender last season (fellow inside linebacker Trey DePriest). Mosley also recorded eight tackles for loss, four sacks and two interceptions. Mosley has five interceptions over his career, three of which he's returned for scores, tying the school record.
Mosley surprised many by electing to return to Alabama for his senior season as he is a legitimate first-round prospect. He has been a standout at Alabama since his true freshman season and missed time in 2011 with a dislocated elbow. Considering his own talent, as well as that of his teammates, it is entirely possible that Mosley could help the Tide win their third consecutive BCS title and win the Butkus Award as the nation's top linebacker along the way.
3. OLB Adrian Hubbard (6-5, 252, 4.76)*
Hubbard's combination of length, flexibility and power could earn him comparisons to former Oregon star Dion Jordan, the No. 3 overall pick in 2013 by the Miami Dolphins. Hubbard isn't as explosive off the snap as Jordan (in fact, Hubbard is often slow off the ball) but his long gait does help him build speed quickly and he has some bend to avoid blocks. He generally uses his speed to beat tackles off the corner but can surprise them with a strong bull rush and flashes a quick inside cut to complement both. Belying his length, Hubbard is surprisingly effective against the run, showing good knee bend when taking on blocks, as well as the strong, long arms to take on, shed and make the tackle when the ball-carrier is near. Hubbard generates power on contact, pushing ball-carriers backward with his tackles. He is often asked to drop back into coverage, showing light enough feet, balance and speed to contribute in this role at the next level. Hubbard is a bit of a wild card. He is not extraordinary in any one category at this time but his ability to play at the line or in space is very intriguing.
4. FS Ha Ha Clinton-Dix (6-1, 208, 4.54)*
The ability to control the line of scrimmage is perhaps most critical to Alabama's resurgence but stellar play in the secondary is a trademark of Saban's teams. Saban initially made his mark as a defensive backs coach in college and the NFL and has another young star in Clinton-Dix, who simply tied for the SEC lead with five interceptions last year as part of a breakout sophomore campaign.
Clinton-Dix changes directions fluidly and accelerates smoothly. He reads the quarterback's eyes well and breaks on the ball, showing a late burst to close downhill. He has plus hands for the interception and shows vision and natural open-field running skills with the ball in his hands. Clinton-Dix anticipates the run well, attacking the line of scrimmage to make some impressive stops up close. He doesn't have the preferred strength, at this time, to break free from blocks and isn't a consistently physical tackler, electing to grab and pull down ball-carriers rather than striking them forcefully.
5. OG Anthony Steen (6-2, 312, 5.22)
Steen was far and away the least hyped of Alabama's celebrated offensive line a season ago but his combination of quickness, power and competitiveness will earn him high marks from scouts. Steen quickly established himself as one of Alabama's top backups after redshirting in 2009 and he started two games at right guard in 2010 when Barrett Jones went down with an injury. Steen started the first seven games (and nine games overall) a year later before suffering an injury of his own (concussion). Steen made significant strides last year. His quickness allows him to seal off defenders and he has the strength to catch and control. He is a bit shorter than ideal and may be viewed as a candidate to be moved to center by some scouts.
Other Alabama prospects worth watching:
DE Ed Stinson (6-3, 282, 4.87)
A powerful base end who sets the edge nicely in the running game, Stinson could earn a spot among the top 64 in the 2014 NFL Draft but falls just outside of Alabama's top five prospects. Stinson recorded 29 tackles, including eight for loss and three sacks in 2012, his first season as a starter. He was often moved inside on passing downs and while not as quick as preferred, does have an effective over-arm swim move and powerful bull rush.
QB A.J. McCarron (6-3, 214, 4.84)
There is no question McCarron is an upgrade over prior Alabama quarterbacks under Saban but he remains a hotly debated prospect among scouts. McCarron is intelligent, mobile and has enough arm talent to make every NFL throw, earning a preseason second-round grade from NFLDraftScout.com. He does not have the eye-popping physical traits to convince everyone that his play isn't significantly enhanced by all of the talent around him, however. Despite impressive numbers (including leading the NCAA with a 175.28 passer efficiency rating in 2012), McCarron, a Mobile, Ala., native, may need to distinguish himself at the Senior Bowl to quiet critics.
CB Deion Belue (5-11, 185, 4.48)
Despite opponents often attempting to complete passes against him rather than challenge Dee Milliner, Belue enjoyed a strong first season in Tuscaloosa in 2012 after signing with the Tide as a highly regarded juco prospect. Belue originally signed with Alabama in 2010 but spent two seasons at Northeast Mississippi Community College getting his academics in order. He impressed the coaching staff with his understanding of the playbook during his initial practices with the team and started all 14 games opposite 2013 Thorpe Award finalist Milliner, posting 40 tackles, 6½ tackles for loss, nine passes broken up, two interceptions and a fumble recovery which he returned 57 yards for a touchdown.
WR Kevin Norwood (6-1, 195, 4.58)
Norwood fought through a turf toe injury last season to finish second on the team in catches (29), receiving yards (461) and touchdown catches (four). He missed the spring after recovering from surgery to repair the issue but could be in position enjoy a significant spike in his production as a senior complementing sophomore star Amari Cooper. Norwood is at his best in the slot, where his quickness and toughness helped him rack up 24 first downs for the Tide last year.
DE Jeoffrey Pagan (6-4, 290, 4.85)*
Pagan signed with Alabama as a highly regarded prep prospect and could be on the verge of a breakout junior campaign after emerging as a solid back-up last season. Splitting time inside and out, Pagan registered 22 tackles, including four for loss and 1½ sacks in 2012.
ILB Trey DePriest (6-2, 245, 4.68)*
Overshadowed by Mosley, DePriest is likely to make big strides in 2013, his second season as a starter. He quickly established himself as one to watch as a true freshman, leading the team with 14 special teams' tackles and finished second to Mosley last year in total stops (56 tackles, including four for loss). Like his former teammate Nico Johnson (Chiefs' fourth round pick), DePriest is a bit of an anvil in the middle, taking on and shedding blocks but he has limited speed. DePriest also has to work himself back into Saban's good graces after the coach announced Tuesday that the linebacker was suspended "for a short time."