2014 NFL Draft: Florida Preview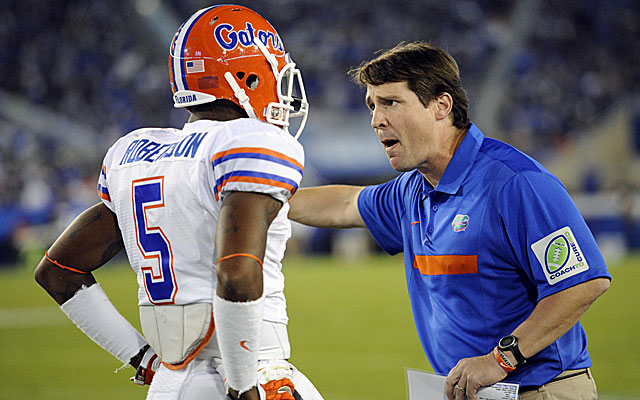 In preparation for the 2014 NFL Draft, NFLDraftScout.com will profile the top draft-eligible prospects from FBS-level programs. This summer series will run until the start of the college football season.

FLORIDA GATORS
The Florida Gators improved to 11-2 in Will Muschamp's second season in Gainesville -- a four-game improvement over his first season -- but a 33-23 loss to Teddy Bridgewater and Louisville in the Sugar Bowl left a bitter taste in their mouths to end the year.
With eight Gators drafted into the NFL in April, it will be tough for Florida to duplicate this success in 2013, though Muschamp is setting the bar high.
"Our goal is to go to (the SEC title game in) Atlanta at the University of Florida," Muschamp said. "And when you don't meet that goal, you haven't achieved anything."
The Gators are once again stacked with NFL talent, especially on the defensive side of the ball.
NFL Draft picks the last five years: 26

2013 NFL Draft picks: Eight -- DT Sharrif Floyd (Minnesota Vikings, first round), S Matt Elam (Baltimore Ravens, first round), ILB Jon Bostic (Chicago Bears, second round), TE Jordan Reed (Washington Redskins, third round), OLB Jelani Jenkins (Miami Dolphins, fourth round), RB Mike Gillislee (Dolphins, fifth round), K Caleb Sturgis (Dolphins, fifth round), S Josh Evans (Jacksonville Jaguars, sixth round)

Top Florida prospects for the 2014 NFL Draft

* Indicates underclassman

1. CB Loucheiz Purifoy (6-0, 185, 4.47)*
A highly aggressive defender, Purifoy finished fourth on the team with 51 tackles and broke up five passes in his first season as a starter but it was the versatility he showed on special teams and even on offense that has Florida dreaming of what their versatile star could have in store for 2013.
Purifoy logged one carry (for 8 yards) and one reception (for 5) in 2012 but the timing of his appearances last year (Florida State, Sugar Bowl) and reps he's taken in practice this summer indicate that he could see significantly more action on offense in 2013. It isn't difficult to understand why all of the Florida coaches are requesting that the talented junior line up for them. Purifoy is just as passionate and physical when covering or returning on special teams as he is playing coverage, coming up in run support or attacking the quarterback off the edge on the blitz. What's more, he has a knack for making game-changing plays. He forced two early fumbles against South Carolina and blocked two kicks a season ago -- a field goal and a punt -- in tight wins over Louisiana (Gators won 27-20) and Missouri (14-7), respectively.
Well-built and light on his feet, Purifoy certainly looks the part of a top-flight NFL prospect. Better yet, he's been asked to play in a NFL-style defense. The Gators ask their corners to play tight man to man coverage on most snaps and Purifoy handles this responsibility well. He will extend to jam the receiver, at times, but is athletic enough to simply turn and run with most, demonstrating fluid hips, quickness and straight-line speed. Ironically enough, the corner may actually be at his best against the run. Purifoy is very quick to read run, fighting through blocks to get involved in the action. This aggression allowed quarterbacks to pepper him with underneath, out-breaking routes at times, rarely giving him opportunities to make plays on the ball (zero career interceptions). While the lack of interceptions is troubling, Purifoy creates turnovers as a physical hitter who rips and punches at the ball frequently and has four forced fumbles over his 26 games (12 starts).
If Purifoy gets the opportunity to be a two-way player for the Gators in 2013, his exposure will, of course, rise dramatically. To take the next step toward a high pick from an NFL team, however, he'll need to prove that quarterbacks -- and not just other ball-carriers -- need to fear putting the ball anywhere near him.
2. CB Marcus Roberson (6-0, 195, 4.52)*
While Roberson won't generate the same hype as his teammate, his agility and instincts in coverage earned him more immediate playing time in Gainesville. Roberson started 10 games as a true freshman before a frightening neck injury (fractured C6 vertebrae) ended his season prematurely. He eased concerns about the injury by playing in all 13 games as a sophomore (starting four times) and leading the team with 14 passes broken up (second in the SEC), including two interceptions. The 12 pass deflections were the most by any Florida defender since Joe Haden matched this number in 2008 -- and remember, this came while splitting starting duties with Jaylen Watkins.
Roberson's fluid hips, light feet, long arms and active hands make him a tough target for quarterbacks, but his cover-corner mentality, unfortunately, extends toward the run as well as the pass. Roberson is a drag-down tackler who rarely gets involved when unnecessary. Only five of his 23 tackles a season ago came via assists. He showed a similar finesse style of play as a freshman prior to the injury, with 17 solo tackles among his 22 stops.
Roberson dedicated himself to getting bigger and stronger during the off-season and reportedly gained five pounds of muscle. The lanky frame shown on tape a season ago looks much closer to 180 (or less) than the 195 he was listed at by Florida. Should the greater strength lead to more physical play in 2013, the junior possesses the coverage skills to warrant plenty of early attention from NFL scouts.

3. DL Dominique Easley (6-2, 283, 4.93)
While Sharrif Floyd was the obvious star attraction along the Gators' defensive line a season ago, Easley showed signs of recapturing the athleticism that led to his ranking as the No. 2 overall DT prospect as a prep by some recruiting services.
Easley saw limited action as a freshman in 2009 (four tackles) but emerged as a 12-game starter in his second season in Gainesville, posting 37 tackles, including 7.5 for loss and 1.5 sacks. He suffered a torn ACL in the regular season finale against Florida State, however. Easley proved a quick-healer by coming back to start 11 games in 2012 and showed versatility, lining up at defensive end. Easley's tackle numbers dropped overall (26) but he finished with more big plays (8.5 for loss, team-leading four sacks), including 3.5 tackles behind the line of scrimmage in the Sugar Bowl loss.
Florida primarily ran a 4-3 last year but will be using more three-man fronts in 2013. When they run a 3-4 front in passing situations, Easley is expected to take snaps at nose guard, where his quickness makes him a breakout candidate for 2013. He'll be another year removed from the ACL tear could be even quicker, which is a scary thought for SEC opponents as Easley's explosiveness off the ball is among the best in the conference. He also has quick, active hands to slap away blockers and is able to hold up well against the run at this level due to good core strength.
4. OLB Ronald Powell (6-3, 235, 4.62)*
Any conversation about "breakout candidates" and the Florida Gators must include Powell, who looked every bit of the ascending star in 2011 but missed all of last season after twice tearing the ACL in his left knee in 2012.
Powell signed with Florida after being rated by recruiting services as the No. 1 overall prep prospect. He appeared in all 13 games and started once (Appalachian State) as a true freshman in 2010, recording 25 tackles, including 2.5 for loss. He won the starting BUCK role in 2011 and emerged as one of Florida's top threats off the edge, recording nine tackles for loss and six sacks among his 32 stops.
Powell had been one of the stars of spring last year but tore his ACL during the spring game April 7. He rehabbed it furiously, reportedly targeting Florida's matchup against LSU on Oct. 6 as a return date but retore the ligament while rehabbing in late August.
Powell's athleticism was obvious prior to the injuries. He was characterized as playing "fast and physical" this summer by Muschamp and was the first player the head coach named when discussing reasons why his team is likely to run more 3-4 looks in 2013.
5. DB Jaylen Watkins (6-0, 182, 4.48)
Watkins would start at cornerback on most teams and has throughout much of his career with the Gators (19 career starts), including 11 last year in a time-share with Roberson. This season the Gators are asking him to make the transition to safety to help replace departed starters Matt Elam and Josh Evans, each of whom is now in the NFL.
Statistically speaking, Watkins was more impressive at cornerback last season than either Purifoy or Roberson. He recorded 39 tackles, eight passes broken up and led the group with three interceptions. He played in all 13 games in 2011 (starting eight) and posted 34 tackles and five pass breakups.
Watkins possesses a lean, athletic build more suited to cornerback. He's a willing hitter, however, with good vision and closing ability, making it likely that he'll be able to successfully handle the transition to safety. The willingness to change positions during his senior season is a good indication of Watkins' selflessness and maturity.


Other Florida prospects worth watching:

QB Jeff Driskel (6-3, 236, 4.68)*
While the Gators ranked last in the SEC a season ago in passing with 146.3 yards per game, Driskel possesses many of the traits NFL scouts are looking for, including arm talent, size and mobility. Florida's conservative offense doesn't give Driskel many opportunities to make the kind of throws to wow scouts, and he needs to improve his overall accuracy and feel in the pocket. He completed 63.7 percent of his passes last season for 1,794 yards and 12 touchdowns against five interceptions. His 413 rushing yards was second only to running back Mike Gillislee, now a member of the Miami Dolphins.
OC Jonotthan Harrison (6-3, 302, 5.22)
Between the Pouncey twins and Harrison, Florida has enjoyed quite a run at center over the past seven years. Harrison gets a strong initial punch on his assignment coming out of the snap and anchors well in pass protection. He bends at the waist, however, limiting his balance. His versatility (center, left guard) and durability (39 games), however, could earn him Day 3 consideration.
OG Jon Halapio (6-3, 320, 5.28)
With 33 starts and 41 game appearances since 2009, Halapio has been a rock at right guard for the Gators. Halapio isn't going to outrun many people in the open field but he plays with good strength and leverage in pass protection. Halapio suffered a partially torn pectoral muscle this summer. Assuming he's healthy, he'll also generate plenty of interest from scouts.
DT Damien Jacobs (6-2, 286, 4.97)
Jacobs signed with Florida as a highly regarded JUCO prospect from East Mississippi Community College. He became a solid part of the rotation among Florida's deep and talented defensive line, recording 10 tackles, including 2.5 tackles for loss (all sacks) in his first season in Gainesville. Jacobs is one of several defensive linemen on this roster capable of enjoying a breakout campaign in 2013. It is a testament to the young talent at this position for Florida that Jacobs and converted offensive lineman Leon Orr join Easley as the only upperclassmen among this group, arguably the team's strongest unit.
WR Trey Burton (6-2, 225, 4.56)
While many of Florida's most talented players have transitioned well from former head coach Urban Meyer's schemes to Muschamp's, Burton has watched his production plummet. He exploded onto the SEC in 2010, scoring 12 touchdowns while logging action at QB, FB, WR, TE and on special teams. In the two seasons since a more traditional offense was put in place, however, Burton has scored just five times while splitting duties mostly between receiver and running out of the Wildcat formation. Burton does not possess elite lateral agility but he's a smooth accelerator for a receiver of his size and has good ball skills. He's expected to line up out of the slot this year which could result in his most impressive numbers since 2010.