2014 NFL Draft: Georgia Preview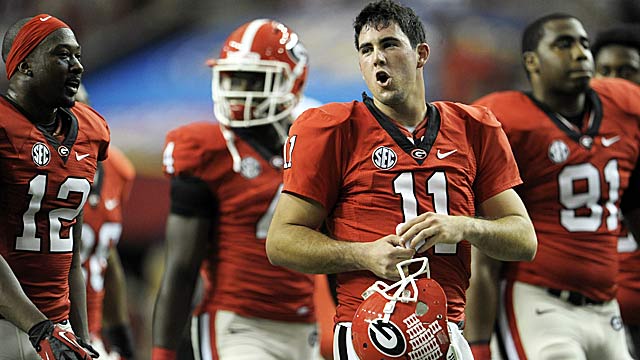 In preparation for the 2014 NFL Draft, NFLDraftScout.com will profile the top draft-eligible prospects from FBS-level programs. This summer series will run until the start of the college football season.

GEORGIA BULLDOGS
The Bulldogs' dreams of being SEC champions and playing in the BCS title game came up five yards short against Alabama. With potential all-conference playmakers in senior quarterback Aaron Murray and sophomore running back Todd Gurley returning, producing yardage and points shouldn't be a problem in 2013.
Defending could be, however, as the Bulldogs are left with the monumental task of replacing eight starters from last year's defense, seven of whom were drafted into the NFL, including first round linebackers Jarvis Jones and Alec Ogletree. On paper, Georgia possesses the talent to simply reload. As such, the Bulldogs could have several breakout performers on this side of the ball in 2013.
Considering the talent he's accumulated in Athens, head coach Mark Richt has not won as many games as some of his critics believe he should since taking over at Georgia in 2001. This may not be fair. After all, consider that under Richt the Bulldogs have finished either first or tied for first in the SEC East four times since 2002, including last year. NFL teams certainly are big fans of his work -- Georgia is the only team in the country to have at least six players drafted each of the past three years.
NFL Draft picks the last five years: 32

2013 NFL Draft picks: Eight - OLB Jarvis Jones (Pittsburgh Steelers, first round), OLB Alec Ogletree (St. Louis Rams, first round), NG John Jenkins (New Orleans Saints, third round), S Shawn Williams (Cincinnati Bengals, third round), DB Sanders Commings (Kansas City Chiefs, fifth round), WR Tavarres King (Denver Broncos, fifth round), DE Cornelius Washington (Chicago Bears, sixth round), S Bacarri Rambo (Washington Redskins, sixth round)

Top Georgia prospects for the 2014 NFL Draft

* Indicates underclassman

1. WR Malcolm Mitchell (6-1, 192, 4.49)*
Considered the most explosive and versatile player at Georgia since Champ Bailey, Mitchell enters his junior campaign with an impressive highlight reel of plays already made while lining up at wide receiver, cornerback, kick returner and punt returner over his first two seasons with the Bulldogs.
Though he signed with Georgia as a cornerback and played the first four games of 2012 on defense, the Bulldogs are planning to keep the playmaker catching passes from Murray in 2013. Reviewing his game tape, it isn't difficult to understand why.
Mitchell is a dynamic athlete with the potential to score every time he touches the ball. Splitting time between so many positions early in his career stunted his growth, however, and most of his production at wideout came off of relatively simple routes the past two seasons. Still, he caught 85 passes for 1,237 yards and eight touchdowns as a secondary target to complement the steady Tavarres King.
With King now a member of the Denver Broncos, however, the Bulldogs need Mitchell to emerge as a more reliable every-down option. He possesses the combination of size, agility, straight-line speed and ball-skills to do so but is a work in progress as a route-runner. He's explosive out of his breaks and is tough to tackle, showing not only elusiveness and vision but strength to fight through arm tackles and break away for the long score - just as he did to beat Florida and their highly rated junior cornerback Loucheiz Purifoy last season.
Mitchell suffered a torn meniscus in his right knee during the spring and underwent surgery but is expected to be 100% for the Bulldogs' nationally televised opener August 31 at Clemson.
2. QB Aaron Murray (6-1, 212, 4.84)
Murray could be this year's version of Matt Barkley - a highly celebrated collegiate quarterback whose lack of ideal traits could leave him waiting longer on draft day than some expect.
Murray enters his senior campaign having already stamped his name in the SEC record books. He's thrown for over 3,000 yards each of his three seasons in Athens since redshirting in 2009 - a feat no other quarterback in conference history has ever accomplished. He's completed 61.5% of his passes during that time for nearly three times as many scores (95) as interceptions (32).
As one might expect given his playing time, Murray does many of the little things well. He has a quick set-up and delivery. He throws a tight spiral and is creative in the pocket, showing the ability to slide and re-set, as well as deliver passes from a variety of arm slots. He throws deep passes with velocity and good trajectory and can attack down the seam with excellent touch, as well. He's starred in a pro-style offense for three seasons against elite competition.
While there are plenty of positives to note when discussing Murray, one obvious concern is his lack of preferred size. The success of Drew Brees (and Russell Wilson last year) proves that shorter quarterbacks can be successful in the NFL, though extraordinary awareness is required to prove the exception to the rule. Murray, frankly, hasn't yet shown this level of savvy. Too often, his passes are batted down at the line of scrimmage - or sneak through only to be dropped by pass-catchers who aren't able to see the ball come out of Murray's hand before it gets to them.
With improved awareness as a senior Murray could emerge as one of the top quarterback prospects for the 2014. Without improvement, however, his spot among the elite isn't assured at this time, which should make Murray among the more heavily scrutinized prospects in the country this fall.

3. CB Damian Swann (5-11, 190, 4.53)*
Three of the Bulldogs' starters from the secondary a season ago are now playing in the NFL. Fortunately for Georgia, junior Damian Swann, who led the team with four interceptions a season ago, returns for his junior campaign.
Swann has momentum on his side as his final game last year for Georgia was arguably his best one. He collected six tackles and two interceptions of Taylor Martinez in the Bulldogs' Capital One Bowl victory over Nebraska. Swann hardly feasted on just the poor-passing Martinez, however. His other two interceptions on the year came against legitimate NFL prospects Tyler Bray (Tennessee) and Jeff Driskel (Florida) and he demonstrated the all-around game (53 tackles, five passes broken up, 3.5 tackles for loss, two sacks, two forced fumbles) to provide evidence that he's a star on the rise.
Swann sports a tapered, athletic frame. He frequently lined up in off-man and zone coverage a season ago, showing the ability to track the ball and close quickly. Alert and physical, he was frequently sent off the edge as a blitzer and is quick to get involved against the run.
Swann won't have the security of experienced safeties operating behind him in 2013. How he handles the pressure of being Georgia's top Dawg could determine whether he builds upon his impressive sophomore campaign and emerges as a legitimate early entry candidate for the 2014 draft.
4. TE Arthur Lynch (6-5, 258, 4.82)
With all of the attention heaped upon Mitchell, Murray and Gurley, it is easy for fans to lose Lynch in the limelight. After all, Lynch only emerged as a starter last season and caught just 24 passes for 431 yards and four scores in what many characterized as a "breakout" season.
Rest assured, however, that NFL scouts are paying close attention to Lynch, who showed flashes last season of emerging as one of the better all-around tight ends in the country.
Lynch signed with Georgia as a highly regarded prep prospect and earned immediately playing time, seeing action in 11 games as a true freshman and even starting a game. He caught just two passes for 17 yards and was asked to redshirt a year later due Georgia's depth at the position. Lynch was back on the regular team in 2011 but served strictly as a blocker, not catching a single pass all season long.
Lynch's strength and awareness as an in-line blocker rank among his most impressive attributes at this point in his career. He is quick off the snap, latches onto defenders quickly and securely and is competitive. He is particularly effective on combination blocks in which he initially helps an offensive tackle double-team a defensive lineman before switching off to chip a linebacker at the second level. His ability to handle this role is critical to Georgia's success running the ball.
Defenses rarely paid much attention to Lynch a season ago. He set and tied his career high of three catches in one game six times last season and often was wide open when doing so as most of the time the plays came off of play-action. Lynch shows reliable hands and has a big frame to shield defenders from the ball but he isn't going to run away or make many defenders miss in the open field.
5. DE Garrison Smith (6-3, 297, 5.02)
Lining up as a five-technique DE in the Bulldogs' 3-4 scheme, Smith emerged as one of Georgia's more productive defenders in 2012, leading the defensive line with 57 tackles, including two for loss despite starting just nine games.
His efforts were overshadowed, literally and figuratively, by fellow defensive linemen John Jenkins (6-4, 346) and Kwame Geathers (6-6, 342), who often absorbed the double-teams a season ago, giving Smith opportunities to make tackles. The athletic and intelligent defender took advantage, showing the ability to locate the football and slide off blocks efficiently to rack up stops near the line of scrimmage.
Smith has a quick first step, which can be troublesome for interior linemen to handle when the Bulldogs lined up in a four man front last year. He does not possess the speed to challenge off the edge, however, relying on a simple bull rush on most snaps. He is strong enough to hold the point, providing the solid run defense necessary from his position.
Smith appearanced in 21 games (two starts) over his first two years in Athens, posting 25 tackles, including four for loss during that time. Athletically-speaking, he enters 2013 with two more years of eligibility remaining, as he has not redshirted. A high achieving student, as well as athlete, Smith could have a decision to make after this season should he graduate (History major) and prove last year's success was no fluke.

Other Georgia prospects worth watching:
OT Kenarious Gates (6-5, 318, 5.24)
Gates took over for Cordy Glenn (Buffalo Bills' second round pick in 2012) at left tackle last season, faring well on the edge and showing the versatility to slide back inside to guard when injuries forced the Bulldogs to adjust. A massive man, Gates certainly looks the part of a future NFL lineman, though he'll most likely be moved to right tackle or back inside. He possesses long arms and is powerful but has only average lateral agility and balance.
OG Chris Burnette (6-2, 315, 5.23)
A two-year starter at right guard, Burnette has the frame well-suited to his duties on the strongside. He possesses a short, stocky build and has very strong hands to latch on and drive defenders off the ball or contain them in pass protection. He can hardly be described as possessing light feet but slides well laterally to keep squarely in front of his opponent and doesn't back down from a challenge. Burnette has missed four games over the past two seasons due to shoulder (2012) and knee (2011) issues. To improve his stock, he'll need to prove his durability for the Bulldogs as a senior. Burnette missed spring practice following surgery on his ailing shoulder.
OG Dallas Lee (6-4, 300, 5.18)
Lee started all 14 games for the Bulldogs last year, predominately at left guard before switching over to the right side when Burnette went down with a shoulder injury. He is not as stout as Burnette, winning his battles with quickness. Lee struggles with powerful defenders and may be viewed by some clubs as a potential conversion to center. Lee started seven games as a sophomore before suffering a broken right leg.