2014 NFL Draft: LSU Preview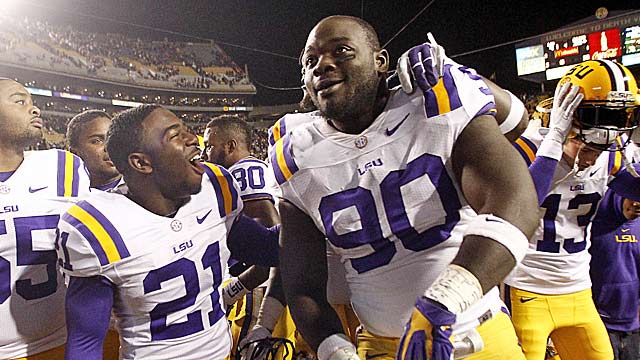 In preparation for the 2014 NFL Draft, NFLDraftScout.com will profile the top draft-eligible prospects from FBS-level programs. This summer series will run until the start of the college football season.

LSU TIGERS
A new offensive coordinator and a defense that lost eight starters from a season ago has lowered the national expectations for the LSU Tigers in 2013.
The Tigers entered last season as the preseason favorite. This year they check in at No. 13 in the preseason polls.
Losing a school record nine players to the NFL draft in April has undoubtedly trimmed some of the talent from the roster but scouts recognize that at a program as deep and gifted as this one, the cliche "restock rather than rebuild" rings true.
Only one player - junior defensive tackle Anthony Johnson - currently rates as a first round pick by NFLDraftScout.com. Don't be surprised, however, if some of the young, relatively unknown talents who have bided their time in recent years step to the forefront in 2013.

NFL Draft picks the last five years: 32

2013 NFL Draft picks: Nine - OLB Barkevious Mingo (Cleveland Browns, first round), FS Eric Reid (San Francisco 49ers, first round), ILB Kevin Minter (Arizona Cardinals, second round), DT Bennie Logan (Philadelphia Eagles, third round), DB Tyrann Mathieu (Cardinals, third round), OLB Sam Montgomery (Houston Texans, third round), CB Tharold Simon (Seattle Seahawks, fifth round), DE Lavar Edwards (Tennessee Titans, fifth round), RB Spencer Ware (Seahawks, sixth round)

Top LSU prospects for the 2014 NFL Draft

* Indicates underclassman

1. DT Anthony Johnson (6-3, 305, 5.29)*
Penn State is famous for its linebackers; Southern Cal for its running backs.
Under Les Miles (and previously, under Nick Saban), LSU has become well known for its ability to recruit and develop players at every position. But make no mistake, LSU's ability to churn out NFL-caliber defensive linemen is what makes the program an annual SEC contender.
At least one defensive lineman from the Tigers has been selected in the NFL draft each year since 2003. LSU's best candidate to continue this streak in 2014 is junior defensive tackle Anthony Johnson.
Johnson signed with LSU as the consensus top prep defensive tackle in the country two years ago. He played in all 14 games as a true freshman, recording 12 tackles, including three for loss and a sack despite playing at nearly 330 pounds. Showing much better quickness in 2012 after dropping 30 pounds, Johnson posted 30 tackles, including 10 for loss and three sacks.
Johnson' best attribute at this point is his initial quickness. He was frequently the first of LSU's defensive linemen off the ball a season ago, and this was with Mingo and Montgomery still apart of this unit. Johnson's athleticism, power and well-proportioned frame form a unique combination that is sure to intrigue scouts. His burst helps him slip through gaps quickly. He also possesses long arms and the strength to extend and shed blocks in the running game. Light on his feet and a high-effort player in pursuit, Johnson can make plays all over the field. He is far from a polished product at this point, however, often playing too high and showing little in the way of refined pass rush technique.
With LSU losing four defensive linemen from a season ago, Johnson will take over as opponents' primary focus. He enters the year with just three career starts to his credit but if he improves his technique, it isn't difficult to imagine Johnson emerging as one of the country's elite defensive tackles.

2. SS Craig Loston (6-1, 209, 4.56)
LSU's tradition of sending quality defensive backs to the NFL is very nearly as strong as its history along the defensive line. At least one member of the Tigers' secondary has been drafted each year since 2006. Among them were top 20 picks LaRon Landry, Patrick Peterson, Morris Claiborne and Eric Reid.
Despite last season being his first opportunity to start, Loston looks well on his way towards extending the LSU's secondary pipeline into the NFL.
Losing Brandon Taylor to the NFL (San Diego Chargers) and Tyrann Mathieu (suspension) can hardly be described as a positive for LSU but it did give Loston an opening to start. He took over at strong safety last season and emerged as a difference-maker, racking up 55 tackles, three tackles for loss, three interceptions (as well as 101 return yards) and two fumble recoveries.
Loston is in many ways a similar prospect as Reid. While perhaps not quite as athletic as the 49ers' first round pick, Loston possesses a well-built frame, good instincts for the position and is a fearless hitter. He played in two games as a true freshman in 2009 before suffering a wrist injury that caused LSU to redshirt him and has seen extensive time (23 games, including two starts) since as a rotational defender and special teams ace.
Reid's speed made him a terrific centerfielder for the Tigers. With Reid playing back, Loston was often allowed to attack downhill, showing rare acceleration and explosion as an open-field hitter. Loston's aggression gets the better of him, at times, as he'll duck his head into tackles (which could draw flags or lead to injury) and sometimes fails to break down adequately, relying on hitting rather than tackling to knock ball-carriers to the ground.
As the senior member of LSU's secondary, Loston enters the 2013 season with plenty of eyes upon. If he can build upon last year's success, Loston could emerge as the top safety in the country.

3. ILB Lamin Barrow (6-1, 232, 4.76)
LSU linebackers have not enjoyed nearly as much success in the NFL as players from other positions but that may be about to change. Barrow, like his former teammate Kevin Minter, broke through with an all-conference caliber junior season in 2012 and leads a position group this year that LSU coaches feel might be the most talented on the roster.
Barrow redshirted in 2009 and saw most of his action as a reserve the next two seasons, appearing in 25 games (two starts) and collecting 35 tackles, including 1.5 for loss. He earned the starting WILL position in 2012, however, and finished second to Barrow, notching 104 tackles, including 7.5 for loss.
Barrow looks the part of a big-time prospect at linebacker. He's possesses broad shoulders and a tapered frame, long arms and is athletic. He is a better athlete than football player, at this point, however, as he fails to wrap his arms securely too often. Barrow isn't the classic hit-lift-drive tackler that Minter was for the Tigers in 2012; he prefers to grab ahold of the ball-carrier and 'rassle them to the ground.

4. QB Zach Mettenberger (6-5, 238, 5.18)
Hyped as the difference-maker who would bring LSU a BCS title last year, Mettenberger's first season as LSU's starter has been unfairly portrayed by some as a disappointment. While the strong-armed pocket passer certainly didn't terrorize SEC defenses in 2012, he improved as the year went on and wasn't helped much by a restrictive, predictable offense and numerous drops from receivers.
Mettenberger completed 58.9% of his passes for 2,609 yards and 12 touchdowns and seven interceptions. While the TD to INT ratio appears disconcerting, LSU's preferred scoring route came via the run (29 rushing touchdowns) and Mettenberger set a school record with a 50:1 pass-to-interception ratio. In short, for the number of passes thrown last season (352), his seven interceptions weren't bad.
This isn't to say, however, that Mettenberger is the elite NFL prospect that some have characterized the former Georgia Bulldog and Butler (CC) Grizzly.
Mettenberger possesses a prototypical frame and arm for the position. He showed steady improvement in reading defenses last season and has impressed this summer with his understanding of new offensive coordinator Cam Cameron's scheme. He can drive the ball to the opposite hash, loft the ball over the seam or to the back in the flat and hit receivers streaking down the sideline. What he does not possess, however, is the preferred athleticism to escape pressure. Mettenberger does a nice job of keeping his eyes downfield and steps up to avoid contact. He has slow, heavy feet, however, and is confined to the pocket.

Other LSU prospects worth watching:
RB Alfred Blue (6-1, 220, 4.59)
In rushing for over 100 yards in both of LSU's first two games of 2012, Blue looked poised to emerge as the Tigers' top back last season. Unfortunately, he suffered a torn ACL against Idaho and missed the rest of the year. He's been back on the practice field for the Tigers this summer and looks well on his way towards re-establishing himself as a feature back in this offense. Blue has run for 910 yards and 10 scores in 27 career games (including five starts). While sporting a taller, leaner frame than most scouts prefer, Blue is quick to the hole, weaves around defenders nicely and plays with surprising power.
WR Odell Beckham, Jr. (5-11, 187, 4.50)*
Beckham doesn't boast the statistics of other highly regarded wideouts but the elusiveness and acceleration he provides as a pass-catcher and returner certainly has caught the attention of scouts. A breakout junior season appears possible in this offense, which could spark Beckham to test the NFL waters early. In two seasons with the Tigers Beckham has caught 84 passes for 1,188 yards and four touchdowns. He returned two punts for scores in 2012.
WR Jarvis Landry (6-0, 195, 4.49)*
Landry was perhaps the biggest recipient of Mettenberger's improvement over the second half of the 2012 season, emerging as LSU's most dependable receiver. The former 5-star recruit led the Tigers with 56 catches and five touchdowns last season, finishing second to Beckham with 573 receiving yards. Landry is a smooth athlete who can make the dazzling catch but needs to show better consistency to warrant early NFL consideration.
DE Jermauria Rasco (6-3, 255, 4.74)*
Rasco served as a backup to Mingo, Montgomery and Edwards over his first two seasons in Baton Rouge but is one of several young defenders capable of emerging as a superstar, himself, now that the starting job is his. Rasco is quick off the ball, changes directions fluidly and accelerates to the ball quickly. He enters his junior campaign poised for a breakout. He has 27 tackles, including 5.5 for loss and two sacks thus far over his career.
CB Jalen Collins (6-1, 195, 4.52)*
Just a redshirt sophomore but Collins and true sophomore Jalen Mills are expected to take over as LSU's starting cornerbacks this fall. Each possesses the length and athleticism to continue the Tigers' tradition of quality defensive backs. After redshirting in 2011, Collins played in 13 games last season, starting on the road against Texas A&M. He responded with an interception of Johnny Manziel and finished the year with 30 tackles, six passes broken up and two picks.

FB J.C. Copeland (6-0, 272, 4.84)
A converted defensive tackle, Copeland is a human sledgehammer as a lead blocker with enough quickness and balance to offer some rushing ability in short yardage situations. Copeland rushed for 67 yards and scored four touchdowns for the Tigers in 2012, starting 12 games.
OLB Tahj Jones (6-2, 208, 4.73)
A highly regarded backup throughout most of his career, Jones was poised to emerge as a starting outside linebacker last season but missed all but the bowl game due to an academic suspension. He's flashed big play ability throughout his career (37 tackles, five for loss, two sacks, one interception) and fared well against Clemson in the Chick-fil-A Bowl, registering four tackles, including 2.5 for loss, a sack and a forced fumble. Jones' slight frame belies his toughness and physicality, though he may have to make the tough switch to safety in the NFL.