2014 NFL Draft: Mississippi State Preview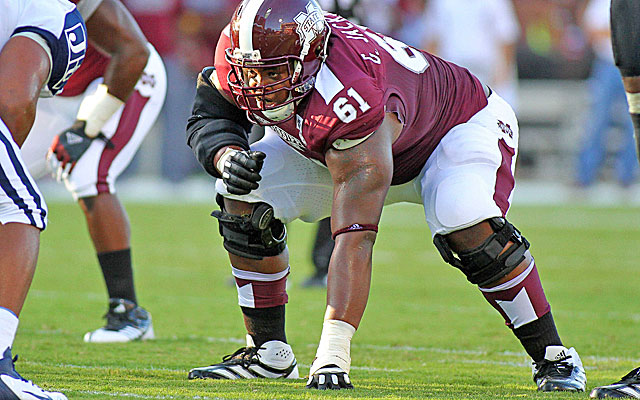 In preparation for the 2014 NFL Draft, NFLDraftScout.com will profile the top draft-eligible prospects from FBS-level programs. This summer series will run until the start of the college football season.

MISSISSIPPI STATE BULLDOGS
It was a tale of two halves for the Bulldogs in 2012.
Head coach Dan Mullen's squad started off the year on fire, winning their first seven games and ascending to No. 13 overall in the polls. Unfortunately, as the competition improved, the Bulldogs lost their bark, dropping five of their last six, including their in-state rivalry game against Mississippi and the Gator Bowl versus Northwestern.
The Bulldogs have enough firepower on offense to return to a bowl game for their fourth consecutive season, something that has never been accomplished in Starkville. They return not only their starting quarterback Tyler Russell and all-purpose back LaDarius Perkins, but also one of the nation's premier offensive linemen in left guard Gabe Jackson.
The defense, however, could struggle to replace the big plays lost with cornerbacks Johnthan Banks and Darius Slay moving on to the NFL.

NFL Draft picks the last five years: 12

2013 NFL Draft picks: Three - CB Darius Slay (Detroit Lions, second round), CB Johnthan Banks (Tampa Bay Buccaneers, second round), DL Josh Boyd (Green Bay Packers, fifth round)

Top Mississippi State prospects for the 2014 NFL Draft

* Indicates underclassman

1. OG Gabe Jackson (6-3, 335, 5.34)
With three offensive guards -- Jonathan Cooper (Arizona Cardinals, No. 7 overall) Chance Warmack (Tennessee Titans, No. 10) and Kyle Long (Chicago Bears, No. 20) - earning top 20 spots in the 2013 NFL draft, it appears that teams are beginning to recognize and appreciate the impact that dominant interior linemen can play. The new-found respect should be music to the ears of Jackson, who turned down an opportunity to leave Mississippi State a year despite the fact that he might have joined the trio as a first round pick.
Since redshirting in 2009, Jackson's dominant play at left guard has earned him acknowledgement from SEC coaches after each of the past three seasons. He's started all 39 contests, demonstrating not only the raw power expected of a man of his size but also surprisingly nimble feet and balance while in pass protection. Jackson did not allow a sack last season in 394 passing attempts.
Jackson plays with excellent knee bend and has long arms, which help him stay square and in control of his opponent in pass pro. He's a powerful drive blocker who uses his natural leverage advantage well, showing good leg drive to push defenders off the ball. Despite his girth, Jackson shows good lateral agility and balance to find fits at the second level.
Durable and dependable, Jackson ranks as one of the elite offensive linemen in college football and grades out as a potential first round pick in 2014.

2. QB Tyler Russell (6-4, 220, 4.87)
Russell enters his senior campaign with just 17 career starts and yet is on the verge of becoming the most productive quarterback in Mississippi State history. He owns 11 single-season records after last year's breakout campaign in which he completed 58.6% of his passes for 2,897 yards and 24 touchdowns against 10 interceptions.
With his well-proportioned frame and strong right arm, Russell looks the part of a big-time prospect. He can make every throw in the playbook, flashing impressive accuracy and velocity on intermediate and deep passes through tight windows. Too often, however, Russell's throws come in high, leaving his receivers in position to absorb big hits and limiting their potential to gain yards after the catch. Russell throws flat-footed, which likely plays a role in his average ball-placement and is an example of his less-than-ideal overall athleticism. Russell is occasionally asked to roll out and or take off on designed runs in this offense but doesn't look comfortable doing either.
There are a few distinguishing features with Russell that will be sure to draw plenty of attention from scouts. His willingness to stand tall in the pocket amidst pressure is one. Some will characterize Russell as courageous and determined. Others will question whether he possesses the awareness to "feel" the pocket collapsing around or the mobility to escape it for that matter.
Another factor to consider with Russell is the even-keel manner with which he plays. The quarterback rarely shows much emotion, almost appearing robotic, at times. There are moments when he seems to be going through the motions rather than focusing on the task at hand. These moments too often lead to poorly thrown passes, such as two first quarter interceptions against Northwestern in the Bulldogs' surprising Gator Bowl loss.
Size, arm talent and success against SEC defenses generally equate to a draftable grade for any quarterback. Whether Russell ultimately is considered a potential top 100 candidate or just a fringe prospect will be determined by whatever improvements he makes in 2013.

3. RB LaDarius Perkins (5-09, 190, 4.44)
Cast as a change of pace back earlier in his career, Perkins was given an opportunity to serve as the bell-cow in 2012 and flourished, racking up a gaudy 1,509 all-purpose yards and scoring 10 touchdowns. With 1,024 net rushing yards, Perkins became just the ninth back in MSU history to break the 1,000 yard mark.
Perkins is similar in many ways to his former teammate, Vick Ballard, now running with the Indianapolis Colts. Like Ballard, Perkins does not possess special traits but is a determined, well-rounded player who can contribute at the next level.
Perkins has broad shoulders, thick thighs and quick feet, which allow him to spurt through creases and run through arm tackles. He is certainly smaller than the 5-10, 220-pound Ballard and is faster, though perhaps not as fast as his estimated 40-yard dash time would indicate. He does, however, possess intriguing acceleration. Some of his most impressive runs, in fact, are due to an ability to stop and start, allow pursuing defenders to slip right on by him. Perkins has good vision and likes to cut-back, making him a threat even when defenders appear to have him bottled up. He isn't asked to do much as a receiver, typically slipping out in the flats, but did catch 19 passes for 160 yards and a pair of scores in 2012 and brings kick return experience (20.3 average on 16 returns), as well. Perkins will lower a shoulder into an oncoming defender when in pass protection but ultimately, his lack of size limits his effectiveness in this area.

Other Mississippi State prospects worth watching:

DE Denico Autry (6-4, 265, 4.73)
Autry signed with Mississippi State a year ago as a highly regarded JUCO transfer from East Mississippi Community College, turning down the likes of Alabama, Florida, Florida State, Southern California and Texas, among others. He quickly proved worth the hype, registering 42 tackles, 9.5 tackles for loss, for sacks and two forced fumbles while starting just 10 games (played in all 13). Autry appears to guess at the snap count, surprising offensive tackles with his burst off the ball occasionally and at other times getting a late start. He's powerful, showing good strength in his hands to shed blocks
FS Nickoe Whitley (6-0, 205, 4.59)
With most focusing on cornerbacks Johnthan Banks and Darius Slay, Whitley has flown under the radar a bit nationally-speaking. He's the only returning member of State's secondary in 2013 and could jump up draft boards if he can prove that the big play proficiency he's shown the past two seasons (seven combined interceptions) will continue without Banks and Slay flanking him. Whitley missed three games in 2011 with a ruptured Achilles.
OLB Benardrick McKinney (6-5, 235, 4.67)*
McKinney signed with Mississippi State as a 210 pound quarterback but after redshirting in 2011, he emerged last year as one of the better young linebackers in the SEC with 102 tackles, including 4.5 for loss (one sack). Despite McKinney's impressive frame, it is clear that he's still growing into his body. Another season or two of developing and this young pup could be quite the Bulldog.
OLB Deontae Skinner (6-1, 250, 4.87)
Overshadowed a bit last year by the surprising play of McKinney, Skinner quietly did a lot of the dirty work, setting the edge as a strongside linebacker and recording 62 tackles, including five for loss. This was a slight drop from his initial starting season in 2011 in which he collected 69 tackles, including nine for loss. Skinner isn't a great athlete but he's stout at the point of attack and is a heavy hitter. After wearing No. 51 throughout his collegiate career, Skinner has changed to No. 11 in 2013.
OT Charles Siddoway (6-6, 305, 5.24)
Jackson isn't the only offensive lineman on the Bulldogs' with NFL potential. Siddoway started all 13 games at right tackle for the Bulldogs in 2012. A highly regarded prep out of the state of Eugene, Oregon, Siddoway played first at California before transferring to Butte College, where he was named a First Team All-American. Siddoway plays with good knee bend for a man of his size and can deliver an explosive pop as a run blocker. Average foot speed could push Siddoway inside at the next level.