Aaron Murray beats South Carolina, boosting NFL stock along the way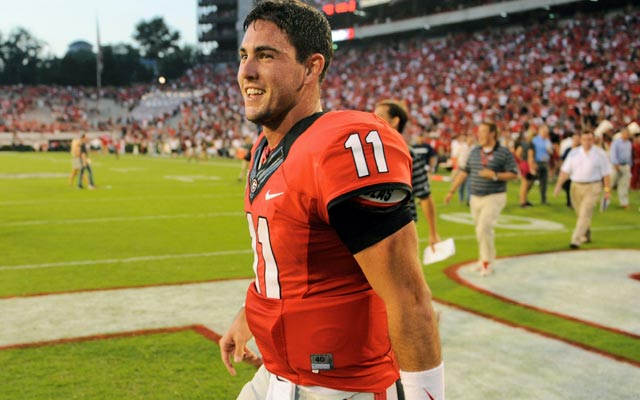 Despite former Indianapolis Colts' head coach Tony Dungy's assertion a year ago that Georgia quarterback Aaron Murray could have been the top-rated passer in the 2013 NFL draft, scouts weren't quite so sure.
Over his three seasons in Athens, Murray certainly has shown many of the traits scouts are looking for in a potential franchise quarterback -- including arm talent, toughness and intelligence. Fair or not, among the primary reservations talent evaluators had about Murray was the perception that he'd struggled in big moments against top competition.
Murray may have exorcized that demon, however, with a stirring (and perhaps most importantly smart) performance against Jadeveon Clowney and South Carolina Saturday, beating the Gamecocks for the first time in four tries. The win evens Georgia's record at 1-1 after their season-opening loss to Clemson but gave the Bulldogs a potentially critical leg-up in a crowded SEC East race.
While the terrific running of sophomore sensation Todd Gurley (among others) can't be overstated, Murray was brilliant against the Gamecocks, completing 17 of 23 passes for 309 yards and four touchdowns. He did not throw an interception.
The vast majority of Murray's 98 career touchdown passes have come from the pocket but Saturday he was equally dangerous rolling out, showing the vision to see the field while buying time with his legs with Clowney and Co. frequently in pursuit. Touchdown passes to Gurley late in the third quarter and wideout Justin Scott-Wesley early in the fourth quarter, in fact, came with Murray on the move.
On the stat-sheet, Murray's 85-yard pass to Scott-Wesley was the more impressive of the two throws. It was an impressive toss, as Murray rolled left, saw the South Carolina defensive backs cheating and showed off his arm by zipping the ball 40-yards on a rope, allowing his receiver to run after the catch for the game's most explosive play.
The throw to Gurley was even more impressive, however, as Murray showed off his underrated athleticism by sprinting right, pointing to a spot in the corner of the end zone and hitting his tightly covered running back with a perfect pass.
Murray's ball placement throughout this contest was highly impressive. He frequently hit his pass-catchers (including wideouts, tight end Arthur Lynch and running back Keith Marshall) in stride, allowing them opportunities to extend the play.
At 6-1, 208-pounds Murray does not possess the size scouts would prefer at the position. Unlike other shorter passers who have bucked the odds to enjoy success in the NFL, Murray has struggled, at times, with passes being knocked down at the line of scrimmage. This did not occur in this contest, however, easing some of the concerns scouts may have about his height and poise.
Murray entered the week as NFLDraftScout.com's No. 7-rated senior quarterback. He may not possess the dual-threat capabilities of Clemson's Tahj Boyd or the deep ball proficiency of Miami's Stephen Morris (who also flashed Saturday) but the four-year starter certainly ranks among the safest of this year's quarterback prospects.
Perhaps, that's all Dungy meant all along.