Hundley wows in UCLA's comeback over Nebraska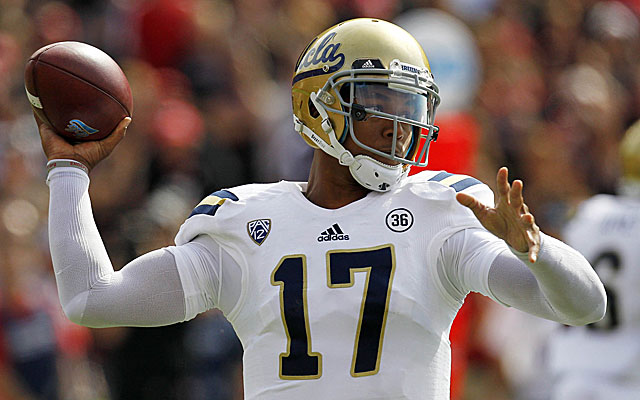 With the Bills' EJ Manuel the only quarterback selected in the first round a year ago, the NFL is hoping the game's most important position will be much better represented in 2014.
The senior class offers some intriguing prospects, including Clemson's Tajh Boyd, who NFLDraftScout.com currently ranks as a first-round prospect. The real gems of the group, however, could lie with the underclassmen, not the least of which is UCLA's redshirt sophomore Brett Hundley.
Hundley, a highly regarded prep prospect who redshirted under Rick Neuheisel in 2011, looked the part of a future blue-chip NFL prospect in guiding the Bruins to the Pac-12 South championship last year with coach Jim Mora. Hundley threw for a school-record 3,740 passing yards, including 29 touchdowns against just 11 interceptions in his first season.
Hundley was efficient in the Bruins' 2013 season-opening win over Nevada (22/34 for 274 yards and two TDs) but scouts were eager to see how the young passer would handle the jump in competition Saturday with the Bruins traveling to Lincoln to face Nebraska.
The game started ominously for the young quarterback but by leading the Bruins to touchdowns on each of their four possessions of the third quarter, he helped UCLA overcome an 18-point deficit and sent his own stock skyrocketing along the way.
Hundley began the game by mocking the boisterous Nebraska crowd as he and his UCLA teammates lined up for the snap from scrimmage. Rather than feed off the attention, however, Hundley fumbled. He took the snap and ran right, gaining five yards before the ball was poked free by Huskers' defensive end Randy Gregory. The Bruins recovered but Hundley made a second poor decision moments later when he attempted to fit in a quick pass to wideout Darius Bell, who was closely covered by Ciante Evans. Evans, who entered the game with three interceptions already on the year, easily knocked the pass away.
Worse, Hundley's first pass of UCLA's next series was picked off. A mix-up with wide receiver Shaquelle Evans led to an interception by Nebraska's Stanley Jean-Baptiste. Evans appeared to be running a vertical but Hundley's pass was short, as if he expected his talented wideout to break off for a possible back-shoulder fade. Jean-Baptiste easily plucked the ball for his third interception of the young season, joining his teammate at the top of the NCAA leaderboard. The Huskers took an early 7-0 lead when Nebraska quarterback Taylor Martinez hit wide receiver Quincy Enunwa four plays later for an 11-yard score.
While Hundley struggled early, he improved as the game wore on, demonstrating not only the physical traits to explode as a dual-threat passer in the NFL but the mental toughness so critical for success at the next level, as well.
Hundley showed flashes in the first half. He threw an accurate deep pass to wideout Grayson Mazzone on UCLA's third series that ultimately put UCLA in position to gain their first points of the game on a Ka'imi Fairbairn field goal. He threw a similar ball to receiver Devin Fuller for a 32-yard gain that led to a Paul Perkins' 10-yard touchdown run late in the second quarter that gave UCLA some momentum as halftime approached but still down 21-10.
If Hundley flashed in the first half, he spewed fire in the second, turning a deficit into a blowout victory.
Hundley came out of halftime on fire, hitting eight consecutive passes to help the Bruins outscore the Huskers 28-0 in the third quarter. He completed passes requiring touch and velocity, with his best throw of the game coming on a 28-yard touchdown toss to Evans, in which Hundley perfectly placed the ball over his wideout's right shoulder, leading him away from tight coverage applied by Nebraska cornerback Josh Mitchell midway through the quarter to give UCLA its first lead.
It was easy to see the traits that have scouts so intrigued. The 6-3, 227-pound quarterback is a smooth athlete with an easy throwing motion and a strong, accurate arm. Offensive coordinator Noel Mazzone's offense asks him to make aggressive downfield throws and his quarterback showed the courage to attempt these passes even with defenders in close proximity to his targets. Hundley completed 16 of 24 passes for 294 yards and three touchdowns against just the one interception. He also rushed for 61 yards, including for a first down on a 3rd and 12 in which he showed incredible balance, elusiveness and determination to extend what turned out to be the Bruins' first touchdown-scoring drive of the game.
While Hundley's talent is obvious, so too is his inexperience. Saturday's tilt in Lincoln was just his 16th career start and his lack of polish showed with the quarterback appearing tentative when the pocket collapsed around him. Hundley was officially sacked three times but in each case the Bruins' offensive line gave him an opportunity to scan the field and he was taken down after simply holding the ball too long. Hundley does not yet show the awareness and timing in the pocket he'll need to have long-term success in the NFL.
Like any gem, a little more polish could significantly add to Hundley's value. With two more seasons of potential collegiate eligibility, he certainly has the time to improve.
Scouts, however, can already appreciate Hundley's upside. The mental toughness required to come back and win this game was impressive as Hundley and his Bruins were facing especially tough circumstances Saturday.
Playing in front of a raucous Lincoln crowd is a challenge for any quarterback and strong wind gusts made complicated matters. This isn't the most gifted of Bo Pelini's defenses but senior cornerbacks Evans and Jean-Baptiste are NFL prospects with three interceptions apiece already this season.
The Bruins also came into this contest with heavy hearts as freshman wide receiver Nick Pasquale was hit by a car and killed September 8. The Bruins and Cornhuskers each recognized Pasquale by wearing with patches (UCLA) and stickers (Nebraska) memorializing No. 36.