AJ McCarron wins again for Tide, wins over scouts for himself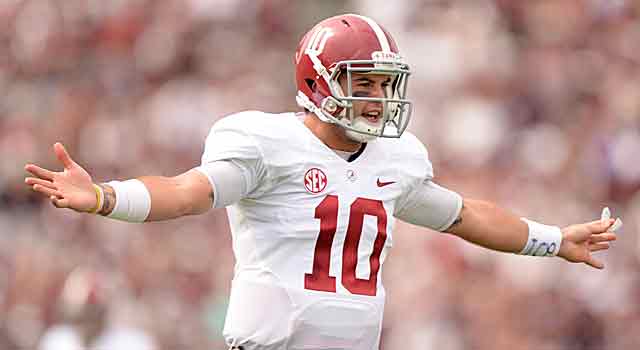 With a 26-2 career record and two BCS championship rings as a starter, it is rare that Alabama quarterback AJ McCarron enters a game out of the spotlight.
Most of the pre-game buzz prior to his showdown with Texas A&M, however, focused on his counterpart Johnny Manziel and, two perfect drives into the game, it appeared that the reigning Heisman Trophy-winner deserved every bit of the build-up.
While Manziel's magic can be entertaining, it was McCarron's mastery of the little things that helped turn the Tide in this contest.
To be clear, McCarron was aided by scheme and big plays from his talented supporting cast. His tying 41-yard touchdown pass to DeAndrew White in the second quarter came off a flea-flicker. A second touchdown came off a simple receiver screen, in which Kenny Bell took a quick pass 51 yards for a score. After A&M jumped out to a 14-0 lead, Alabama scored the next 35 points.
Assessing the impact the talent around McCarron has on his success is a lightning-rod topic for talent evaluators. Some believe he is a legitimate high-round prospect. Others feel that McCarron is simply the next game manager to star under Saban and that his physical limitations will show up against NFL defenses.
Evidence to support either argument was presented Saturday but with McCarron once again demonstrating impressive ability in the clutch, his critics may be dwindling.
Trailing 14-0 in a hostile environment, McCarron showed the poise every NFL scout is looking for at the quarterback position. They'll take note how much the Alabama coaching staff trusted him with the game seemingly on the verge of spiraling out of control. The typically conservative play-calling from offensive coordinator Doug Nussmeier switched drastically with the early deficit. McCarron attempted passes on 11 of the next 12 snaps and quickly, showing great mental toughness and accuracy to spark the momentum-change.
McCarron's first touchdown pass of the game was a perfectly thrown back-shoulder fade that Kevin Norwood caught despite tight coverage. White was wide open on his score beacause of the play-action fake drawing up the safety but McCarron's pass couldn't have been better, leading his wideout into the end zone.
Smart and accurate, McCarron is deadly efficient in this offense. He completed 20 of 29 passes for a career high 334 passing yards and four touchdowns without throwing an interception. McCarron is a master at stepping on the throat of his competition. With Manziel attempting a dramatic comeback, McCarron kept up the pressure, directing long scoring drives after each of A&M's touchdowns of the second half, except one -- when running back T.J. Yeldon fumbled the ball at the goal line.
McCarron is a classic pocket passer with enough accuracy and arm strength to make every NFL throw. He does not possess a howitzer but consistently completes deep throws to the boundaries because he throws with excellent timing and touch.
As he has through most of his career, McCarron was provided a clean pocket by a talented offensive line. He's athletic enough to handle passing out of designed roll-outs but isn't elusive, potentially limiting his value with teams who feel that the NFL is gravitating towards dual-threat quarterbacks.