2014 NFL Draft: Week 3 Stock Report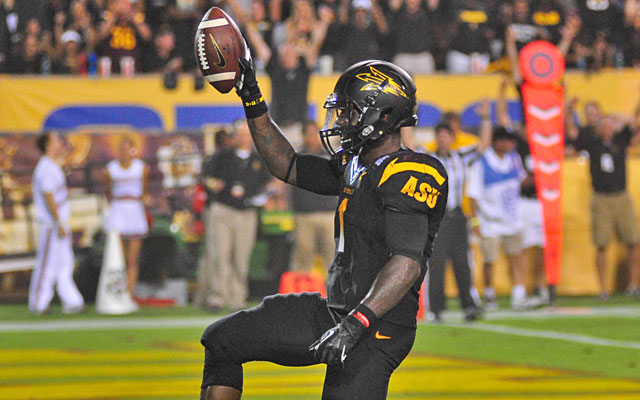 NFL prospects who helped themselves
Jace Amaro, TE, Texas Tech
One of the highest-rated high school recruits to enroll in Lubbock, the junior has shown flashes the past two years but finally looks ready for a breakout season. Amaro collected a career-best nine catches for 97 yards against TCU last Thursday and it was clear he is the focal point of the Tech offense. Lining up mostly in the slot, Amaro is a big, fluid athlete who uses his thick body to gain proper positioning in coverage and uses his large, soft mitts to attack the ball in the air. He is a balanced route runner and collects himself when changing direction with smooth moves to create separation. Amaro is dangerous after the catch and isn't an easy ball carrier to bring down, running with power and toughness. He does have some maturity and attitude questions that will need to be addressed, but based on physical talent, Amaro has all the makings of a future high NFL Draft pick.
Marion Grice, RB, Arizona State
Despite averaging only 3.8 yards per carry Saturday, the senior had a notable game for the Sun Devils, scoring four rushing touchdowns in the win over Wisconsin. Off the cuff, he isn't the most impressive-looking prospect with a lean body type and upright running style, but he shows good plant-and-go burst with the patience and instant acceleration to let defenders overpursue before surging for positive yardage. Grice needs to show more finishing toughness and lacks many distinguishable traits, but he's a talented ball carrier, willing blocker and reliable pass catcher out of the backfield. He has been a touchdown machine for the Sun Devils and his strong start to the 2013 season will only help his current late-round draft grade.
Melvin Gordon, RB, Wisconsin
Sticking with the Wisconsin-Arizona State matchup, the Badgers' redshirt sophomore might have been the most talented player on the field, regardless of position, unit or team. Gordon notched his third straight 100-yard game in the loss at Arizona State, finishing with 193 rushing yards on 15 carries (12.9 average) and a pair of scores. I took some heat over the summer from Badgers fans when I listed Gordon as the school's top draft-eligible prospect over some more well-known players, but the tape doesn't lie. He lacks elite speed, but has above-average acceleration, going 0-to-60 in a flash and bursting to top speed in the blink of an eye. Gordon shows vision and patience to follow his blocks and find holes to daylight, using excellent balance to break tackles without losing momentum. While James White was finally expected to get his opportunity to be "the guy" in the Wisconsin backfield with Montee Ball now in the NFL, Gordon has stolen the spotlight and catapulted himself near the top of the draft-eligible running back rankings.
NFL prospects who hurt themselves
Ryan Groy, OG, Wisconsin
The Badgers are known for producing talented offensive-line prospects and the senior left guard is expected by many to be the next early round NFL Draft pick out of Madison. But against Arizona State, he labored most of the night and struggled to keep up with the Sun Devils' quick, penetrating interior linemen. Groy has limited mobility and flexibility and his stiff hips and rigid body control tend to show up often, especially in space. He struggles to stay balanced through contact and is often falling forward with his eyes staring at the ground, awkwardly trying to stay under control. Groy's best quality might be his natural size and girth to occupy space and slow down rushers, but at this point, it's tough to say he'll be a top-100 type like several of his predecessors in Madison.
Ryan Grant, WR, Tulane
Let me preface this by saying the Tulane senior is one of the more underrated pass catchers in the country. Grant has quick hands, smooth coordination and wins with timing and precision in his routes to create just enough room to work. But he has the bad habit of not always securing the ball after the catch, something that was on display in Tulane's win over Louisiana Tech last Thursday night. Grant is a natural hands catcher and finished with seven catches for 79 yards and a touchdown against the Bulldogs, but his bad habit of allowing the ball to get loose after tucking it away led to a pair of incompletions and a fumble Thursday night. Grant is among the NCAA leaders with 24 catches for 348 yards and three touchdowns so far this season, averaging 116 receiving yards per game. He is definitely a top-100 candidate and he deserves to be talked about more at the national level, but holding onto the ball and finishing catches will go a long way toward making this happen.
Bradley Roby, CB, Ohio State
After sitting out the season opener due to a suspension, the Buckeyes junior showed some rust week in his first action of the year and again displayed inconsistent focus for most of the Buckeyes' win at California. Roby started the game playing 10-12 yards off the line of scrimmage, conceding underneath throws, even in short-yardage situations. Some of that is scheme-based and might not be all Roby's fault, but it is up to him to drive and limit plays in front of him, something he was late to do in this contest. His lack of size and overall length also showed up several times as he often found himself a few inches away from making a play on the ball. There is a lot to love about Roby's game, including his speed and fighting attitude, but he needs to stay alert for all four quarters to convince NFL teams he's worthy of a high first-round grade.
Other draft notes
• A truly strange situation out of Eugene occurred over the weekend involving Oregon playmaking junior tight end Colt Lyerla. He missed Saturday's game against Tennessee and when asked about Lyerla's absence, Oregon first-year head coach Mark Helfrich said one word: "Circumstances." This response of course could be received many different ways (positive or negative) and it led to rampant speculation.
But according to OregonLive.com, Lyerla missed most of last week due to illness and was told by the coaching staff to stay home and rest. And understandably, he was troubled with his head coach's one-word, awkward answer.
"I'm really upset with the way Coach Helfrich said that after the game," Lyerla said. "Really disappointed. I feel hurt about this. I watched a little bit of what he said, then started reading all of it, and ... it was unfair."
Lyerla, who is arguably the top tight end eligible for the 2014 NFL Draft, has missed time in the past for "personal issues," so Helfrich's open-ended answer created unwarranted and needless speculation about his absence on Saturday. It's hard not to side with Lyerla based on the facts we know right now, but regardless, this is a situation worth monitoring as the season progresses.
•With Braxton Miller sidelined due to a knee sprain, Ohio State senior quarterback Kenny Guiton received his first career start on Saturday against Cal. And on the road against a young, talented opponent, he looked like a seasoned veteran who had been waiting for this chance for a long time.
Guiton finished 21 for 32 (65.6 percent) for 276 yards and four touchdowns, adding 14 rushes for 92 yards on the ground (6.6 yards per carry). He showed touch on downfield passes and was accurate throwing on the move with the arm strength to sling the ball all over the yard. California Memorial Stadium isn't the most menacing place for visitors and it wasn't a flawless performance, but Guiton wasn't intimidated on the road and gave a gutsy performance in his first collegiate start.
Is he a draftable NFL prospect? The sample size is much too small to accurately answer that question right now, but his play on the field has at the very least prompted the question to be asked. Next-level evaluators love raw, talented players who show the physical ability and mental makeup that can be developed, especially at the quarterback position. Last year the San Francisco 49ers drafted former South Florida quarterback B.J. Daniels in the seventh round after a lackluster college career, but the Niners saw a worthwhile project. And it wouldn't be surprising if an NFL team thought the same about Guiton next May.