RB Charles Sims guides West Virginia to upset over Oklahoma State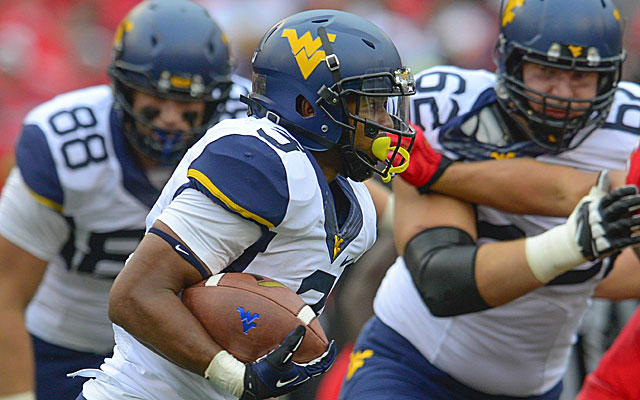 For the first time since 1963 no running backs were selected in the opening round of the NFL draft.
The expectation is that the first running back selected in 2014 will be an underclassman. Baylor junior Lache Seastrunk is the only runner currently among the top prospects on my Big Board. Fellow underclassmen Bishop Sankey (Washington), Ka'Deem Carey (Arizona) and Melvin White (Wisconsin) also have demonstrated intriguing skill sets.
West Virginia senior Charles Sims' ability to impact the game as a true three-down threat, however, is sure to keep his name among the backs, regardless of which underclassmen declare early.
Scouts are used to seeing talented skill position prospects on the field when West Virginia and Oklahoma State meet. Sims was the obvious standout in this contest, providing the consistency as a runner, receiver and pass-blocker to be the difference in the Mountaineers' 30-21 upset of the 11th-ranked Cowboys in Morgantown.
Sims, 6-0, 205, possesses a high-cut frame, which gives him an unusual torso for the running back position. His size belies impressive quickness and acceleration, making him a tough target for would-be tacklers. His ability to make defenders miss helped him rack up a team-high 157 all-purpose yards, including a rushing touchdown.
Fresh off of a 37-0 shellacking by Maryland in which Sims was given a season-low eight rushing attempts (35 yards), the Mountaineers made running the ball a priority in this contest. While Sims' final rushing statistics are hardly eye-popping (18 rushes for 60 yards), his most impressive run came on a play in which West Virginia desperately needed a spark.
Facing second-and-10 from their own 3-yard line, the Mountaineers turned to their powerful running back to get them some room. Sims took the handoff and attacked the left B gap, faking left and bursting right to slip through closing defenders at the line of scrimmage and into the open field. A strong cutback to his left evaded other defender and Sims showed off his surprising acceleration to gash the Cowboys for a gain of 25.
Sims was frequently targeted on screens and quick passes into the flat. He demonstrated rare hand-eye coordination for a running back, tracking a hot pass over his shoulder while running parallel to the line of scrimmage that put WVU in position to take a two-score lead with just 1:28 remaining in the game.
His most productive catch, however, came after splitting out wide early in the second quarter. Facing press coverage, Sims hesitated off the snap, putting cornerback Kevin Peterson on his heels. Showing the burst and understanding of route concepts to continue earning playing time here in the NFL, Sims then accelerated to create separation, ultimately leaping to catch a pass between Peterson and closing safety Lyndell Johnson for a 38-yard gain.
Just as impressively, Sims proved reliable in pass protection, showing not only recognition but courage when taking on hard-charging pass-rushers to buy time for quarterback Clint Trickett.
Sims currently ranks as NFLDraftScout.com's No. 2-rated senior running back behind Arizona State's Marion Grice.
Sims considered leaving for the NFL early after rushing for 851 yards and 11 touchdowns and catching 37 passes for another 373 yards and three scores as a member of the Houston Cougars a year ago. Instead, he transferred to West Virginia, where he was reunited with head coach Dana Holgorsen, who served as offensive coordinator at Houston in 2008-09. Sims was eligible to play immediately as he graduated with a degree in Health Education from Houston in May.