2014 NFL Draft: Week 6 Stock Report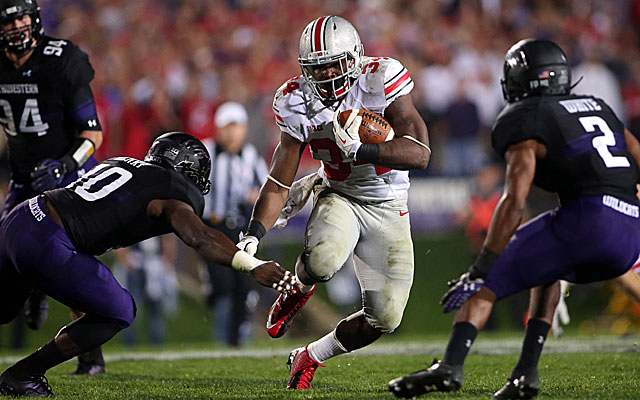 NFL Prospects who HELPED themselves this weekend:
After an off-field incident in the summer, Hyde was suspended for the first three games of the 2013 season. Coach Urban Meyer has slowly been working him back onto the field the last few weeks with five carries against Florida A&M off the bench followed by 17 rushes for 85 yards as the starter a week later against Wisconsin. But Hyde's breakout game came this past weekend as he carried Ohio State past Northwestern, finishing with a career-best 168 rushing yards on 26 carries (6.5 average) and three touchdowns. The senior also had four catches for 38 yards and was the workhorse for the Buckeyes offense in Evanston with Braxton Miller struggling at quarterback. Hyde is a tough, downhill runner who carries the rock with determination and picks up extra yardage after contact. He has some fluidity to his 240-pound frame to wiggle out of tackles, showing an excellent ability to absorb hits while continuing to pump his legs. Hyde did get winded and fatigued, but his tolerance should improve with more action the next few weeks. It's important to remember Northwestern's defense doesn't have many future pros (if any) and his ground and pound style isn't ideal for the next level, but his performance against Northwestern is his most impressive collegiate game tape yet. He entered the season with a late round draft grade, but he's running angrier than ever and will continue to move up boards with these type of performances.
RB Venric Mark, Northwestern
While Hyde and the Buckeyes went home with the victory, it was a productive outing for Mark who returned to the field after missing the previous three games due to a leg injury. He is easily the Wildcats' most valuable player for his ability as a running back, receiver and return man on special teams. Against Ohio State, Mark showed terrific acceleration out of his cuts to scamper through arm tackles towards daylight at the second level. He is very shifty between the tackles, doesn't run hesitant and wastes little time getting north-south downfield. Mark has a smallish frame at 5-8 and 175 pounds with little growth potential, but he isn't afraid to lower his pads and deliver a pop at the point of attack. He lines up at running back and wide receiver and is a versatile offensive weapon who doesn't have a true NFL position, but has skills that translate to the NFL level.
DT Daniel McCullers, Tennessee
Despite its top two rushers sidelined due to injury, Georgia ran for 238 yards against Tennessee on Saturday en route to the 34-31 overtime victory. But it was still a positive performance by McCullers who showed why some view him as a top-50 prospect for May's NFL Draft. He is a double-team magnet with his massive frame and overall length, but he has above average natural power to overwhelm single blocks and win 1-on-1 matchups. McCullers has shown improved awareness and uses his eyes better to track and make plays against the run, although most times he just doesn't get there in time. He has tight hips and struggles to freely move laterally which inhibits his overall range. But that's not his game, McCullers is a short-area defender who clogs the middle and can handle multiple blockers while still making plays against the run whether lined up as a nose tackle or outside the guard's shoulder.
With Notre Dame showing a lot more four-man fronts in 2013, Shembo is playing primarily in a three-point stance at defensive end for the Irish. Over the first five games, he was somewhat quiet, but had a breakout game against Arizona State Saturday night with his first three sacks of the season. Shembo finished the game at AT&T Stadium with five tackles, three tackles for loss and three sacks, which matched a career-best. He lacks elite explosion off the edge and is more of a one-speed type of rusher, but he's always playing at full effort with his hair on fire. Shembo has above average toughness and is a smart rusher with awareness to follow the ball and close quickly. He has room to get more creative with his pass rush technique, but Shembo has developed a strong inside move and translated his effort into production against the Sun Devils.
NFL Prospects who HURT themselves this weekend:
The 2012 Pac-12 Defensive Player of the Year, Sutton has struggled to match his production and impact from a year ago. He has started all five games for Arizona State so far this season, recording 16 tackles, 2.5 tackles for loss and one sack. Last year through five contests, Sutton had 34 tackles, 10 tackles for loss and six sacks – a big difference that can't be overlooked. A player's ability can't be felt strictly by the statsheet, but the fact is, Sutton simply hasn't had the same type of impact in 2013 compared to previous years. And he was quiet again on Saturday night in the loss to Notre Dame. Sutton had a few splash plays where he was able to penetrate and put pressure on the quarterback, but, for the most part, he was neutralized by single blockers. Sutton is a fiery kid with an active, energetic play style, but he has added weight since last season and doesn't display the same quickness or explosion. He still shows the same effort on the field, but will need to prove that he can still be effective as an interior pass rusher with the added weight.
QB Braxton Miller, Ohio State
The Buckeyes escaped Evanston with the "W" but it wasn't the prettiest victory due to Ohio State's struggles on offense, most notably by Miller. He returned from a left knee sprain against Wisconsin last week and erased all doubts of who the starting quarterback should be. But against Northwestern on the road, Miller struggled mightily as a passer and was tentative as a runner, giving the ball to the Wildcats three times with a pair of fumbles and an interception. He finished Saturday night 15-for-26 (57.7%) for 203 yards, adding 68 yards on the ground, but didn't find the end zone with his arm or his legs. Miller has improved mightily as a passer, but he is still very much a work-in-progress. He has all the arm strength needed, but his ball placement and touch are extremely inconsistent, which are a direct result of inconsistent mechanics. Miller is comfortable in the pocket, but he tends to rush his process and escape before necessary, looking timid as a runner as if he's protecting himself from another injury. In the end, he helped Ohio State get the victory, but it wouldn't be a surprise if Urban Meyer makes the switch to senior Kenny Guiton if Miller's struggles continue.
Other Draft Notes:
• I spoke with a NFC personnel executive last week about the potential of the 2014 quarterback class and to say he "gushed" might be an understatement. His smile seemed to grow with every quarterback we discussed, including Oregon's Marcus Mariota who might have garnered the greatest grin.
• Speaking of quarterbacks, Georgia's Aaron Murray entered this season needing a big senior year to help show pro scouts that he has the skills for the next level. The Bulldogs' signal caller became the SEC's career leader in passing yards over the weekend and has an impressive resume, but at the end of the day, his lack of ideal size and arm strength will be tough for teams to overlook.
However, when I gauged the interest in Murray from some around the league, one response from an AFC scout stood out: "He's limited, but I like him a lot better than Kirk Cousins. Kid was born to play quarterback."
Murray is expected to test well on the chalkboard and has the intangibles that evaluators seek at the position. But will that be enough to overlook the mediocre physical traits? For most, probably not. But all it takes is that one team…
• Surprising news out of Eugene as Oregon announced Sunday night that junior tight end Colt Lyerla has left the program for "personal reasons" and he intends to pursue a professional career. The former Ducks tight end has first round talent on the field, but, like Rob Rang mentioned in his recap, Lyerla's NFL Draft future ultimately depends on the off-field concerns.
There have been rumblings from several league sources that Lyerla's character was a troublesome issue before the season so this latest twist doesn't help the negative vibes. The question that NFL teams will be faced with: Is Lyerla a bad apple or just an immature kid? The answer is paramount to his draft stock and overall NFL future.