Top Prospect of Week Six: TCU CB Jason Verrett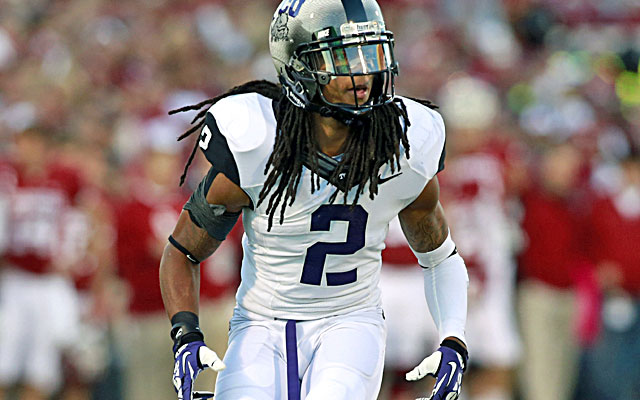 Each Wednesday of the college football season NFLDraftScout.com Senior Analyst Rob Rang will identify his Prospect of the Week. To qualify, the player must have played a significant role in their team's performance against a quality opponent, demonstrating not only effectiveness as the collegiate level but the rare traits to demand the attention of pro scouts, as well.
Top Prospect of Week Six: TCU CB Jason Verrett
With passing attacks terrorizing defenses at all levels of football, cover corners have never been more valuable than now.
Entering the 2013 season, Ohio State's Bradley Roby, Florida's Loucheiz Purifoy and Oregon's Ifo Ekpre-Olomu were among the stellar athletes scouts were hoping would emerge to help combat today's sophisticated attacks. Each possesses the size and physicality to intrigue. Over the first third of the season, however, the most impressive coverage defender I've come across thus far has been TCU's Verrett, a 5-foot-10, 178-pound blur whose awareness and athleticism helped limit a normally explosive Oklahoma offense to just 152 passing yards and zero touchdowns through the air Oct. 5.
Since Gary Patterson took over the reins at TCU, the Horned Frogs have emerged as one of the nation's more consistent contributors of disciplined, technically sound defenders. Verrett, a junior college transfer who led the Big 12 with 16 passes broken up and six interceptions last year, plays with the awareness we've come to expect from TCU. As he demonstrated in racking up six tackles and two passes broken up in the 20-17 loss to No. 11 Oklahoma, Verrett also possesses extraordinary quickness, balance, fluidity and hand-eye coordination.
The Horned Frogs ask a lot of their cornerbacks, asking them to switch often between press, off-man and zone coverage schemes. Verrett appears comfortable in each, demonstrating a quick back-pedal, smooth turning motion and remarkable closing speed.
These traits were demonstrated on multiple occasions against the Sooners. One notable example came on a third-and-5 with 4:15 remaining in the second quarter. The Sooners, ahead 3-0 and entering field goal range, found little opportunity to attack the aggressive Horned Frogs' secondary deep and instead attempted to hurt TCU with underneath crossing routes. On this play, Verrett correctly read Sooners' quarterback Blake Bell's progression and showed impressive acceleration in catching up to junior Durron Neal to tackle him immediately after he caught the pass, limiting the 5-foot-11, 199-pound wideout to a gain of just two yards.
Rather than punt or attempt a field goal, however, the Sooners went for it on fourth down, with Neal slipping inside a borderline pick by Sterling Shepard to beat cornerback Kevin White on a quick arrow route for a first down. A few snaps later and versatile back Trey Millard ran eight yards for a touchdown to give the Sooners a 10-0 in front of a passionate Norman crowd.
On the Sooners' next drive, Bell was a little more aggressive, attempting to beat Verrett on a 15-yard deep out to 6-foot-3, 195-pound senior wideout Lacolton Bester. Bell's throw was accurate and Bester appeared open but Verrett's burst back to the ball was impressive and he was able to bat away the pass with his right hand. Most impressively, he was able to deflect the pass without touching the wideout.
While Verrett's coverage ability is impressive, his lack of preferred size is a concern that could keep some teams from stamping him with a first round grade. Verrett plays bigger than his size, showing the willingness to take on large ball-carriers, including tackling the 6-foot-6, 252-pound Bell in the open field. However, the Sooners repeatedly ran in his direction because Verrett can get tied up with physical blockers. Further, while he did not miss a tackle in this contest and is well known for his scrappy play in run support, Verrett relies on wrapping his arms around ball carriers' legs to bring them down, rather than delivering a forceful blow.
While Verrett's lack of size is an obvious concern, he ranks at the top of NFLDraftScout.com's board among senior cornerbacks. If he continues his stellar play and runs well in pre-draft workouts, he could join pass rusher Jerry Hughes (Colts selected him No. 31 in 2010) and the great LaDainian Tomlinson (Chargers selected him No. 5 in 2001) as the only TCU players to earn first-round selections since 1984.
Prospect of the Week Archives:
Week One: Alabama WR/RS Christion Jones
Week Two: Miami LB Denzel Perryman
Week Three: Washington RB Bishop Sankey
Week Four: Fresno State QB Derek Carr
Week Five: Texas A&M OT Jake Matthews