NFL Draft prospects: Mariota answers questions vs. Washington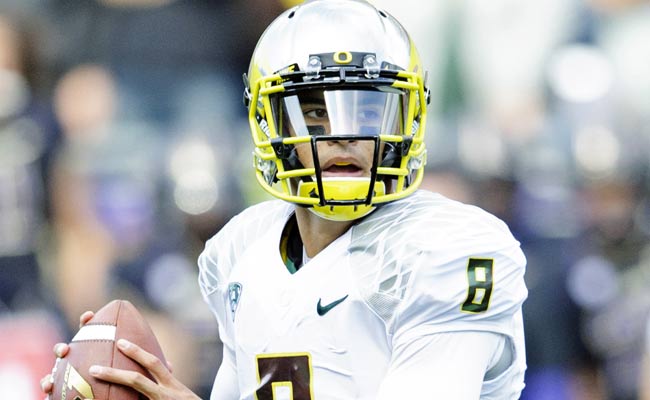 With explosive running back De'Anthony Thomas sidelined because of an ankle injury and tight end Colt Lyerla abruptly quitting the team last weekend, there was more pressure on quarterback Marcus Mariota in Saturday's Pac-12 showdown with rival Washington than perhaps any other game in the redshirt sophomore's young career.
Consider it a challenge accepted, and in dominating fashion.
While Mariota's statistics weren't as impressive in Saturday's 45-24 over the Huskies as they have been in many of his prior 18 games, this was the type of performance that might be more valued by NFL scouts than Heisman voters.
Tuning out a passionate crowd and facing an athletic and physical defense that boasts several NFL prospects of their own, Mariota completed 24 of 31 passes for 366 yards and three touchdowns without an interception. He rushed for another 88 yards and a score.
Just more of what we've seen from Mariota and the explosive Ducks offense, right?
Not quite.
While Oregon went into halftime with a seemingly comfortable 21-7 lead, this game was tighter than the score indicated. The Ducks' first touchdown came on a controversial fourth-and-1 plunge from running back Byron Marshall. The sophomore was ruled to have scored but replays seemed to show that he was stopped short. The replay was not definitive, however, and Washington proved their own worst enemy, at times, turning the ball over twice.
With the Pac-12's leading rusher Bishop Sankey turning a fourth and 1 into a 60-yard touchdown to jump start Washington on their first drive of the second half, the pressure was on Mariota to respond -- precisely what scouts wanted.
One of the few questions pro talent evaluators still have about Mariota is whether he possesses the poise so critical to NFL success. With Oregon regularly scorching opponents, Mariota rarely has to take meaningful second-half snaps. In this game he did and the young signal-caller responded beautifully, lofting a beautiful deep ball to senior wideout Josh Huff for a 65-yard touchdown seconds after Sankey's run gave the Huskies' crowd reason to bark.
The 6-foot-4, 212-pound Mariota is the physical prototype for today's up-tempo offenses. Possessing a combination of agility, straight line speed and a rocket of a right arm, Mariota has earned comparisons from scouts to San Francisco 49ers QB Colin Kaepernick. Frankly, the Oregon signal-caller is further along than Kaepernick was at a similar point in his collegiate career at Nevada.
Unlike Kaepernick, whose baseball-like delivery played a role in his lasting until the second round, Mariota is technically sound. He has an efficient set-up, setting his feet quickly, keeping his shoulders square and delivering the ball with a tight, over-the-top release. Best of all, the football simply explodes out of Mariota's hand.
There is no denying that Mariota -- like previous Oregon quarterbacks -- is significantly aided by the Ducks' spread offense. Creative scheming and the Ducks' talent at the skill positions routinely leaves Mariota wide-open receivers from which to choose from. As such, scouts are left to largely ignore his 68.5 completion percentage and instead appreciate Mariota's uncommon ball-placement, which gives his targets the opportunity to run after the catch.
"Run" is often the operative word with Mariota. His ability to buy time in the pocket and scramble makes him virtually unstoppable when he decides to tuck the ball. He was especially willing to do as the game tightened, demonstrating his unique vision and acceleration for the position in gaining 35 yards on the last play of the third quarter and 5 yards for a touchdown to give Oregon a 38-24 lead early in the final stanza.
Players rarely make the NFL jump with two years of collegiate eligibility and it is even more historic when it comes at the quarterback position. Should Mariota and the Ducks continue their dream season with a national championship, however, he could have quite a decision to make in January.