2014 NFL Draft: Week 8 Stock Report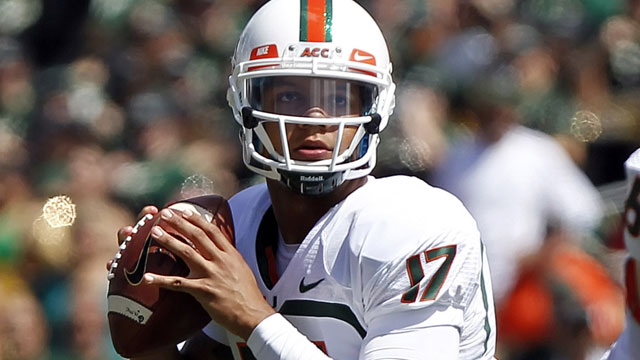 NFL Prospects who HELPED themselves last weekend:
TE Eric Ebron, North Carolina
Over the summer, it was surprising to some that I had Ebron as my No. 1 draft-eligible tight end prospect for the 2014 NFL Draft, over more well-known players like Washington's Austin Seferian-Jenkins. And while he has had a solid junior campaign so far in 2013, his performance last Thursday against Miami really put him on the national radar. With dozens of scouts in attendance, Ebron set a new school tight end record with 199 yards receiving on eight catches and one touchdown, which came on a 71-yard catch-and-run. He showed off his fluid body control to make acrobatic catches before shrugging off and accelerating past defenders with the speed to finish. Ebron made several impressive catches on the outside, down the seam and even the one-hand variety that made everyone in attendance go "ooh" and "ahh." He is still very much a work-in-progress as a blocker and needs to improve his reliability catching the easy passes, but the physical talent is what makes him such an exciting prospect. Right now, it's neck-and-neck in my mind between Ebron and Texas Tech's Jace Amaro (also a junior) for the top tight end distinction for the 2014 NFL Draft.

RG Kevin Danser, Stanford
Entering this season, several Stanford offensive linemen received preseason honors and headlines, most notably left guard David Yankey. But it's the "other" guard on the right side that has really impressed me so far in 2013 as Danser has been one of the most underrated players in the country. The senior plays with a wide base and has smooth lateral movements to slide and pick up blocks on the move and at the second level. Danser has NFL size (6-6, 300) with a thick trunk and a stout anchor to stonewall rushers and use his length effectively in space. He is a nasty competitor and looks to eliminate his man, although that aggressive streak will get him in trouble at times when he overextends and lunges at his target. Regardless if he continues to fly under the radar or not, Danser has helped his NFL Draft stock with his play as a second-year starter this season and one of my personal favorites.

DB LaMarcus Joyner, Florida State
The best player on the field Saturday night in Death Valley was freshman sensation Jameis Winston, the outstanding Florida State quarterback. But the Seminoles defense completely shut down the Clemson offense, and it could be argued the player with the second-largest impact was Joyner. The versatile defensive back has bounced between safety and cornerback most of his career, but is playing mostly a cornerback role as a senior, seeing a lot of action as a nickelback covering the slot receiver. And against the Tigers, Joyner was all over the field, finishing with eight tackles, a sack and three turnovers (one interception and two forced fumbles). On the first play of the game, he stripped the ballcarrier and immediately swung the momentum to Florida State. And then later in the first quarter, Joyner blitzed off the edge and sacked Clemson quarterback Tajh Boyd with outstanding closing burst, knocking the ball out of his hands in the process for his second forced fumble of the game. Later in the first half with Clemson driving, Joyner picked off Boyd for his first interception of the season. With his marginal size (5-8, 190), he won't be a fit for every NFL defense, but he plays bigger than he looks and has a future at the next level in some capacity, most likely as a nickelback.

WR Travis Labhart, Texas A&M
There is no questioning that wide receiver Mike Evans is the go-to-threat for Johnny Manziel and the Texas A&M offense, but Labhart has emerged as a reliable secondary option. If you never heard of the him prior to this season, don't feel bad, Labhart entered this year with zero career catches and very little playing time. Texas A&M lost three of their top four receivers from a year ago, including Ryan Swope who was the safety valve of the Aggies' offense most of his career, a role that Labhart has grown into the past few weeks. He has a solid build (195 pounds) for his subpart height (5-9) and has only average speed, but he watches the ball into his hands with very good focus and is tough as nails. Despite not starting a game yet at the college level, Labhart has earned more and more playing time and is developing chemistry with Manziel and showing off his reliability as a possession target, especially from the slot and over the middle.
Prospects who HURT themselves this weekend:
QB Stephen Morris, Miami
Every draft class seems to have an enigma prospect at the quarterback position, and Morris definitely fits that description as a very perplexing and polarizing player. He has a golden arm to effortlessly spin the ball anywhere on the field with the athleticism and toughness to match. But his performance against North Carolina last Thursday was another reminder why most are struggling to consider him as one of the best senior quarterbacks for the 2014 NFL Draft. Against the Tar Heels, Morris struggled with pressure and too easily abandoned his footwork and mechanics, causing sporadic throws and inconsistent accuracy. He has the athleticism to escape defenders, but was too often late to react to the blitz against North Carolina and made too many flat-footed passes. Morris did show composure late in the game and didn't get overwhelmed by his four interceptions, but so far in 2013, the poor decisions have outshadowed his positive ones, making him a very difficult NFL evaluation.

QB Tajh Boyd, Clemson
Although he hasn't been terrible this year, Boyd needed a big performance on the big stage Saturday night against Florida State to rescue his mediocre senior season thus far. However, he was thoroughly and completely out-played by redshirt freshman quarterback Jameis Winston, who looked more like a senior than Boyd in this contest. Boyd's confidence appeared to be shaken from the start as Clemson sputtered on offense and turned it over twice in the first quarter, including a fumble by Boyd after he underestimated the speed of a blitzing Joyner off the edge. Like his other games this season, his accuracy was very up-and-down, which is a direct result of his inconsistent base and feet, causing his ball placement to aggressively waver. Boyd tries to "arm" too many throws and often gets caught leading defenders to the target with his eyes, something he did against the Seminoles which led to an interception. Although he entered this season as the top senior quarterback for many, he has looked like anything but a first round prospect as a senior.

WR Marqise Lee, Southern Cal
After spraining his left knee against Arizona State on Sept. 28, Lee found himself on the sidelines, but was cleared to play on Saturday against Notre Dame. Unfortunately for the Trojans, Southern Cal's all-time receiving yards leader again tweaked his knee and left the game in the first half, watching the rest of the game from the bench. Lee is an athletic playmaker who projects as a first round pick based on his talent and production, but his durability concerns have gone from a slight concern to a strong red flag for NFL scouts. We'll see how long this latest setback will keep him on the sidelines, but Lee should focus on getting healthy for the next level and not rush back to action, which isn't exactly in his DNA.
Other Draft Notes:
• It's still extremely early, but, like Luck prior to the 2012 NFL Draft, it looks like next season will become the Jameis Winston sweepstakes for the 2015 NFL Draft. The Florida State redshirt freshman has been nothing short of tremendous for the Seminoles thus far halfway through the 2013 season and looked like a senior against Clemson, playing with extreme confidence and savvy Saturday night in Death Valley. We've only had a small sample size, but Winston has the size, athleticism and arm talent right now to start at the NFL level and displays the special intangibles that are so rare for quarterbacks his age (he was born in 1994; feel old?). He will be a redshirt sophomore next season and if he decides to go pro early, Winston is the type of prospect NFL franchises pray lands in their laps.

• In Michigan's shootout 63-47 win over Indiana on Saturday, senior wide receiver Jeremy Gallon showed why some scouts believe he has top-100 potential. He finished with 369 receiving yards, setting a new Big Ten and Michigan record and coming close to the FBS all-time mark (405 – Troy Edwards, Louisiana Tech). Gallon did a nice job getting open and then once he had the ball, he didn't waste time stretching the field and finding the end zone. His short, built stature is reminiscent of former Notre Dame wideout Golden Tate, who went on to be a second rounder of the Seattle Seahawks. Gallon entered the 2013 season with draft grades all over the map, many scouts thinking he was undraftable. But performances like Saturday make it impossible for next level decision-makers to ignore his playmaking ability.

• The good news for Ohio State junior cornerback Bradley Roby is that he didn't get beat on Saturday against Iowa, something that has become an unfortunate habit for him this season. But the reason is because he exited the contest in the first quarter after he was disqualified for a targeting penalty. He struck Iowa 6-foot-7 tight end C.J. Fiedorowicz with helmet-to-helmet contact after clearly launching himself in an upward motion. The play was reviewed and upheld. Roby entered this season as a possible early first round draft pick due to his athleticism and ballhawking ability in man coverage, but it's been a rocky start to his junior year. He was suspended for the season opener after an off-field incident and his misfortune stretched to the field as he struggled mightily vs. Wisconsin's Jared Abbrederis and several others against California and Northwestern. Despite the poor start, Roby still has the second half of 2013 to prove to NFL scouts that his 2012 play wasn't a fluke.