Top NFL Rookie of Week Seven: Washington Redskins' TE Reed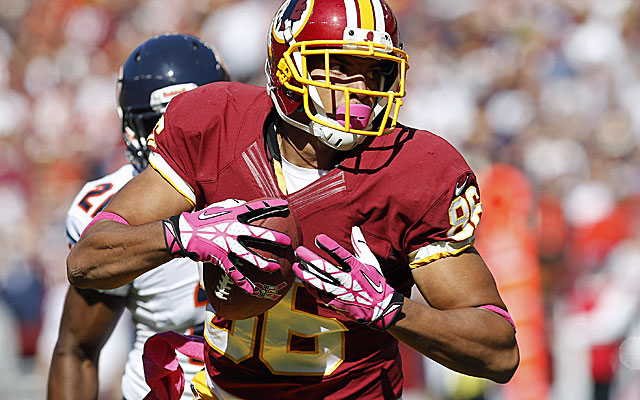 Each Tuesday of the NFL season NFLDraftScout.com Senior Analyst Rob Rang will identify his Rookie of the Week. To qualify, the first-year professional player must have played a significant role in a competitive NFL game, demonstrating not just flashes of talent but the potential to emerge as a legitimate long-term standout. The player's draft status -- whether as a former first round pick or undrafted free agent -- does not apply.
NFL Rookie of Week Six: Washington Redskins' TE Jordan Reed
For a draft class that many characterized as lacking in top talent, a number of rookies continue to perform well week in and week out. Jets' rookie quarterback Geno Smith out-dueled Tom Brady. Eddie Lacy continued to look like a missing piece to a formidable and well-balanced offense in Green Bay. San Diego Chargers' first round pick D.J. Fluker did precisely what many said he couldn't - play well at left tackle - when pressed to switch sides due to injuries in his team's victory over Jacksonville. Losing the game and their quarterback Sam Bradford to injury made Week Six a tough one for the St. Louis Rams, but a silver lining was the play of rookie running back Zac Stacy, who contributed 87 all-purpose yards and scored the first touchdown of his NFL career.
For the second week in a row, however, it was a big-play tight end who stole the spotlight as Washington's Jordan Reed proved a difference-maker in the Redskins' 45-41 shootout win over Chicago Bears.
Reed had emerged in recent weeks as a dependable target for Robert Griffin III, hauling in at least three passes in all four of the games in which he was healthy enough to play. He missed Week Four against the Oakland Raiders due to a quadriceps contusion.
That said, he took his game to another level against the Bears, more than doubling his previous career highs with nine receptions for 134 yards, including hauling in a touchdown from Griffin with just :27 seconds remaining to give Washington a 24-17 halftime lead.
If Reed's statline isn't impressive enough, consider the trust that the Washington coaches have already placed in the rookie. Because of the dependability the No. 85 overall pick of the 2013 draft has demonstrated in his early career, the Redskins elected to make incumbent starting tight end Fred Davis a healthy inactive for this contest.
Head coach Mike Shanahan and his son, offensive coordinator Kyle Shanahan have long utilized athletic mismatches as featured elements in their West Coast Offenses. As such, the 6-foot-2, 236-pound Reed is an ideal fit for their scheme. Quick enough off the snap to pose problems for linebackers and too big for most defensive backs to handle one on one, Reed is a perfect example of the "moveable chess pieces" NFL teams are finding so en vogue in today's pass-happy offenses.
Reed demonstrated his versatility throughout this contest, catching his touchdown on a fade while split out wide but also catching other passes from the traditional tight end formation as well as inside in the slot.
It wasn't just how he got open but how efficiently he took advantage of his opportunities that saved the day for Washington.
The rookie from Florida caught all nine passes thrown to him in this contest. He was clearly a focal point of Washington's strategy, catching two of Griffin's first three passes. Two of his most critical receptions came on the Redskins' game-winning drive, a 26-yard completion up the seam to put the ball at midfield and a 10-yarder on third-and-four that placed the ball on the three-yard line with less than a minute remaining. Veteran running back Roy Helu, Jr. ran the ball in for the game-winning score seconds later.
Highly athletic and possessing both sticky hands and excellent hand-eye coordination, Reed is a perfect fit in this offense. He's clearly gained Griffin's trust. Considering the quarterback's ability to attack defenses with his legs, linebackers and safeties must be aware of Griffin's willingness to scramble. As such, doubling Reed is nearly schematic suicide. As such, expect the rookie tight end to continue to flourish.
Rookie of the Week Archives:
Week One: Carolina Panthers' DT Star Lotulelei
Week Two: Houston Texans' WR DeAndre Hopkins
Week Three: New York Jets' QB Geno Smith
Week Four: Buffalo Bills' ILB Kiko Alonso
Week Five: Green Bay Packers' RB Eddie Lacy
Week Six: Detroit Lions' TE Joseph Fauria