2014 NFL Draft: Seminoles may have nation's best running backs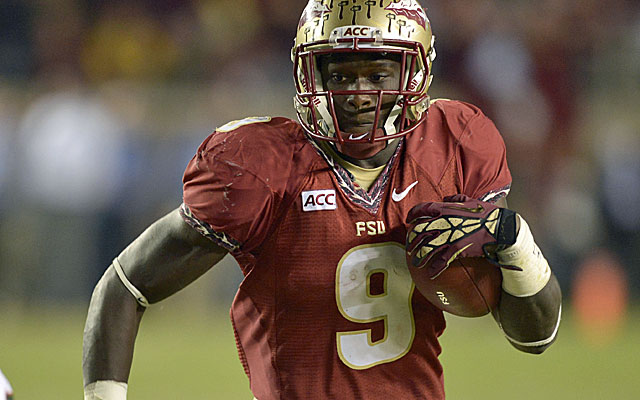 Quarterbacks Jameis Winston and Stephen Morrisearned the spotlight in Florida State's 41-14 win Saturday night over Miami but every talent evaluator watching undoubtedly took note of the Seminoles' three-headed monster at running back.
Florida State's trio of Devonta Freeman, James Wilder Jr. and Karlos Williams combined for 166 rushing yards and four touchdowns, alternately eluding and running through a talented Miami defense all game long.
Freeman, a Ray Rice clone at 5-foot-8, 203 pounds, was the most impressive of the Seminoles' backs. He attacked holes, showing a nice stop-start move in traffic to avoid tacklers and the burst to leave them in his wake. He was even more effective as a receiver, showing natural vacuum hands and the vision and speed to turn a short screen pass into a 48-yard touchdown that gave Florida State's a commanding 21-7 lead with 5:08 remaining in the second quarter.
Freeman hasn't earned nearly as much hype as Wilder but he's emerged as Florida State's primary back, leading the team with 639 yards and eight touchdowns on the season. He carried the ball 23 times for 78 yards and caught six passes for another 98 against Miami, both season-highs. The extra focus on Freeman wasn't by chance. The only other 20-carry game of Freeman's career came two weeks ago in Florida State's big win over Clemson, in which he also scored a touchdown.
While Freeman's versatility and body type evoke memories of Ray Rice at Rutgers, Wilder Jr.'s 6-foot-1, 229-pound frame is reminiscent of former Kansas City Chief and Oakland Raider running back Harvey Williams.
While possessing a lanky frame, Wilder explodes out of his cuts and runs with both power and determination. He absorbed a clean shot to his chest from Hurricanes' senior linebacker Tyrone Cornelius at the one-yard line but powered through it to give Florida State's its second score of the game. He used an effective stiff-arm, great balance to run through a tackle and all of his 6-foot-1 frame to dive for a five-yard touchdown midway through the third quarter.
Freeman and Wilder Jr. were certainly impressive against the Hurricanes but considering their combined 50 games of experience, scouts knew them well.
As such, the running back who could earn the most buzz after Saturday night's dominating effort could be 6-foot-1, 223-pound junior Karlos Williams, who began the season at strong safety.
Williams only ran the ball five times against Miami but he certainly demonstrated the exciting traits to make it clear what the FSU coaches saw to prompt the position switch.
Belying his lack of experience, Williams showed natural running skills, accelerating quickly, cutting decisively and running with determination and good forward lean to rack up 46 yards.
During the glory days of the Bobby Bowden era, the Seminoles often boasted a stable of future NFL backs. Few groups were any better than the trio Jimbo Fisher and Winston get to rely upon this season.
Whether after this year or next, expect each of these Seminoles' backs to earn a selection in the NFL draft, making Florida State's trio arguably the elite stable of running backs in college football.