2014 NFL Draft: Vols dominated, but Rajion Neal flashes NFL traits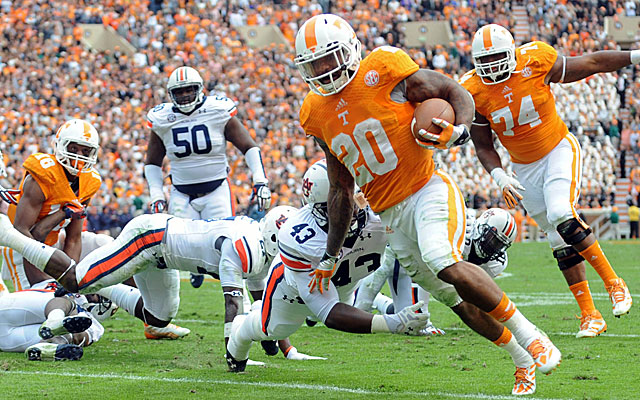 With pass-happy spread offenses dominating the rest of college football, viewers were treated to a blast from the past Saturday with Auburn and Tennessee relying on the run.
Combined, the Tigers and Volunteers ran the ball 95 times for 668 yards and six touchdowns. Auburn quarterback Nick Marshall led all rushers with 214 yards and two scores, leading his team to the 55-23 victory on the road in Neyland Stadium.
But for all of Auburn's production in the ground game, it was Tennessee running back Rajion Neal who made the most positive impression of the game, showing the athleticism, toughness and soft hands to rank as one the country's top seniors at the position.
Neal's natural running skills were best demonstrated Saturday on a highlight-reel touchdown run early in the second quarter that staked Tennessee to a 13-7 lead over the No. 9 Tigers.
Showing a nice jump-cut, Neal bounced left and right to get to the second level and then ripped through would-be tacklers to take what looked like a gain of one or two into a dazzling 17-yard score. After breaking free from the handful of would-be tacklers that all seemed to have an angle on him, Neal broke free to the left sideline, exuberantly high-stepping the final few yards for the flashy score.
Neal's touchdown was the best example of his intriguing talent but far from the only one.
The 5-foot-11, 212-pound Neal possesses a well-built frame and was productive running inside or out against the Tigers. He is light on his feet, showing the ability to dart left or right quickly to avoid contact. Neal, who saw time at wide receiver and even quarterback in 2011 for the Vols, also is cognizant on passing downs, showing soft hands to pluck the ball as well as awareness and toughness in pass protection.
With Neal ran with the Tennessee track and field team following his sophomore season but has dedicated himself to football since. He led the Volunteers with 708 rushing yards in 2012 and has already eclipsed that total this season, rushing for 887 in 2013, including the 124 on 20 carries he posted Saturday against Auburn.
As it has every year since C.J. Spiller in 2009, the first running back selected in the 2014 NFL draft will almost certainly be an underclassmen. The "surprise" performances by rookies Zac Stacy (St. Louis Rams) and Mike James (Tampa Bay Buccaneers) so far in 2013 underscores the annual truth that there are quality senior running backs to be found in the middle and later rounds of every draft.