2014 NFL Draft: Utah's Trevor Reilly bedevils ASU in losing effort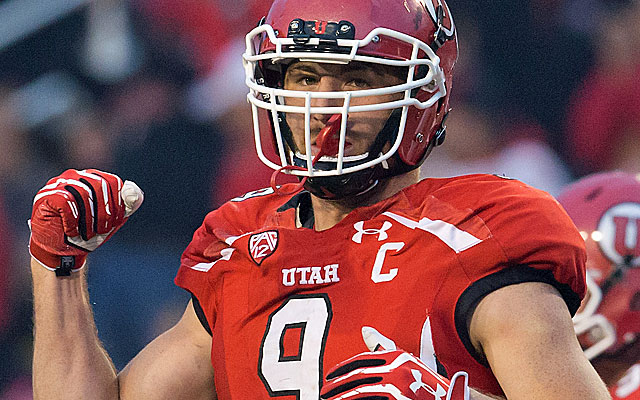 With Stanford's bludgeoning of Oregon Thursday night, the one-loss Cardinal have jumped right back into the BCS mix.
Voters had pointed to Stanford's shocking 27-21 loss in Utah October 12 as the one blight on their resume. With the Utes giving No. 22 Arizona State and their explosive offense all they could handle Saturday in Salt Lake City, the national perception of Kyle Whittingham's defense could be changing.
Versatile senior defender Trevor Reilly personifies the underrated Utes, who lost a heart-breaker to the Sun Devils 20-19.
The 6-foot-5, 255-pound Reilly serves as moveable chess piece for the Utes, showing the same ability to make plays at defensive end or linebacker as more hyped conference defenders like UCLA's Anthony Barr and the Cardinal's Trent Murphy. His average of 1.38 tackles for loss per game in 2013, in fact, ranks just behind Barr (1.62) and Murphy (1.56) among Pac-12 defenders. Reilly entered Saturday's Pac-12 showdown leading the team with 69 tackles, 11 tackles for loss, 5.5 sacks and three fumble recoveries.
NFL scouts know Reilly well, however. And after Saturday's gritty effort, more should be hearing Reilly's name soon.
Surprisingly athletic, Reilly was a constant fork in the side of the Sun Devils, recording multiple tackles for loss, including three sacks on the day. Twice Reilly used a pure speed rush to slip past senior left tackle Evan Finkenberg to sack quarterback Taylor Kelly, the second of which came on ASU's attempted two-point conversion after scoring the go-ahead touchdown with just under three minutes remaining. Reilly's sack kept the Sun Devils' lead at just one-point with 2:32 remaining.
It wasn't Reilly's only notable contribution on a PAT attempt.
Though he wasn't successful, the Utes showed their confidence in Reilly's athleticism by running him on a fake PAT attempt in the first quarter.
When rushing the quarterback out of a three point stance, Reilly shows good burst, as well as the flexibility to dip under the reach of the left tackle and turn the corner. He is very light on his feet, showing good body control to dip back inside on a counter move. Reilly's balance and flexibility were put to the test in this game but he showed the ability to handle cut blocks as well as keep his feet when pursuing down the line.
Considering his lanky frame, perhaps most surprising is Reilly's agility and awareness in coverage. Against Arizona State's up-tempo passing attack, Reilly showed quickness and instincts in space, demonstrating a blend of skills that could make him a highly attractive "hybrid" defender to scouts operating for 4-3 and 3-4 teams, alike.