NFL Draft Week 11 Stock Report: Carr continues to help himself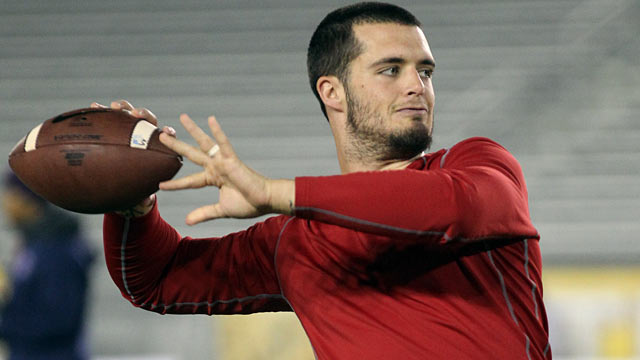 NFL Prospects who HELPED themselves this weekend:
QB Derek Carr, Fresno State
With its win over Wyoming Saturday night, Fresno State is 9-0, which matches the Bulldogs' win total from last season and has them poised for a run at a BCS bowl game. And the main reason behind the team's success is Carr, who has been fantastic in 2013 and is my top senior quarterback for the 2014 NFL Draft. And he showed why against Wyoming this past weekend, finishing 33-for-46 (71.7%) for 360 yards, four touchdowns and no interceptions. Carr was on-point most of the night with his quick feet to avoid the rush and top-shelf arm strength to sling the ball all over the field, making NFL throw after NFL throw. He displayed his astute ability to read coverages and recognize pressure at the line of scrimmage with several pre-snap adjustments based on obvious film study. That mental preparation paired with his above average arm talent are why I think there's a great chance he will be a top-10 pick next May.
SS Ahmad Dixon, Baylor
Baylor is known for their explosive offensive attack, but the Bears have some playmakers on defense as well, most notably Dixon who patrols the entire field. Against Oklahoma last Thursday, he showed off his range and versatility, making plays in the deep half of the field and also at the line of scrimmage. Dixon finished with a team-best 10 tackles, adding a tackle for loss and a pass break-up. He is extremely fast downhill and loves to get his hands dirty in the run game, striking through his target with strong hands to finish. Dixon has an accurate first step with the quickness and range to play both sidelines with an alert, active mentality. He still needs some technique and recognition work when it comes to coverage, but he displays the feet and overall body coordination to hold up on an island if needed. It wasn't all positive as he did receive a 15-yard penalty for removing his helmet while still on the field of play, but it was a strong performance for Dixon, who might be the top strong safety prospect for the 2014 NFL Draft.
WLB CJ Mosley, Alabama
The leader of the Crimson Tide's suffocating defense, Mosley again showed on Saturday why he's so highly thought of among the scouting community and could end up as a top-10 pick in May. He had a game-best 12 tackles, including 1.5 tackles for loss, and should have had a pair of interceptions, but they just show as pass break-ups on the stat sheet after he failed to secure either one. But nonetheless, it was another strong performance for the senior as he put on a tackling clinic and routinely adjusted the defense into correct positioning to stop the Tigers. Mosley does a nice job using his length and lower body fluidity to keep himself clean through a crowd and finishes at the ball, wrapping and driving through his target. He is very smart and keeps his eyes on the ball to track and attack and rarely makes mental mistakes, which is a result of his high football IQ and preparation skills. Mosley is as well-rounded and disciplined a linebacker as this draft class has to offer.

Prospects who HURT themselves this weekend:
QB Jeff Matthews, Cornell
The most accomplished quarterback in Ivy League history, Matthews has put together a strong resume that has him on the NFL's radar. But his senior year hasn't exactly gone according to plan due to inconsistent play as Cornell has lost seven straight. Against Dartmouth on Saturday, Matthews struggled to push the ball downfield or sustain drives, finishing with a season-low 170 passing yards with only 50% completions (16-for-32). He has a bad habit of telegraphing throws and really struggles without a clean pocket, lacking the mobility to consistently adjust, reset and deliver an accurate throw. Matthews has NFL size and arm strength, but is just a tick too slow with his entire process from his decision-making to his delivery, holding the ball too long and taking too many hits. In his defense, Matthews hasn't received a lot of help from the play-calling or his supporting cast, especially a porous offensive line, but he has been too indecisive and sluggish in his movements. He flashes with his above average arm strength and NFL toughness, but it's clear he's not ready for the next level and is reminiscent of a smarter, but not as confident version of Ryan Mallett.
RB Lache Seastrunk, Baylor
Baylor is undefeated, but is on the outside looking in when it comes to the National Title discussion. Why? They haven't played anyone that impresses the computers or the voters with their two toughest opponents thus far being Kansas State and Oklahoma. Seastrunk is an exciting talent, averaging 8.7 yards per carry in 2013, but against the Wildcats and Sooners, he failed to reach the 100-yard plateau and didn't find the end zone – the only two times this season he didn't accomplish either feat. Seastrunk has gashed struggling defenses, but has also struggled against the only two semi-legitimate defenses he has seen this season. Against Oklahoma last Thursday, he recorded just 19 yards on six carries before leaving the game due to a groin sprain. Seastrunk runs low to the ground with terrific balance and sharp start/stop action, but relies too much on east-west runs and doesn't have ideal vision, drawbacks that have stood out against the Wildcats and Sooners. Hopefully the injury doesn't hamper Seastrunk down the stretch, but it's something to watch.

Other Draft notes:


• A senior who was having a strong senior season, Texas DT Chris Whaley is done for the year after suffering an undisclosed knee injury in the first quarter Saturday. A former running back, he was a late bloomer and was one of the positive surprises for the Longhorns on defense in 2013, recording 25 tackles, 5.0 tackles for loss, 2.0 sacks and two defensive touchdowns.

Known as a leader in the huddle, Whaley is an active, athletic player who made it a habit of penetrating the backfield this season. Listed at 6-3 and 295 pounds, he was an undrafted free agent entering the season, but his impressive senior campaign put him in the third day discussion. However, the severity of his knee injury will determine his draft stock from here. Sophomore RB Johnathan Gray, who is not draft-eligible, was also lost for the season due to an Achilles injury.


• There might not be a more disruptive defensive player in college football than UCLA LB Anthony Barr. But Saturday against Arizona, he was held without a tackle, sack or any notch on the stat sheet for the first time since he moved to the defensive side of the ball last year. However, that doesn't mean he didn't have a strong influence on the game.

Much like Souther Carolina DE Jadeveon Clowney, Barr's overall impact can't simply be felt in the stat sheet as he saw frequent double-teams and even caused some holding calls with his athletic motor and power to rip through blocks. Barr's performance on Saturday is just another example of why a player's ability shouldn't be directly tied to production.


• Sticking with UCLA's talented roster, the performance by freshman RB/LB Myles Jack against Arizona on Saturday night was nothing short of dominant, on offense and defense. He started at linebacker and tallied eight total tackles, including one for loss, a fumble recovery and two pass break-ups.

But with the Bruins running back position depleted due to injury, Jack also saw time in the backfield, averaging an impressive 20 yards per rush. He finished with six carries for 120 yards, including a 66-yard touchdown run that proved to be the difference in UCLA's victory. A Washington-native, Jack is only a true freshman, but definitely a name to watch moving forward.