2014 NFL Draft: Washington State's Bucannon passes test vs. Arizona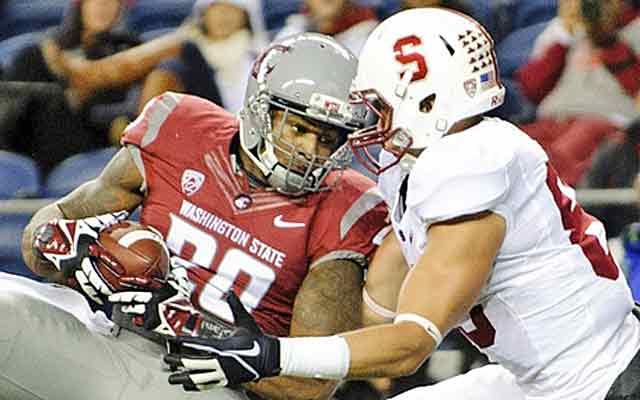 Washington State's defense has shown the ferocity of a house cat in recent years, but strong safety Deone Bucannon is proving a notable exception.
Bucannon, among 15 semifinalists for the Thorpe Award as the nation's top defensive back, didn't add to his eye-popping turnover numbers in Washington State's 24-17 victory but did perhaps answer a key question scouts have about his NFL projection.
It isn't difficult to understand why talent evaluators have grown enamored with "Big Play" Bucannon. The 6-foot-1, 215-pound senior entered Saturday's game leading the Pac-12 with 85 tackles. Further, he's accounted for 10 turnovers (five interceptions, three forced fumbles, two recovered fumbles) through nine games.
While the Wildcats certainly are not as gifted as Oregon or physical as Stanford, their versatile offense provided scouts a test from which to grade Bucannon.
The Wildcats boast one of the nation's elite running backs in junior Ka'Deem Carey. Bucannon is widely regarded as one of the better run-defending safeties in the country but he couldn't focus on stopping Arizona's All-American because Arizona coach Rich Rodriguez's quick-hitting passing attack was just as likely to carve up the Cougars' defense.
The Wildcats' spread offense forced Bucannon to cover slot receivers, while keeping an eye on the backfield should Carey get the handoff. While instinctive, the high-cut defender appeared vulnerable in this role as he -- like most long-legged players -- does not change directions as fluidly as shorter athletes. Despite the appearance of vulnerability, Bucannon allowed only one reception in this contest while covering the slot, showing off his awareness, surprising acceleration and long arms to force quarterback B.J. Denker to focus elsewhere.
While generally regarded as a quality open-field tackler, Bucannon's struggles with fluidity ironically showed up more when attempting to tackle Carey than in coverage.
Bucannon is an imposing downhill hitter but failing to make the tackle on Arizona's first score of the game is a play he'd likely rather forget.
Lining up on the right hash in a traditional two-deep look, Bucannon stepped up aggressively as Carey took the handoff from Denker. Carey weaved his way through a muddled line of scrimmage, forcing the Washington defense to pursue to their left. Bucannon did so but had to avoid the umpire, causing him to lose sight of Carey for a split second. This was all Carey needed, as he cut back to his left, fighting through Bucannon's desperation arm tackle on his way to a weaving 30-yard touchdown jaunt.
Boasting a much more imposing frame than in past years, Bucannon certainly looks the part of an NFL player. When attacking the line of scrimmage in run support or protecting the middle against unsuspecting receivers, his closing speed and willingness to drop his shoulder can result in the eye-popping collisions that helped him earn Second Team All-Pac-12 honors last season, despite playing for a 3-9 team.
Bucannon's ability to dictate the action from his traditional strong safety role aided the Cougars' in their road victory over the Wildcats.
Don't be surprised if it also generates him a selection within the first 75 picks of the 2014 NFL draft -- a higher position than any Washington State prospect has been drafted in more than a decade.