NFL Draft Week 12 Stock Report: Learn the name Randy Gregory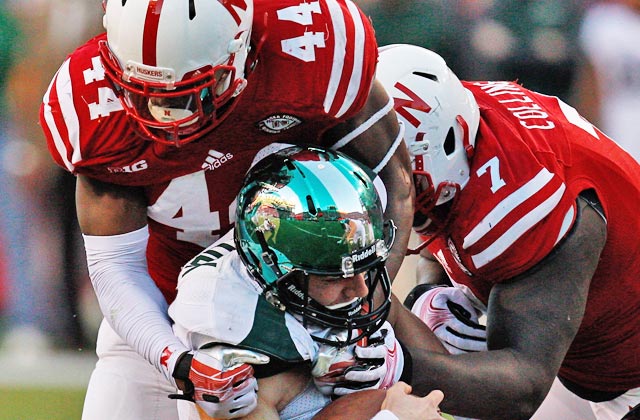 NFL Prospects who HELPED themselves this weekend:
DE Randy Gregory, Nebraska
Regarded as one of the top JUCO recruits prior to the season, Gregory has gradually improved his production throughout the season and has earned more and more playing time for the Blackshirts. He has started seven games in 2013 for the Cornhuskers and leads the team in tackles for loss (15.0) and sacks (8.5), totals that also rank him among the Big Ten leaders. Gregory tied for the team lead with eight tackles on Saturday against Michigan State, including a sack and four quarterback hurries. He was a frequent visitor to the Spartans backfield, using his fast hands and quick get-off to beat blockers and finish with remarkable closing speed. Listed at 6-6 and 255 pounds, Gregory is still very lean and needs to spend more time in the weight room to add bulk and fill out his frame, but the natural athleticism is evident. For a "raw" prospect, he shows a natural understanding of timing and patience to catch blockers off balance and let his quickness do the rest. With only seven career starts at the FBS-level, he still has a lot of room to develop, but it might not be too much longer until we're talking about Gregory as a potential first round prospect.

LB Jeremiah Attaochu, Georgia Tech
Despite giving up 55 points to Clemson last Thursday night, Georgia Tech's defense showed off several future NFL draft picks, most notably Attaochu who is in the midst of an All-ACC senior season. He put consistent pressure on Tigers quarterback Tajh Boyd most of the game, finishing with two sacks and five tackles. A hybrid rusher in Georgia Tech's 4-3 defense, Attaochu will line up in a two- and three-point stance and is active with stunts and creative rushes to find ways to get to the pocket. Against Clemson he displayed his quick first step, athletic movements and alert awareness to swiftly react and make plays, using his natural dip and bend to get around blockers. Attaochu, who needs just 3.5 sacks to break the Georgia Tech career record of 31, will struggle to keep himself clean at contact, but he's a tough guy to slow down with his relentless momentum to fight through the trash and arrive at the ballcarrier. He's not a player you will see in a lot of first round mock drafts, but I like his chances to be a second day prospect who will appeal to NFL teams that utilize 3-4 defenses.

WR Jordan Matthews, Vanderbilt
A prospect who was the frontrunner entering the season to be the top senior drafted at his position, Matthews has all but separated himself as the clear-cut top senior wide receiver for the 2014 draft class. He leads the SEC in catches (83) and receiving yards (1,076) and holds the conference-record for career receiving yards (3,358). Matthews set a career-high on Saturday against Kentucky with 12 catches and was near impossible for the Wildcats to cover, recording 172 all-purpose yards. His size/speed combination along with his hand/eye coordination and body control makes him an attractive prospect, showing the ability to make plays at all levels of the field and do damage after the catch. Matthews is a balanced route runner with a sizeable catching radius, but he is lean-muscled and needs to do more in contested situations. Nonetheless, he has done enough this season to separate himself from the rest of the pack and put himself in the top-40 conversation.

QB Cody Kessler, USC
USC had hit rock bottom earlier this season, which led to the dismissal of Lane Kiffin and made 2013 a lost season for the Trojans. Except no one told interim head coach Ed Orgeron and the rest of the team as USC extended their post-Kiffin win-loss record to 5-1 after their upset victory over Stanford on Saturday. And a substantial reason for the Trojans win was the play of redshirt sophomore quarterback Cody Kessler, who took care of the football and made important throws when needed. He finished 25 for 37 (67.6 percent) for 288 yards, one touchdown and zero interceptions, setting a career-best in completions and completion percentage when attempting at least 30 passes. It certainly helps to have weapons like Marqise Lee and Nelson Agholor, who might both be future first round picks, at his disposal, but Kessler deserves credit for hanging tough against one of the best front-seven units in the country. The USC quarterback situation was a question mark in September, but Kessler has eliminated any controversy, emerging as the clear-cut best option, and NFL teams are starting to take notice.
Prospects who HURT themselves this weekend:
LB Jonathan Brown, Illinois
Illinois has only three wins on the season and you won't find a lot of next level talent on the current roster. The only Illini prospect who will probably hear his name called in the 2014 NFL Draft is Brown, but his senior season has been almost as disappointing as Illinois' 3-7 record. He leads the team in almost every defensive category, including tackles (94), tackles for loss (11.5), sacks (4.0), interceptions (1) and passes defended (4). But while the stat sheet looks impressive, Brown's on-field play leaves a lot to be desired, something that showed against Ohio State on Saturday. He looked indecisive with Braxton Miller's dual-threat ability and needs to do a better job trusting his eyes and being more decisive in his movements. Brown was penalized for roughing the passer after a clear late hit on Miller, something that won't help the stigma of him being a dirty player. He is a physical striker and even stopped running back Carlos Hyde behind the line of scrimmage for Hyde's first negative run this season, but overall, he isn't as dominant as his production might lead one to believe.
Other Draft Notes:
• The senior running back class is one of the weakest in recent memory, but two prospects have helped themselves as much as anyone this season: Ohio State running back Carlos Hyde and Boston College running back Andre Williams. Both have appeared on this weekly feature in the past as players who have helped themselves, but they continue to boost their draft stock as the season stretches into mid-November. The running back position will be dominated by underclassmen in the early rounds, but both Hyde and Williams are top-three senior running backs in my opinion.

Hyde rushed for a career-best 246 yards Saturday against Illinois, averaging 10.3 yards per carry and finishing with five total touchdowns. His game film the past few years was average at best and he appeared to be nothing more than a late rounder entering the season, but he has been extremely impressive in 2013, running with purpose, decisiveness and hunger. Hyde is currently my No. 2 senior running back and is 53 rushing yards away from becoming the first running back under Urban Meyer to eclipse the 1,000-yard rushing mark.

Williams would be more of a household name if he played at a different program, but nonetheless, he leads all of FBS in rushing yards (1,810), which is 371 yards more than the next-best rushing total. Like Hyde, Williams has been productive due to his combination of power and drive, refusing to be stopped. He has been a workhorse with almost 300 carries this season and is using his breakout senior season to get the attention of NFL scouts.

• The 2014 Senior Bowl is still over two months away, but most of the invitations have already gone out to the nation's best senior prospects. Phil Savage, former NFL general manager and now the Executive Director of the event, tweeted that "approximately 70 invitations for 110 roster spots in the game" have been sent with more to go out later this month.

Several invites have already been announced, some by the players themselves and others by the Senior Bowl. Michigan State CB Darqueze Dennard, Arkansas C Travis Swanson and Virginia DL Brent Urban have accepted invites, while Buffalo LB Khalil Mack is among several others who have received an invitation, but have yet to announce their decision.

For an updated list of seniors who have accepted their Senior Bowl invitations, click here.

• Arizona State junior pass rusher Carl Bradford, who is the Sun Devils top defensive prospect in my opinion, was benched for the second half on Saturday after a sideline altercation. According to reports, he had a physical run-in with teammate Will Sutton and other ASU coaches, which led to Bradford being restrained. After the game, head coach Todd Graham downplayed the incident. "People make mistakes, they get passionate at times, but you can see there is accountability," the Sun Devils head coach told reporters after the game. "We have got to move forward. He (Bradford) didn't go back in because we took him out."

Bradford has an impressive blend of power and explosion, rushing the passer with a violent, ferocious temperament. But that mean streak needs to be consistently controlled on and off the field, something not every player can easily do. Is Bradford one of them?