2014 NFL Draft: Week 14 Stock Report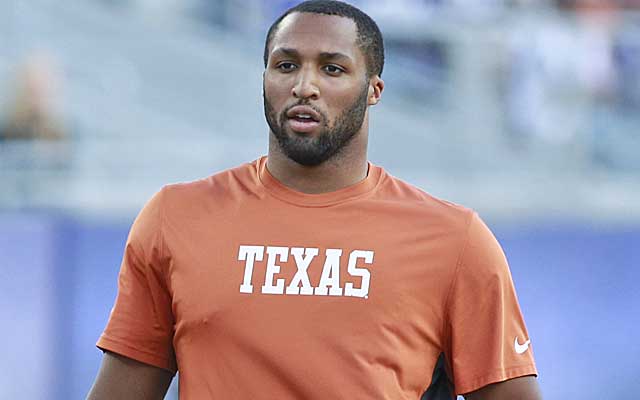 NFL Prospects who HELPED themselves this weekend:

DE Jackson Jeffcoat, Texas
Playing in his final game in Austin, Jeffcoat went out with a career-performance that caused more than a few Texas fans to say "It's about time." But better late than never as the Longhorns' pass rusher helped lead Texas over Texas Tech on Thanksgiving night, 41-16. Jeffcoat finished with a team-high 10 tackles, 3.0 sacks and 3.0 tackles for loss, lining up as a stand-up "Rush Spy" inside linebacker most of the game. He kept the Red Raiders' offensive line guessing, attacking different gaps with a running start that created extra momentum to win angles and disrupt the pocket. Jeffcoat showed off a relentless motor and strong, forceful hands to attack and fight through blocks, winning with his competitive edge to work through the whistle. He isn't an elite athlete and lacks ideal ankle and hip fluidity, but his fast play speed was tough for Texas Tech to handle. Jeffcoat arrived in Austin with a lot of hype, and while his collegiate career hasn't gone quite as expected, the skills he showed last Thursday are why he has a NFL future, likely as a top-100 draft pick.

QB David Fales, San Jose State
In a game that saw over 1,000 yards of total offense (in the first half), Fales and Fresno State's Derek Carr put on a show through the air. And although Carr will be the higher sought after NFL prospect, Fales showed why there's a place for him at the next level as well, out-dueling the Fresno state quarterback and picking up the victory for the Spartans. He finished 37-for-45 (82.2%) for 547 yards, six touchdowns and no interceptions, adding 33 yards rushing and a score on the ground. Fales showed excellent timing and anticipation and even showed off some mobility to make throws on the move, displaying supreme confidence and resolve. He throws more rainbows than ropes and is more of a finesse passer, but he was successful due to his natural instincts at the position. Fales won't be on every draft board due to his pedestrian arm strength, but his passing vision, touch and overall feel for the position is above average, making him a great fit for a west coast offense that emphasizes multiple reads.

DE Scott Crichton, Oregon State
Although he failed to register a sack Friday night against state-rival Oregon, Crichton was a disruptive force all night for the Beavers. He showed a terrific first step to attack gaps and win with angles, using a combination of strength and quickness to defeat blockers off the snap. Crichton was used all over the Oregon State defensive line and lined up both inside and outside, often rushing from a 2-technique position. He finished with six total tackles, including two for loss, giving him a team-best 16.5 tackles for loss on the season, which ranks among the best in the Pac-12. Like Jeffcoat, Crichton has broad shoulders and lacks ideal flexibility, but his blend of nimble feet and powerful hands can be too much for blockers when he wins off the snap. Crichton played motivated all night, almost as if it was the final 'Civil War' for the junior. And although the final score wasn't what he wanted, Crichton can hold his head high for his performance, regardless if he jumps to the NFL or returns to Corvallis for his senior season.

LB Christian Kirksey, Iowa
The Hawkeyes' defense is full of overachieving prospects who lack ideal NFL traits, but they show enough to earn them a chance and some of them have the determination to stick. And Kirksey might be one of them. The senior had a terrific final game at Kinnick Stadium on Friday as he led Iowa over Nebraska. Kirksey finished with a team-best 11 tackles, 3.0 tackles for loss, 1.0 sack and a forced fumble, earning several awards for his performance. Listed at 6-2 and 235 pounds, he doesn't appear that big on the football field, but he plays bigger than he looks with the play speed and intensity needed for the position. Kirksey uses his eyes well to diagnose with an accurate first step and the range to make plays at all levels of the field. He is just one-third of a talented trio of Iowa linebackers and while James Morris and Anthony Hitchens receive most of the headlines, Kirksey is a prospect worth keeping track of as he makes the jump to the NFL.
Prospects who HURT themselves this weekend:
CB Bene Benwikere, San Jose State
The senior cornerback doesn't have much help around him, but he was part of a secondary that gave up 519 passing yards to Derek Carr on Friday. And although the Spartans got the last laugh with the victory, it wasn't a particularly strong performance by Benwikere, who finished the game with five tackles. At 5-11 and 192 pounds, he has average size for the position and is an aggressive run defender, but his tackling technique leaves a lot to be desired. Benwikere comes downhill like a missile, but often he just throws his shoulder while his head and eyes are staring at the ground, sliding off his targets and sometimes missing altogether. His lack of ideal speed was also evident on several occasions against the Bulldogs, allowing receivers to gain a step and struggling to recover. Benwikere is a tough, heady player, but his shortcomings are an issue that scouts will struggle with in their NFL evaluation of him.
Other Draft Notes:
- In "The Game" between Ohio State and Michigan on Saturday, it was a very good showing by the two senior left tackles on either side, Taylor Lewan for the Wolverines and the Buckeyes' Jack Mewhort. Lewan returned to Ann Arbor for his senior season for the opportunity to play against Ohio State and while the ending wasn't what he wanted, his performance was top notch. He played with a chip on his shoulder and controlled aggression for all four quarters and did an outstanding job as both a run blocker and in pass protection. For the Ohio State offense, Mewhort was just as impressive with his stout anchor, strong trunk and powerful hands to latch on and redirect defenders. He lacks elite lateral quickness and doesn't have flash, but Mewhort isn't the type of blocker who will be easily overpowered. Both senior tackles have earned Senior Bowl invitations and project as future starters at the NFL level.

- There were several impact performers in the "Civil War" on Friday, including quarterback Marcus Mariota and wide receiver Josh Huff on the Oregon offense. But it's Ducks junior cornerback Ifo Ekpre-Olomu who stood out the most for the entire 60 minutes, showing up time and time again when his team needed him. He finished with a team-best 12 tackles and four passes defended, adding an interception, his third of the season. Ekpre-Olomu has terrific hand-eye coordination, quick reflexes and explosive footwork to make plays against the pass and the run. If there is a better draft-eligible cornerback in the country, I have yet to see him.

- Despite LSU's RB-by-committee approach to the ground game, sophomore Jeremy Hill is the Tigers de facto feature back. But junior running back Terrence Magee has been an underrated performer for the LSU offense this season as the team's second-leading rusher with 614 yards and eight rushing touchdowns. And he's done a lot of his damage over the last few weeks, rushing for 346 yards and five touchdowns over the past four games. While Hill has received buzz recently regarding his NFL future, Magee is a name to keep an eye on as underclassmen declare for the 2014 NFL Draft.

- Seven more prospects have accepted their invitations to the 2014 Senior Bowl in Mobile: Western Kentucky RB Antonio Andrews, Northern Illinois DB Jimmie Ward, Clemson QB Tajh Boyd, Virginia Tech CB Kyle Fuller, Vanderbilt WR Jordan Matthews, Colorado State C Weston Richburg and Florida CB Jaylen Watkins.