2014 NFL Draft: Rallying UCF in cold, Blake Bortles shows 1st-round form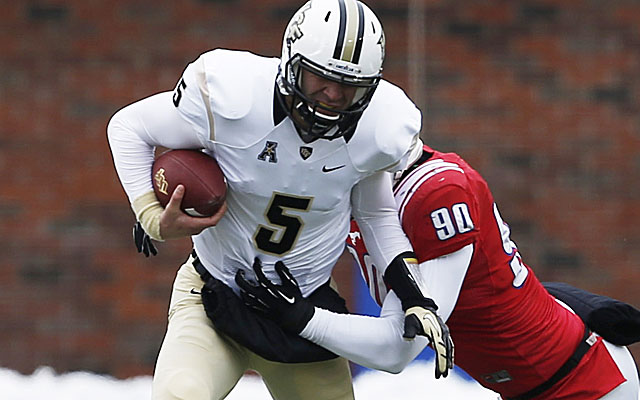 In guiding Central Florida to a 17-13 comeback win over SMU in frigid conditions, junior quarterback Blake Bortles provided evidence of his poise, toughness and ability to play well in the cold. These traits, along with awareness, accuracy, athleticism and size are key factors in why the junior quarterback is gaining traction as a potential first-round selection in the 2014 NFL draft.
The 6-foot-3, 230 pound Bortles was recruited as a tight end, and the size, strength and athleticism that initially led to this projection were on display in this contest as the junior showed off the functional mobility necessary for success in today's NFL.
While not an elite athlete, Bortles showed enough quickness and fluidity to run away from defenders when necessary. More importantly, he showed the vision and courage to step up in the pocket to exhaust his options before tucking it to run.
Bortles' thick, broad-shouldered frame has earned comparisons to everyone from NFL stars Andrew Luck and Ben Roethlisberger to Tim Tebow. His build is a stark contrast to the slim frames of the other highly regarded underclassmen quarterbacks, most notably Louisville's Teddy Bridgewater (6-foot-3, 205), Texas A&M's Johnny Manziel (5-foot-11, 210) and even UCLA's Brett Hundley, who looks slimmer than his listed 6-foot-3, 222 pounds.
A year ago, the Buffalo Bills cited EJ Manuel's size and ability to play in the cold as key factors in their grading the former Florida State star as the top quarterback of the 2013 draft class.
It isn't difficult to imagine the QB-needy Cleveland Browns, owners of two first-round picks, taking a similar strategy with Bortles.
Despite the contention of ESPN's color commentator Brian Griese that Bortles possesses a "rocket" for an arm, UCF's quarterback relies more on anticipation and accuracy than velocity to be effective. He showed plenty of zip on in-cutting routes but underthrew a couple of passes in this contest. One particularly poorly thrown pass (deep comeback) in the first half should have been intercepted but was bobbled by the SMU cornerback.
While Bortles was far from spectacular in the first half, he played very well after halftime, completing his first nine passes and 24 of 35 passes for 242 yards, overall. He did not throw for a touchdown or an interception, but ran for two, showing off power and his surprising athleticism for a 15-yard score to give UCF's its only lead of the game with 14 seconds remaining in the third quarter.
Many of Bortles' 35 pass attempts were quick tosses to the outside in the form of quick outs and screens. These throws are a staple of the offense that UCF showed in previous contests this season against more respected defenses for South Carolina and Penn State. UCF features a varied offense that combines elements of the spread, as well as the traditional I-formation under veteran head coach George O'Leary.
They may have been even more of a focus in Saturday's game with the temperature at kickoff at 24 degrees, colder than any other game in UCF's history.
The wind-chill put the temperature at 13 degrees and prompted SMU to close down parts of Gerald J. Ford Stadium's bleachers to the public due to the ice. It was so cold, in fact that SMU allowing anyone willing to endure the cold inside the stadium to watch the game for free.
Bortles does not possess Bridgewater's accuracy, Manziel's (or Hundley's) maneuverability, nor Fresno State senior Derek Carr's incredible arm strength. While perhaps not special in any of these individual traits, however, UCF's junior did show Saturday the collective skill-set to consider making an early jump into the NFL.