2014 NFL Draft: RB Mason, OT Robinson power Auburn's rise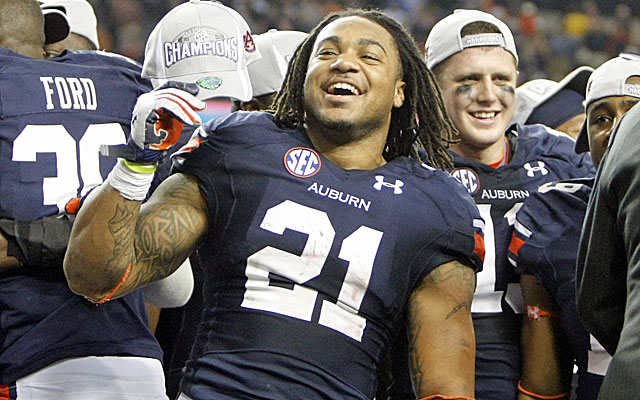 With a record 303 rushing yards and four touchdowns to power Auburn to a 59-42 victory in the SEC Championship Game, junior running back 'Tre Mason may have run himself onto Heisman ballots and perhaps into the imaginations of NFL scouts.
His teammate, redshirt sophomore left tackle Greg Robinson, won't get the hype but his play proved every bit as critical to Auburn's win.
Mason, the SEC's leading rusher 1,620 yards and 22 touchdowns on the year, was nearly unstoppable, nearly matching the previous SEC Championship Game record for rushing yardage in just the first half, rushing for 195 yards on 23 carries. By the time he was through, the record 201 yards Justin Vincent ran for LSU seemed to have occurred much longer ago than 2004.
While Mason lacks the bulk scouts look for in a traditional running back, the 5-foot-9, 205-pounder's compact build, vision and ability to cut and go with underrated power is reminiscent of a young Ray Rice.
Much of Rice's success at Rutgers and since with the Baltimore Ravens has come from a traditional I-formation attack.
Auburn head coach Gus Malzahn's attack is hardly as ordinary, helping each of his backs star when given the opportunity.
Malzahn's shotgun-heavy, triple option attack neutralized Missour's talented defensive line, the most fearsome in the SEC. Using Missouri's upfield burst against them, Robinson and the rest of Auburn's offensive line paved huge holes, allowing Auburn to rush 72 times for a jaw-dropping 546 yards.
Quarterback Nick Marshall only attempted 11 passes in the game as Malzahn called for throws seemingly only to keep Missouri guessing.
Scheme, however, only gets you so far in the SEC. Robinson provided the size, power and athleticism to complement his coach's planning and Mason's running.
Possessing nearly a 60-pound weight advantage over Missouri's starting defensive ends, the 6-foot-5, 320-pound left tackle dominated at the point of attack.
While perhaps a bit high off the snap, Robinson is as powerful in the running game as any offensive tackle I've scouted all year long. His long arms give him an almost unfair reach advantage and he latches on with great placement and strength to sustain his blocks.
Scouts love offensive linemen who play angry and that is precisely what Robinson does, showing the nastiness to drive his target into the turf on multiple occasions. His key block of Missouri linebacker Donovan Bonner on 4th and goal in the fourth quarter showed off Robinson's power and aggression.
As he did on multiple occasions in this contest, Robinson blocked down from his left tackle position, sliding into the middle of the line to take on Missouri's linebacker. Bonner, 6-foot-1 and 245 pounds, did a nice job of initially holding up but was ultimately bowled over. Robinson continued to block after his target was down, pulling Bonner aside actually to give Foster the lane through which he burrowed through for his third touchdown of the game.
After a failed 4th down conversion for Missouri on their next drive, Robinson and Foster combined for one more dominating effort, resulting in the back's fourth touchdown of the game and sealing Auburn's improbable rise from 0-8 in the SEC a year ago to conference champions in 2013.