2014 NFL Draft: Week 15 Stock Report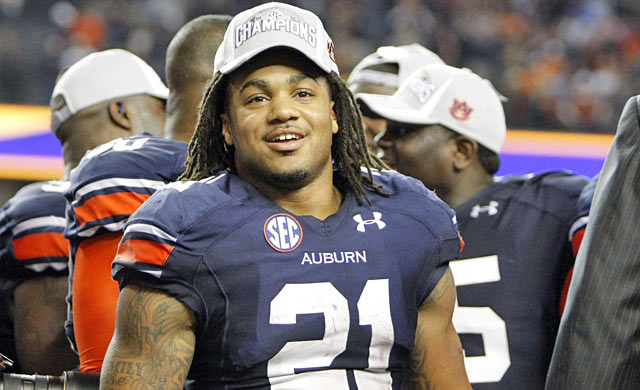 NFL Prospects who HELPED themselves this weekend:

RB Tre Mason, Auburn
When discussing the top underclassmen running back prospects, Mason's name doesn't often come up in the conversation. But the junior back is doing everything he can to change that. Mason set a new SEC Championship Game record on Saturday with 304 rushing yards and four touchdowns, leading the Tigers to the 59-42 victory over Missouri. He finishes the season with a conference-best 1,621 rushing yards on 283 carries (5.7) and 22 touchdowns, including five straight 100-yard rushing performances to end the season. And he still has the bowl game to pad those stats. At 5-10 and 205 pounds, Mason doesn't have a prototypical frame for his style of running, but he pounds the ball like he's 25 pounds heavier with his compact build and low pad level. He has quick feet and marries his lower body burst with his vision to stay patient and allow blocks to develop before exploding to the second level. The way Mason has finished the 2013 season, he has become a likely candidate to enter the draft early.

WR Kelvin Benjamin, Florida State
After a modest sophomore season, Benjamin has had a breakout junior campaign, but the last two performances have stood out; he's combined for 14 catches for 331 yards and five touchdowns. In the ACC Championship Game vs. Duke, Benjamin recorded his third career 100-yard receiving game and led the Seminoles' offense with a pair of touchdowns. He has near-tight end size (6-5, 235) with a ridiculously large wingspan, giving him a catching radius that is probably on-par with anyone at the NFL level. Benjamin is still developing as a route runner, but he shows the gliding speed and short-area quickness to create some separation and be a terror in jump ball situations, especially in the red zone. With the NFL featuring a number of big, long athletes at receiver, Benjamin fits what pro teams are looking for right now.

DE Kony Ealy, Missouri
I've received a lot of questions in recent weeks why I decided to include Ealy in my first round mock drafts. And my answer, plain and simple, is he has first round tools. And in the SEC Championship Game on Saturday vs. Auburn, Ealy showed those skills, finishing with five tackles, one sack and a game-high three tackles for loss, adding a pair of forced fumbles in the first quarter that gave Missouri some early momentum. He is built well for an edge pass rusher and wins with a quick first step, length to engage and rip, and the hand strength to powerfully finish tackles. As disruptive as he is as a rusher, Ealy is still developing as a run defender and needs to improve his awareness to better set the edge and shed to be consistent against the run. Although he doesn't have the same production as his teammate Michael Sam, Ealy is the more attractive NFL prospect because of the tools and he has first round ability for the 2014 class if he decides to skip his senior season. The secret is out.

LB Caleb Lavey, Oklahoma State
Albeit in a losing effort like Ealy, Lavey had a terrific performance on Saturday vs. Oklahoma, leading the Cowboys defense with five tackles, one sack and one forced fumble. But his presence was felt on almost every snap, sniffing out the ballcarrier and forcing his will against the Sooners. Lavey has a smart first step and reads the play fast, attacking run lanes downhill and filling hard. He has a physical nature and aggressive attitude, playing each snap like it's his last. He has strong hands to finish tackles and is an assignment sound player who won't make many mental mistakes. Lavey isn't an elite athlete and has some body stiffness that inhibits his range, but he has been the most productive Oklahoma State defender this season and has put himself in position to possibly be a day three draft pick.

Prospects who HURT themselves this weekend:

QB Clint Chelf, Oklahoma State
While Lavey helped himself on Saturday, senior quarterback Clint Chelf did not as he struggled most of the afternoon against a mediocre Sooners' defense. After an impressive performance against Baylor where he out-played Bryce Petty, Chelf struggled to keep that momentum going as he finished 19-for-35 (54.2%) for 200 yards, one interception and one touchdown. At 6-0 foot tall, his height isn't what you look for at the next level and his timing and anticipation was off most of the "Bedlam" game. Chelf wasn't considered NFL material entering this season, but he gave the Cowboys' offense some life and after the Baylor game, many were interested to see what he could do for an encore in a monumental rivalry game. Unfortunately he fell short.

Other Draft Notes:

• Saturday night's Big Ten Championship Game was a hard-fought battle, but the Spartans were the better team over the Buckeyes that night, ending the Ohio State's National Title hopes. But the big question for the Buckeyes now, what will QB Braxton Miller and OLB Ryan Shazier do with their impending NFL decisions? Return for another shot at a Big Ten Title or bolt for the pros now? We know CB Bradley Roby is going pro and projects as a top-50 pick. But Shazier and Miller have yet to reveal their intentions. Shazier has first round potential if he comes out, but Miler would be well-served to return for one more season in Columbus. He was more of running back prospect most of the season than at quarterback and Miller is still a work-in-progress as a passer. He has shown improvement as a junior, but it's clear another year in college would help him.

• With the college football regular season in the books, we are one step closer to the 2014 NFL Draft. And as we inch closer, certain prospects separate themselves from others. And with QB Marcus Mariota returning to Oregon next season, that shakes up the quarterback rankings. So where we are right now, there are three quarterback prospects who have impressed me the most: 1) Teddy Bridgewater, Louisville 2) Derek Carr, Fresno State 3) Blake Bortles, UCF. If all three are in the 2014 class, I believe they'll each be top-15 picks.

• Another underclassmen quarterback to keep an eye on is Wyoming's Brett Smith, a player I have long admired because of his competitive playing style. He reminds me a lot of a more controlled Johnny Manziel with his athletic improvising and gamer mentality to will his team to victory. With a coaching change at Wyoming, will Smith bolt for the NFL now? There is a good chance of it happening and if it does, look for Smith to be a popular day two prospect.

• Three "small school" prospects to keep an eye on: Georgia Southern RB Jerick McKinnon and CB Lavelle Westbrooks and Tennessee State OG Kadeem Edwards. All three have received invitations to the 2014 Senior Bowl, the top all-star game for senior prospects. Arizona State RB Marion Grice isn't a small school prospect, but he has also received an invitation.