CBSSports.com All-Americans: First-team defense as NFL prospects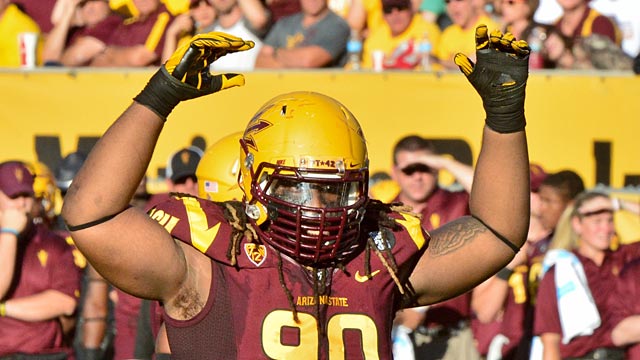 Starting with CBSSports.com Defensive Player of the Year Aaron Donald, players on the CBSSports.com All-American Defense first team will not last long once names were called in the NFL Draft.
With senior analyst Dane Brugler tackling the offense, NFLDraftScout.com breaks down how each of CBSSports.com's First Team All-American squad projects to the next level.
DE -- Michael Sam, Sr., Missouri: In leading the SEC with 18 tackles for loss and 10.5 sacks through the regular season, Sam certainly has the production against top competition to intrigue scouts. He's very quick off the snap, showing the ability to attack off the edge as well as the burst to penetrate through gaps. At 6-foot-2, 255 pounds, Sam could earn the dreaded 'tweener label from scouts who may see him as too short for defensive end and a project as a stand-up outside linebacker, pushing the productive defender into the second or even third round. Sam's 6-foot-5, 275-pound teammate, Kony Ealy, in fact, ranks higher on NFLDraftScout.com's rankings.
DE -- Vic Beasley, Jr., Clemson: At 6-2, 235, Beasley is smaller than Sam. However, he's also more fluid and versatile, making the junior a potential first-round selection whenever he makes himself eligible to the NFL. Possessing a similar blend of burst, balance and closing speed that helped Bruce Irvin crack the first round two years ago with the Seattle Seahawks, Beasley registered 18 tackles for loss and 12 sacks in 2013, his first as a full-time starter for the Tigers. He's overly reliant on his athleticism to make plays at this time and could use some polish but scouts working for 3-4 and 4-3 teams, alike, are intrigued by his upside.
DT -- Aaron Donald, Sr., Pittsburgh: Generating an eye-popping 26 tackles for loss (including eight sacks) in 2013 make Donald our Defensive Player of the Year, along with winning the Nagurski and Outland Trophies as the nation's dominant defensive lineman. But NFL scouts may not be nearly as excited about his potential as the media, considering Pitt's star defensive tackle's undersized frame. At only 6-foot, 285-pounds, Donald relies more on his burst and quick hands to penetrate rather than power to hold up at the point of attack, making his best fit as a three-technique in the 4-3 alignment.
DT -- Will Sutton, Sr., Arizona State: Quick, powerful and intense, Sutton's ability to wreak havoc up the middle led to his earning Pac-12 Defensive Player of the Year honors after each of the past two seasons -- joining former Washington defensive tackle Steve Emtman (1990-91) as the only two-time winner in conference history. Like Donald, Sutton (6-foot, 305 pounds) lacks the frame scouts would prefer at the position but he'll earn a much higher draft-day grade than the fifth round projection he reportedly earned a year ago from the NFL Advisory Committee.
LB -- C.J. Mosley, Sr., Alabama: The unquestioned heart and soul of the Alabama defense, Mosley is a coach's dream at linebacker, earning the Tide's Defensive Player of the Week 11 times in 12 games. Possessing terrific diagnostic skills, he's a virtual coach on the field whose athleticism and quick hands make him equally dangerous in pass coverage as in run support. Like other highly regarded Alabama players before him, however, Mosley's physical play has led to a number of injuries and subsequent surgeries, making his medical grade critical in determining his final draft projection.
LB -- Anthony Barr, Sr., UCLA: Barr's evolution from running back to outside linebacker and a potential top-five selection in the 2014 NFL draft is one of the more extraordinary developments in college football over the past two years. Powerful and athletic, Barr can be a terror off the edge, as his 20 tackles for loss, 10 sacks and five forced fumbles in 2013 attest. Scouts feel that Barr is stout enough to handle strongside duties in the 4-3 alignment but believe his best fit is as a stand-up outside linebacker in the 3-4.
LB -- Khalil Mack, Sr., Buffalo: Scouts don't mind investing high picks in relatively small school prospects as long they dominate at the lower level. With an FBS record 75 tackles for loss and 16 forced fumbles over his career, the MAC Defensive Player of the Year and Jack Lambert Linebacker of the Year recipient certainly established himself as a dominant presence. Athletic, instinctive and an explosive hitter, Mack may only need a strong showing against top competition at the Senior Bowl to assure a spot in the top half of the first round.
CB -- Darqueze Dennard, Sr., Michigan State: Possessing a lanky, athletic frame with good fluidity and speed, Dennard consistently shut down one side of the field for the Spartans in 2013, playing a critical role for MSU's No. 1 ranked defense. Honored with the Thorpe Award as the nation's top defensive back, Dennard allowed only three completions in 31 pass attempts of 15-plus yards thrown against him this season. Dennard may be competing only with UCLA's Barr to be the first defender on this list to hear his name called on Day One of the draft.
CB -- Justin Gilbert, Sr., Oklahoma State: Where Dennard may be the country's best lockdown corner, Gilbert is the big-play specialist. An extraordinary athlete with the hands, vision and speed to score any time he gets his hands on the ball, Gilbert led the Big 12 with six interceptions in 2013. He's also returned six kickoffs for TDs during his career in Stillwater.
S -- Terrence Brooks, Sr., Florida State: Brooks lack of dominating statistics led to his being overshadowed at times but NFL scouts are intrigued with the former cornerback's agility, range and willingness to be physical in run support. Voted to the First Team All-ACC unit by coaches (but only second-team by the media), Brooks' toughness and versatility could lead to a second-day selection in the draft despite few outside of Tallahassee realizing his importance to the Seminoles' undefeated season.
S -- Ed Reynolds, Jr., Stanford: Like Brooks, Reynolds is often overshadowed by some of the "other" highly regarded defenders surrounding him but Pac-12 opponents knew to stay away, which explains why he was named First Team all-conference despite collecting only one interception and three passes broken up on the season. Perhaps it is a reflection on last year, when he intercepted six passes, returning three for touchdowns. Physical and instinctive, the 6-2, 205-pound Reynolds could contend for top safety honors in the 2014 draft should he elect to give up his final year of collegiate eligibility.