CBSSports.com All-Americans: First-team Offense as NFL prospects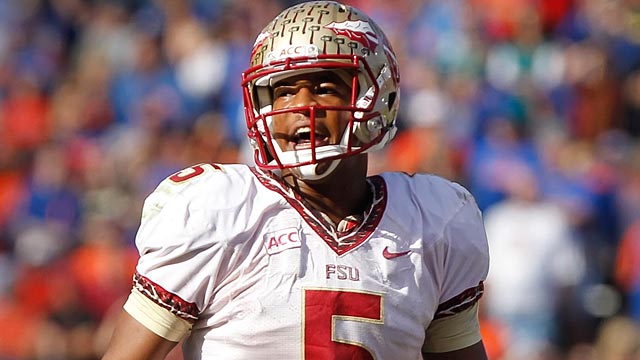 Starting with Heisman-winner Jameis Winston (though the freshman is not eligible for the NFL Draft), this group would not last long once names were called in the NFL Draft.
With Senior Analyst Rob Rang tackling the defense, NFLDraftScout.com breaks down how each of CBSSports.com's First Team All-American squad projects to the next level.
QB -- Jameis Winston, Fr., Florida State: He's not eligible to enter the NFL Draft until after next season, but it's not too early to talk about Winston's pro prospects. In fact, if he were able to declare for the 2014 NFL Draft, he would be the clear favorite as the No. 1 overall pick, possibly to the Houston Texans. That's just how impressive the newly awarded Heisman Trophy winner was as a redshirt freshman and first-year starter for the Seminoles. Winston has the NFL size, build, arm strength and mobility to escape pressure that reminds scouts of a mix of Ben Roethlisberger and Cam Newton.
RB -- Andre Williams, Sr., Boston College: With only 584 rushing yards a year ago, Williams entered 2013 with low expectations and an undrafted grade by most pro teams. But he stepped up in a big way this season and helped his NFL evaluation, proving to be a workhorse with over 2,100 rushing yards and 17 touchdowns. Williams, who recorded four 250-plus rushing yard performances as a senior, isn't the fastest or most elusive ball-carrier, but he is effective with patience and brute power to deliver hits. He should be one of the top senior backs drafted, probably a borderline top-100 prospect.
RB -- Ka'Deem Carey, Jr., Arizona: As the only FBS running back to record 11 100-yard rushing performances in 2013, Carey needs 216 yards in the bowl game to match his single-season school-record from a season ago. The Wildcats lost their top passer and top two receivers from a year ago, but Carey was the model of consistency for Rich Rodriguez, and has put himself in position to possibly be the top running back drafted if he decides to forego his senior year. He has an excellent blend of quick feet, natural power and field vision to gash defenses as both an inside and outside runner.
WR -- Mike Evans, Soph., Texas A&M: As good as Johnny Manziel has been in College Station, his downfield numbers wouldn't look nearly as impressive if it weren't for Evans. The 6-foot-5, 225-pound receiver won't wow anyone with his speed, but he's quicker than he looks and is one of the best at attacking the ball, especially in jump-ball and contested situations. Evans isn't the type of receiver who will consistently separate, but with his physical nature and competitive demeanor, he can box out and out-muscle defensive backs. A quarterback-friendly target, Evans has first-round pick written all over him.
WR -- Brandin Cooks, Jr., Oregon State: The FBS-leader in receiving yards (1,670) during the regular season, Cooks is small in stature (5-10, 186), but he has big-play potential every time he touches the ball. He has terrific athleticism and speed, using start-stop change-of-direction skills and instant acceleration to make defenders miss in the open field. Whether he decides to jump to the NFL now or next year, Cooks' size and lack of strength will ding him during the pre-draft process, but his make-you-miss quickness and playmaking speed will make him a valuable slot option at the NFL level.
WR -- Allen Robinson, Jr., Penn State: With the Nittany Lions breaking in a freshman quarterback this season, no way Robinson would be able to match his 2012 production, right? Not so fast. The junior receiver surpassed last season's totals and finished with 97 catches for 1,432 receiving yards and was the main playmaker for the Penn State offense. He isn't the biggest (6-2, 210) or fastest (estimated 4.55 speed), but he's able to be effective because he pays attention to detail and is extremely aggressive when the ball is thrown in his area. Robinson projects as a top-40 prospect if he makes the jump to the NFL.
TE -- Jace Amaro, Jr., Texas Tech: Despite not being named a finalist for the Mackey Award (nation's top tight end), Amaro deserves this distinction, earning it with consistent production all year. He finished the regular season with 98 receptions for 1,240 yards and was the only tight end to average more than 100 yards a game (103.3). Amaro has an ideal frame for the position with long arms to extend and pluck the ball out of the air. He accelerates quickly with natural burst out of his breaks to create separation and be a threat after the catch. Amaro is somewhat untested as a blocker, but his potential projects him as a top-32 prospect.
OT -- Jake Matthews, Sr., Texas A&M: Taking over for last year's second overall draft pick Luke Joeckel at left tackle, Matthews protected Johnny Manziel's blind side this season and quietly had a strong senior campaign. He displays the feet and shuffle quickness to mirror speed off the edge and the base and hand strength to stonewall power rushers. Matthews isn't flashy, but his consistency and versatility is what makes him attractive to next level scouts. Look for Matthews to give the Aggies back-to-back years with offensive tackles drafted in the top-five picks, maybe the top three picks.
OT -- Cyrus Kouandjio, Jr., Alabama: Last season the Crimson Tide had three offensive linemen drafted, including two in the top 12, and Kouandjio has the raw talent to be the next Alabama blocker to be drafted in the first round. It doesn't always look pretty, but more often than not, he gets the job done with balanced, quick feet and long arms to latch and eliminate defenders from the play. Kouandjio still has room to clean up the mental mistakes and become more technically sound, but the natural skill-set will earn him some first-round grades, maybe among the top 15 draft picks.
OG -- Cyril Richardson, Sr., Baylor: A three-year starter, Richardson has lined up at both left tackle and left guard for the Bears over the years and was an integral reason behind the team's top-ranked offense in 2013 as Baylor averaged 624.5 yards per game. A large human being (6-5, 340 pounds), he has the brute strength to be a mauler in the run game and the light feet to hold up in space in pass protection. Richardson has room to improve his awareness and body angles, but he flashes a nasty demeanor and is a plug-and-play prospect who shouldn't last long on Day 2 of draft weekend.
OG -- David Yankey, Jr., Stanford: The Cardinal offensive line is known to be a smash-mouth unit and while Yankey certainly is that, he also brings an athletic and mobile element to help open holes for Stanford's run game. He is an active puller with very good body control to square up his target on the move with an excellent initial surge to jolt and knock his target on his heels. Yankey has natural lower body explosion with coordinated footwork to work in tight spaces or also hold up in space, doing a nice job at the second level. Only a junior, he might be the top interior lineman drafted if he goes pro early.
C -- Gabe Ikard, Sr., Oklahoma: Quite possibly the most athletic offensive lineman in the upcoming NFL Draft class, Ikard is a four-year starter for the Sooners, lining up at both guard and center over the years. He burst off the snap with a quick set-up to react to defenders, using body angles and natural coordination to seal run lanes and engage his target in space. Ikard lacks ideal power for the next level, which will hurt his NFL value for some teams, but his natural athleticism to get to the second level and make blocks at the sideline and downfield will appeal to zone blocking scheme teams.