2014 NFL Draft: Fresno's Derek Carr stalls in Vegas Bowl loss to USC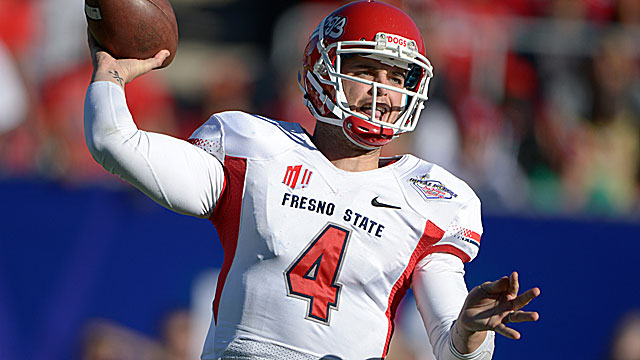 With three full seasons as Fresno State's starting quarterback, Derek Carr entered Saturday's Royal Purple Las Vegas Bowl matchup against the USC Trojans already boasting plenty of quality tape for NFL scouts to evaluate.
Due to the quality of his opponent and the inherent pressure of this being his final game leading the Bulldogs, however, Saturday's matchup with the Trojans was as important to his final evaluation as any game over his career.
While the outcome is always important, scouts won't knock Carr for the Bulldogs losing 45-20 to a USC squad clearly holding an advantage in talent.
He certainly won't quiet critics, however, with a final performance that raised more questions than provided answers - including in two areas critical for success at the next level.
Maintain Composure Against the Rush
Fresno State entered this game having surrendered just 11 sacks in 12 games so scouts wanted to see how Carr would handle a defensive front that would put pressure on him immediately. The talented Trojans happily obliged, with defensive linemen Leonard Williams and George Uko frequently crashing through the line of scrimmage and former NFL defensive coordinator Clancy Pendergrast hurling various exotic blitzes at the Bulldogs' overmatched offensive line.
Despite taking virtually every snap out of the shotgun, Carr frequently was forced to roll to his right to avoid pressure. Though he wasn't sacked in this contest, Carr was consistently harassed. He showcased the ability to square his shoulders and fire passes with velocity and accuracy but could not break free to gain yardage on his own.
He absorbed a significant hit in the second quarter that caused him to get up holding his left shoulder in obvious pain. Carr got back up to make one of his most impressive throws of the game (rolling right to hit a quick out) but the pressure clearly had an effect on Carr, who seemed as uncomfortable in the pocket as he's been all year long. Carr rushed several passes, frequently staring down and overthrowing targets. This was the case on his third quarter interception in which he forced a throw into the left corner of the end zone towards Adams and saw it picked off by USC's talented defensive back, Josh Shaw.
Carr threw for 200 yards and two touchdowns against one interception on the day. His numbers look better on paper, however, than they were in reality. Carr attempted 55 passes on the afternoon, averaging just 3.9 yards per completion. USC's Cody Kessler, on the other hand, averaged 11.1 over his 31 attempts and threw four touchdowns. The Bulldogs converted just 2/13 third downs and were 1/3 on fourth down.
Complete NFL-caliber throws
Carr entered this game leading the country with 4,866 passing yards and 48 touchdowns but there is no question that his statistics are inflated by Fresno State's pass-happy spread attack. While the screen passes Carr often throws in this scheme are becoming increasingly en vogue in today's NFL, scouts wanted to see the 6-foot-3, 215-pound quarterback attempt and complete NFL-caliber throws against this talented defense.
Carr showed off his arm talent early, lofting a beautiful fade over the right shoulder of his favorite target, redshirt sophomore Davante Adams, for a gain of 14 yards on his first attempt of the game. A few plays later, Carr showed off the fastball to go along with his changeup, drilling a quick slant to Isaiah Burse for an 8-yard touchdown to tie the game. His second touchdown of the game - a 23-yard fade to Adams in the third quarter - was accurate but effective in part due to his wideout making a nice adjustment to the ball.
While Carr teased with some impressive throws, he also misfired several occasions, including on two potential touchdowns. Each were overthrows against man coverage; the first missing a wide-open Burse in the right corner of the end zone one play before hitting him on the slant for the score. Carr also led Adams too far in the second and third quarters. In each case, Adams had broken free with a terrific combo routes.
Carr's brilliant senior campaign was the primary reason for Fresno State winning the Mountain West title and earning the Vegas Bowl berth.
To earn a spot in the first round, as Dane Brugler and I currently project, however, Carr will need a more impressive performance in Mobile, Ala. in the Senior Bowl.