2014 NFL Draft: Huskies TE Austin Seferian-Jenkins leaving for draft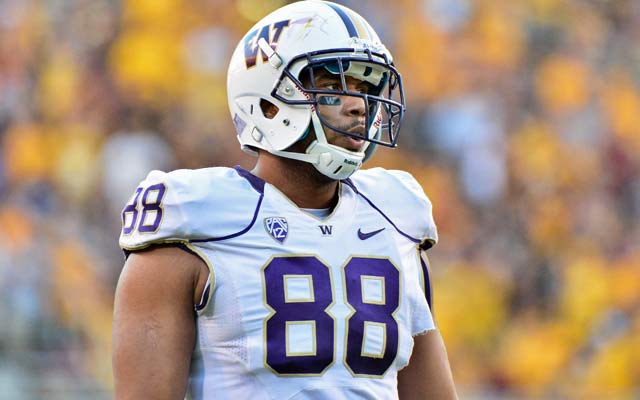 University of Washington junior tight end Austin Seferian-Jenkins said he will forego his final year of eligibility and declare for the 2014 NFL Draft.
"I'm going to be enter the 2014 draft," Seferian-Jenkins said after the Huskies' 31-16 victory over BYU in the Fight Hunger Bowl on Friday night. "(It's) very exciting. The idea that I can provide for my mother and play at the highest level in the world for football and compete against the best guys in the world - it's a very exciting idea. I'm very excited for the next chapter in my life."
The 6-foot-7, 270-pound Seferian-Jenkins is the No. 3-ranked tight end and No. 40 overall prospect for the 2014 draft, according to current ratings by NFLDraftScout.com. He was expected to declare for the draft with the Washington program transitioning from former coach Steve Sarkisian to Chris Petersen and with senior quarterback Keith Price also leaving.
Huskies junior running back Bishop Sankey, the No. 3-ranked running back and No. 54 overall prospect by NFLDraftScout.com, said Friday night that he is still undecided about whether he will return for his senior season.
Seferian-Jenkins won the John Mackey Award as the nation's top tight end this season and was given a second-round grade by the NFL Advisory Committee, according to the Seattle Times.
Seferian-Jenkins entered the 2013 season already holding the Washington career record for tight ends with 110 catches, 1,390 receiving yards and 13 touchdowns. He was suspended after being charged with a DUI on March 9, but returned for the second game of the season and went on to catch 36 passes for 450 yards and eight touchdowns, including a 16-yarder from Price on Friday night.
"I've done everything I can at the University of Washington. ... I know I'm ready for the NFL," he said, per the Times. "I need to take care of my mom and making sure she's financially OK. She's done so much for me, it's the least thing I can do."
In analyzing Seferian-Jenkins, NFLDraftScout.com Senior Analyst Rob Rang compares Seferian-Jenkins to the Jacksonville Jaguars' Mercedes-Lewis: "Like the former UCLA Bruins' star, Seferian-Jenkins unique size and hands made him almost impossible to cover in college, especially in the red zone. Less than elite speed and fluidity, however, makes Seferian-Jenkins more of a traditional security blanket over the middle rather than the Jimmy Graham-like seam threat so en vogue in today's NFL."