NFL Draft: Teddy Bridgewater shows No. 1 form in rout of Miami
If Saturday night's Citrus Bowl was Teddy Bridgewater's final game with the Louisville Cardinals, the junior certainly went out in style, dazzling the Miami Hurricanes and NFL scouts alike with his trademark precision passing and guiding his team to a resounding 36-9 victory.
Shrugging off a sack for a safety which abruptly ended Louisville's first series, Bridgewater completed 35 of 46 passes for 447 yards and three touchdowns without throwing an interception, exhibiting the talent that even his most vocal critics are going to have a hard time overlooking.
It wasn't just pressure from the Miami defense that Bridgewater was battling Saturday night. A native of Miami and a star prep quarterback who took over for Jacory Harris at powerhouse Northwestern High School, Bridgewater originally committed to the Hurricanes.
Rather than shirk from the pressure, however, Bridgewater shined. Cameras caught him smiling as he walked to the line of scrimmage early in the game. He was at his best at critical moments, completing 11 of 13 passing attempts on 3rd down, converting eight of them into first downs. It was a steady confidence that every NFL evaluator is hoping to see from a quarterback playing in arguably the biggest game of his life.
Bridgewater's success comes in a pro-style attack built on rhythm passes in the short to intermediate zones and occasional shots downfield.
It asks the quarterback to take snaps from under center most of the time, a stark contrast to the shotgun-heavy attacks preferred by most college teams.
This experience is a critical to 6-foot-3, 205-pound Bridgewater's NFL projection as he's learned to keep his eyes focused downfield with defenders closing in on him. Bridgewater's comfort in the pocket and use of his eyes to manipulate the defense was beautifully demonstrated with his 26-yard strike to DeVante Parker in the second quarter to give Louisville a commanding 16-2 lead.
Taking the snap from under center, Bridgewater dropped back quickly, looked to his deep left to get Miami's single-high safety drifting and then turned back to his right, sending the pass high and hard to give his 6-foot-2, 209-pound junior the opportunity to make the play.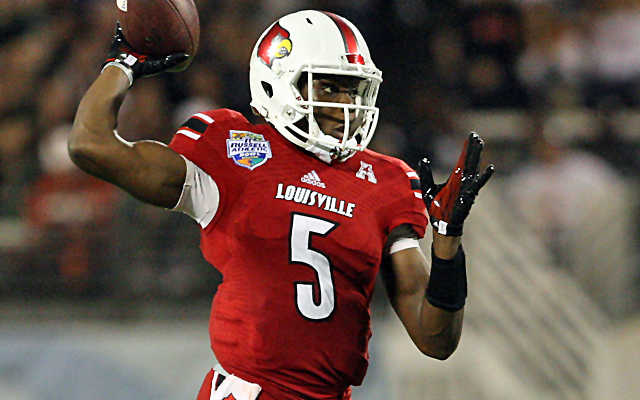 While Bridgewater's first touchdown of the evening was impressive, the poise, vision and touch he demonstrated on Louisville's final drive before halftime could serve as a How-To video on effective quarterback play.
Facing a 3rd and 6 at the Louisville 44-yard line, Bridgewater took the snap out of the gun but still saw almost immediate pressure in his face. Spinning away to his left, Bridgewater bought time and room, then rolled back to his right, keeping his eyes downfield to wideout Damian Copeland breaking free on a late crossing route. Showing the accuracy on the move so critical to success in today's NFL, Bridgewater lofted a beautiful pass over Copeland's shoulder, leading his receiver away from the defense after performing a Johnny Manziel-like escape act.
A snap later, Bridgewater showed off his traditional quarterback talents, rifling a quick out to Copeland for a seven-yard gain. Two plays later, it was back to the changeup for Bridgewater as he lofted a deep flag route to Michaelee Harris for another score with just 30 seconds remaining in the half. The stat-book will only give Bridgewater credit for 12 yards on the pass but the ball was thrown from the 20 and safely led his wideout out of the end zone with plenty of room to get his feet down.
Bridgewater's third touchdown toss of the game came on a screen pass to running back Senorise Perry - one of a handful of traditional screens that he helped fool the Hurricanes with by allowing defenders to pursue him before calmly lofting a pass over the top.
Bridgewater isn't known as a great athlete but he showed off his maneuverability with a few read-option looks early against the Hurricanes and showed good speed in sprinting to the right pile-on for his fourth touchdown of the night on a bootleg in the fourth quarter.
Bridgewater's accuracy - whether flat-footed or on the move - is the simplest reason for his perch atop NFLDraftScout.com's quarterback rankings. He has a quick set-up and a very quick release. He does not possess the bulk scouts prefer at the position but this does not limit his arm strength, as the ball explodes out of his hand.
As impressive as Saturday night's performance against the Hurricanes was, scouts shouldn't be surprised as Bridgewater showed a similar blend of poise and precision a year ago in 33-23 Sugar Bowl win over the Florida Gators.
The Gators entered the game a significant favorite, featuring a defense that led the country in pass efficiency and boasted two 2013 first round picks in defensive tackle Sharrif Floyd and safety Matt Elam. Further, the Gators defense was coached by Dan Quinn, now the defensive coordinator for the Seattle Seahawks. Bridgewater was named MVP of that game, just as he was against the Hurricanes Saturday night.
Critics will continue to point out Bridgewater's flaws. He is not as big or strong as Andrew Luck nor as nimble as a healthy Robert Griffin III. Among the quarterbacks potentially available in the 2014 draft, he's the most polished and accurate -- precisely why he'll wind up being the first passer selected (and quite possibly first player selected) -- should he elect to leave early.