2014 NFL Draft order: Texans pick first, Rams second, Jaguars third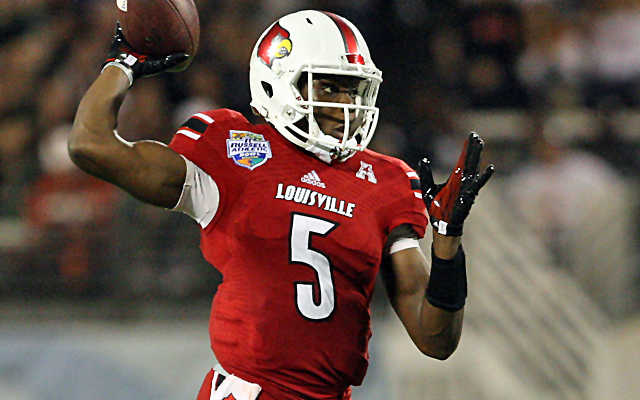 The top-20 order for the 2014 NFL Draft is now set with the regular season complete. The Houston Texans will pick No. 1 overall for the third time in franchise history.
Below is the order with the strength of schedule (SOS) numbers to indicate the tiebreaker. For the NFL Draft, the first tiebreaker rule is SOS, the easier SOS earning the earlier selection. Division and Conference tiebreakers are next and if teams are still tied, a coin flip will determine the team that picks first (** Indicates a coin flip to break ties).
The order of picks 21-32 will be based on the outcome of the playoffs. Updated first-round mock drafts can be found here.
| | | | | | |
| --- | --- | --- | --- | --- | --- |
| | TEAMS | W | L | T | SOS |
| 1 | Houston Texans | 2 | 14 | | 0.559 |
| 2 | St. Louis Rams (WAS) | 3 | 13 | | 0.516 |
| 3 | Jacksonville Jaguars | 4 | 12 | | 0.504 |
| 4 | Cleveland Browns | 4 | 12 | | 0.516 |
| 5 | Oakland Raiders | 4 | 12 | | 0.523 |
| 6 | Atlanta Falcons | 4 | 12 | | 0.553 |
| 7 | Tampa Bay Buccaneers | 4 | 12 | | 0.574 |
| 8 | Minnesota Vikings | 5 | 10 | 1 | 0.512 |
| 9 | Buffalo Bills | 6 | 10 | | 0.520 |
| 10 | Detroit Lions | 7 | 9 | | 0.457 |
| 11 | Tennessee Titans | 7 | 9 | | 0.504 |
| 12 | New York Giants | 7 | 9 | | 0.520 |
| 13 | St. Louis Rams | 7 | 9 | | 0.551 |
| 14 | Chicago Bears | 8 | 8 | | 0.465 |
| 15 | Pittsburgh Steelers | 8 | 8 | | 0.469 |
| 16 | Baltimore Ravens** | 8 | 8 | | 0.484 |
| 17 | Dallas Cowboys** | 8 | 8 | | 0.484 |
| 18 | New York Jets | 8 | 8 | | 0.488 |
| 19 | Miami Dolphins | 8 | 8 | | 0.523 |
| 20 | Arizona Cardinals | 10 | 6 | | 0.516 |
| 21 | Green Bay Packers | 8 | 7 | 1 | 0.453 |
| 22 | San Diego Chargers | 9 | 7 | | 0.496 |
| 23 | Philadelphia Eagles | 10 | 6 | | 0.453 |
| 24 | Kansas City Chiefs | 11 | 5 | | 0.445 |
| 25 | Cincinnati Bengals | 11 | 5 | | 0.480 |
| 26 | Cleveland Browns (IND) | 11 | 5 | | 0.484 |
| 27 | New Orleans Saints | 11 | 5 | | 0.516 |
| 28 | New England Patriots | 12 | 4 | | 0.473 |
| 29 | San Francisco 49ers | 12 | 4 | | 0.494 |
| 30 | Carolina Panthers | 12 | 4 | | 0.494 |
| 31 | Denver Broncos | 13 | 3 | | 0.469 |
| 32 | Seattle Seahawks | 13 | 3 | | 0.490 |