2014 NFL Draft: Scout compares Jadeveon Clowney to Randy Moss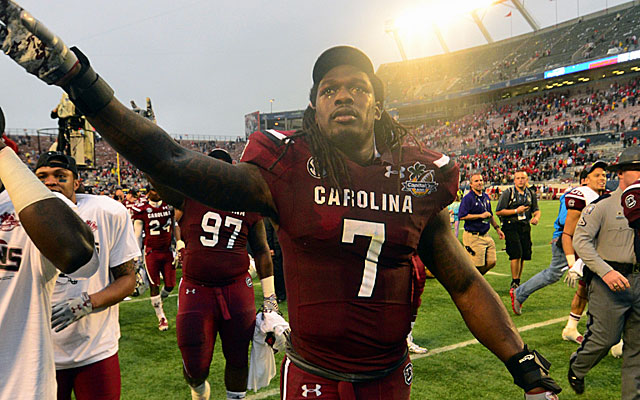 A move that shouldn't shock anyone, South Carolina junior pass rusher Jadeveon Clowney will skip his senior season and enter the 2014 NFL Draft. He made the declaration moments after the Gamecocks' bowl victory over Wisconsin on Wednesday.
Clowney is rated as the No. 1 defensive end prospect for the 2014 NFL Draft and the No. 2 overall player in this year's class. Only Texas A&M senior offensive tackle Jake Matthews is currently rated above him. It would be considered a shock if Clowney fell out of the top-five picks on draft day.
Arguably the most talented NFL prospect in this class or in recent years, Clowney is a freak athlete for his size (6-5, 275) with above average first step quickness and the ability to convert speed to power. His burst, flexibility and overall strength are outstanding and allow him to make an impact as both a run blocker and pass rusher. Although his production was down in 2013 (only 3 sacks compared to 13 last year), Clowney's impact cannot be fully appreciated in the stat sheet as he often was double-teamed and received special treatment from opposing offenses who left a tight end or running back on his side of the field.
But despite the immense natural talent, Clowney is not a flawless prospect and there will be several questions that he'll need to answer during the pre-draft process. His effort and overall passion have been questioned by scouts and it's something that has shown on tape.
"He's a modern day Randy Moss," said an AFC East scout on Clowney. "J.C. doesn't have the same type of criminal background as Randy did when he was his age, but the dependence on natural talent and problematic effort concerns are very similar. Difference is, Clowney won't fall out of the top-seven like Randy did."
The "effort" concerns don't exist because his statistics dipped in 2013 compared to last season, but rather because he appeared tentative and fatigued too often during his junior year. Was he playing not to get hurt or are there legitimate effort concerns?
"In high school, he was the best player on the field. Same in the SEC," the scout added. "But he needs to realize that won't be the case in the league. If he wants to have a career longer than a few seasons, the kid needs to wake up, add some glass to his diet and understand that it'll take a lot more work during the week."
Clowney also battled a foot injury throughout the season and despite saying on Wednesday that he had "no plans" for surgery, it's something to monitor.
A native of Rock Hill, S.C. where he attended South Pointe High School, Clowney was the crown jewel recruit when he arrived at South Carolina and his legend seemed to grow more and more, eventually getting to the point where it was impossible for him to live up to the hype. His "football character" will likely be a hot topic over the next few months, but it should also be noted that he plays a position where concerns in that area aren't as magnified for NFL teams like they would be if he played quarterback.